The inside track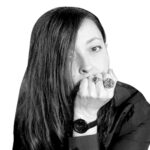 Yolanda Muelas is editor-in-chief of Metal magazine, a bi-annual arts and fashion title based in Barcelona and known for its cutting-edge visuals, fiercely independent spirit and curious eye.
www.metalmagazine.eu | @metal_magazine
Shop
SVD is one of the best urban fashion stores in Barcelona. Sneakers are their strong suit, with special and limited editions, but you will also find top brands such as Rick Owens and Junya Watanabe.
Savour
The young team behind Teòric offers seasonal and organic tasting menus that introduce guests to traditional Catalan cuisine. They've received rave reviews since opening – book in advance.
Browse
Free Time is a veteran Barcelona magazine store. Odd Kiosk specialises in queer culture, and News & Coffee is a fresh take on newsstands, serving (you guessed it) terrific coffee.