When looking for an authentic, Caribbean island getaway, laid-back St. Lucia wins for many reasons. And on this island paradise, set in an astounding sixty acres of lush nature (not to mention fronting a 1,500 feet, crescent-shaped swathe of sandy beach) is the homely, escapist property that is Windjammer Landing Villa Beach Resort.
Oftentimes, size and experience do matter. As for the former, Windjammer Landing boasts impressive credentials. From the open terrace of our 2,800 square-foot estate villa with three bedrooms and a private plunge pool, we wished – perhaps only for a split second if we are to be absolutely truthful – that we had brought some friends along for the ride. The fab choice of villa accommodation at Windjammer Landing would certainly be great for a group celebration with friends, or family… or the friends we call family. But for us, this trip was all about getting away from it all and we couldn't have picked a better spot.
Set in sixty acres of the verdant hillside on St Lucia's northwestern coast, overlooking one of the island's prettiest bays, we revelled in a resort that while clearly focussed on privacy, still featured six swimming pools, five restaurants and a 5,000 square-foot spa and wellness centre.
Despite its size (maybe even because of it), the layout and villa-focus of the property meant that for the most part, we had the opportunity to spend time on our own and de-stress from our busy lives back home, enjoying all the features you'd expect of an escapist beach resort.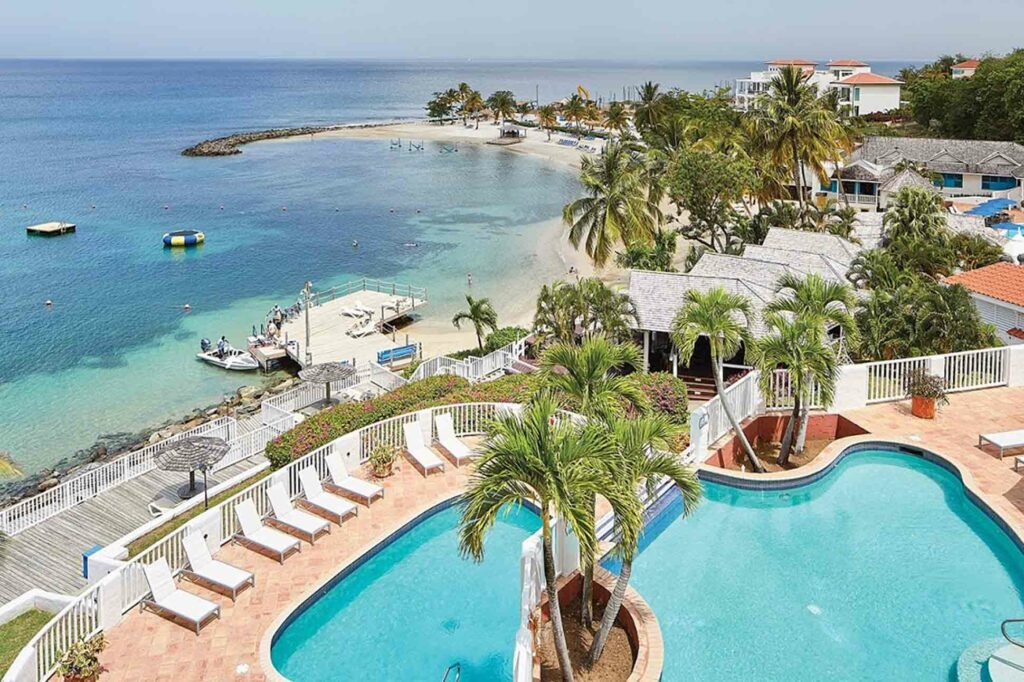 | | | |
| --- | --- | --- |
| Perfect for | Fly into | Right on time |
| The Escapist | SLU | GMT -4 |
While you're Out There
If you're a foodie, you'll be spoilt for choice at Windjammer Landing; and our recommendation is to take the property up on their all-inclusive package, which will definitely not leave you hungry or thirsty. If you're in the mood to leave the resort and go local, remember that you'll have to traverse the property's grand acreage, so there's not much within walking distance. But a short drive away by car, you'll find Rodney Bay Village with its selection of local restaurants and even further (by island standards, it's really only a fifteen-minute drive) is colourful Castries.
Windjammer Landing has a lean towards families in its guest make-up, but we didn't feel that its spaces were overrun by children at any point. Perhaps that may be different during school holidays, but we think that it is also probably because there's a lot for them to do, either in the comforts of their villas, at the two family-oriented pools, or at the lauded Jacquot Fun Club that takes young guests on experiential journeys and helps to create tailored, multi-generational-family-bonding activities for the young, teenage and adult kids-at-heart, both on and off-site.
When we were hungry for the company of other adults (or just plain hungry) we mingled with other guests in the property's communal spaces, bars and restaurants. When we did, we found that many were repeat customers and were staying for extended periods of time. That speaks volumes for Windjammer Landing, who have clearly succeeded in creating a homely and welcoming vibe for visitors to the island and have so many longing to return.
Structurally, the property is made up of 216 keys… primarily villas, but also standalone guest rooms. Our recommendation for OutThere travellers is to book one of the Mediterranean-style villas, they're very spacious and are available in a number of configurations, from one- to four- bedrooms. Some have full kitchens and private chefs on-demand as well. Furthermore, they offer fantastic value and whichever you pick, you'll be sure to get an ocean view and the stunning Lucian sunset. While the 'Caribbean-comforts' style design of the resort is not comparable to the newer resorts on the island, Windjammer Landing exudes experience instead… its high level of authenticity, charm and dedication to nurturing its guests. What made our stay, was by far the resort team, who were always smiling and effortlessly friendly. They really couldn't do enough for us and took personalisation and service to new, yet informal heights.
If you're tempted out of your private space, we recommend the brilliant spa. Highlights are its private Japanese soaking tub, juice bar and herb garden. Treatments incorporate warmed bamboo, polished stones, volcanic mud, marine body wraps, and a special 16-point acupressure facial technique. A variety of yoga sessions were also on offer, along with Tai Chi and Aqua Parkour.
Photography by Jamie Farell and courtesy of Windjammer Landing Villa Beach Resort