Here's one for LGBTQIA+ History Month… W. Somerset Maugham – one of the 20th century's most lauded authors, writer of The Moon and a Sixpence and Of Human Bondage – met the love of his life, American Red Cross worker Gerald Haxton, just as the First World War gripped Europe. After the war ended, they moved to London, but Haxton was deported, having been caught in an intimate liaison with another man. Maugham, despite his celebrity, continued their relationship and they eventually set up home together in France, on Cap Ferrat, on the French Riviera.
The whole of the French Riviera in the 1920s and 30s was a magnet for the Literati, an enclave of bohemian, free-thinking for the Brits; and an escape from the Great Depression (and Prohibition) for Americans, as well as sun, sea (among other s-word temptations). At the heart of it all, were the darlings of both nations, Maugham and Haxton. They made a home in their magnificent Villa Mauresque, a once a run-down Moorish villa, but thanks to Maugham's amassed wealth, transformed into a lush white mansion folly of courtyards, gorgeous gardens and swimming pools, where male guests would be found sunbathing naked. 
Their visitors were varied though, from the more prim and proper (at least that's what we're told) like the Windsors and Churchills to the expectedly more raucous like Noel Coward and Cyril Connolly. They all came to enjoy the warm southern French winters, dazzling long Côte d'Azur summers, entertainment and exquisite hospitality (it is said that the hosts wanted their guests to leave the Villa Mauresque feeling like they've stayed at the world's best hotel) on offer at the Maugham-Haxton residence.
Maugham's and Haxton's neighbours did their part to keep up with the Jones' and Cap Ferrat quickly cemented its place in history as a playground where anything goes. Maugham even said that the French Riviera was, "a sunny place for shady people" and that it gave him great inspiration for the characters in his writing.
Cap Ferrat remains legendary to this day. But beyond the lifestyles of the rich and famous thanks to its celebrity expatriates and its visitors, who continue to grace the mansions, villas and now luxury hotels there, there's a lot to be said for Cap Ferrat. When we last had a chance to visit, we adored its inherently romantic feel and stunning nature; perched on a rugged peninsula jutting into the Mediterranean Sea, set amidst rocky landscapes and balanced by sun-drenched beaches. It's easy to see what made Maugham want to spend the rest of his life here with his partner. The villa is still there at 52 Boulevard du Général-de-Gaulle, Saint-Jean-Cap-Ferrat, but all you'll see is its locked heritage iron gates with the Moorish 'hand of Fatima', intended to ward off evil spirits. Die-hard fans of Maugham's writing will know that the symbol features on the cover of his books.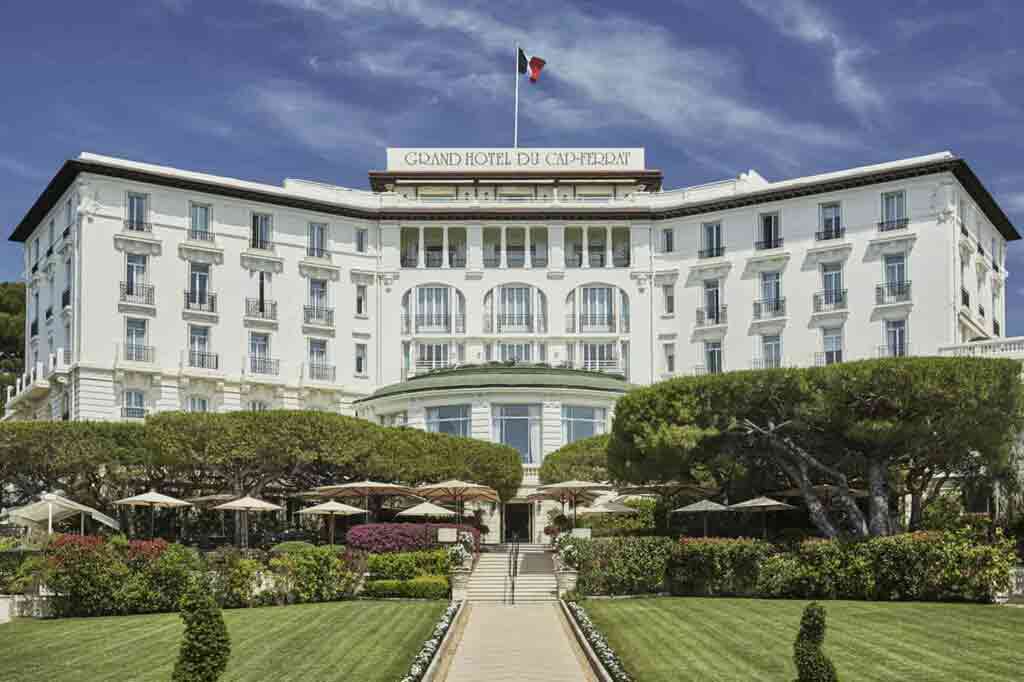 For a modern taste of the hundred-year-old hedonism of Cap Ferrat today, OutThere travellers should check-into the five-star Grand-Hôtel du Cap-Ferrat, a Four Seasons Hotel. In an envied position at the end of the cape (and a short distance from the Maugham-Haxton residence), the hotel opened in 1908, so Maugham and Haxton would have definitely graced its hallowed halls. The Grand is a lot more… well, grand than Maugham's villa and more contemporary to meet the needs of the modern traveller of course, but it still evokes a feeling of its storied past, albeit more towards 1940s and 50s movie-star chic. But those who care to look a little harder will catch glimpses of the roaring 1920s of Maugham's heyday.
Our tip to 'get in the vibe' is to book into a pool suite, perfect for a lover's skinny dip and for a postponed Valentine's Day treat. Retire to your private quarters with a copy of Maugham's The Summing Up for more about his life, or we'd also recommend Strictly Personal for Maughan's take on life in Cap Ferrat.
Or for a true taste of Cap Ferrat villa living, escape to the hotel's private Villa Rose-Pierre. Magnifique.
www.fourseasons.com/capferrat / www.saintjeancapferrat-tourisme.fr
Photography by Fulvio Spada and courtesy of the Grand-Hôtel du Cap-Ferrat, a Four Seasons Hotel