We like the choice of words that they use in Cuba, 'casa particular', to describe Economia 156, as we feel that 'homestay' or 'guesthouse' doesn't quite go far enough to explain the luxury of experience you get when staying in this private home. And with luxury being a subjective word in Cuba for obvious reasons, Economia 156 ensures that all our worldly expectations are met by applying a high-end, international sensibility matched with local, 'home-cooked' Cuban hospitality.
The property's location in a characterful, filmic part of Havana's old town (declared a UNESCO World Heritage Site) – close to key sites but just far enough away from the tourist throng – brought added atmospheric charm to our stay. Not that it needs it; the old townhouse building itself is immediately endearing, painstakingly restored (by the architect who had restored Cuba's Capitolio), blending its old-world Havana charm with urbane style courtesy of its creative owners, screen and stage director couple Jazz and Stephen. There's a cultivated elegance to the whole space. Coming up the stairs from street level, we entered a huge communal living area with dark wood-beamed, double-height ceilings, gorgeous 'mosaicos hidraulicos' tiling and shuttered Juliet balconies, accented by art and a tasteful merger of Cuban antique and modern furniture, many from the owners' own travels of the countryside. We admired a piece of old, wooden farmware, a new addition to the house, acquired from a lady we ourselves had met in the Topes de Collantes National Park.
An adorable open courtyard acts as an entryway to two double rooms and a twin room, sleeping six in total. Each is rentable on a bed and breakfast basis, or via buy-out of the whole space, preferably to families. Our room was cosy, with wooden furniture and a four-poster bed evoking traditional interior design; brought immediately up to date with an essential requirement for the hot Havana nights: air-conditioning.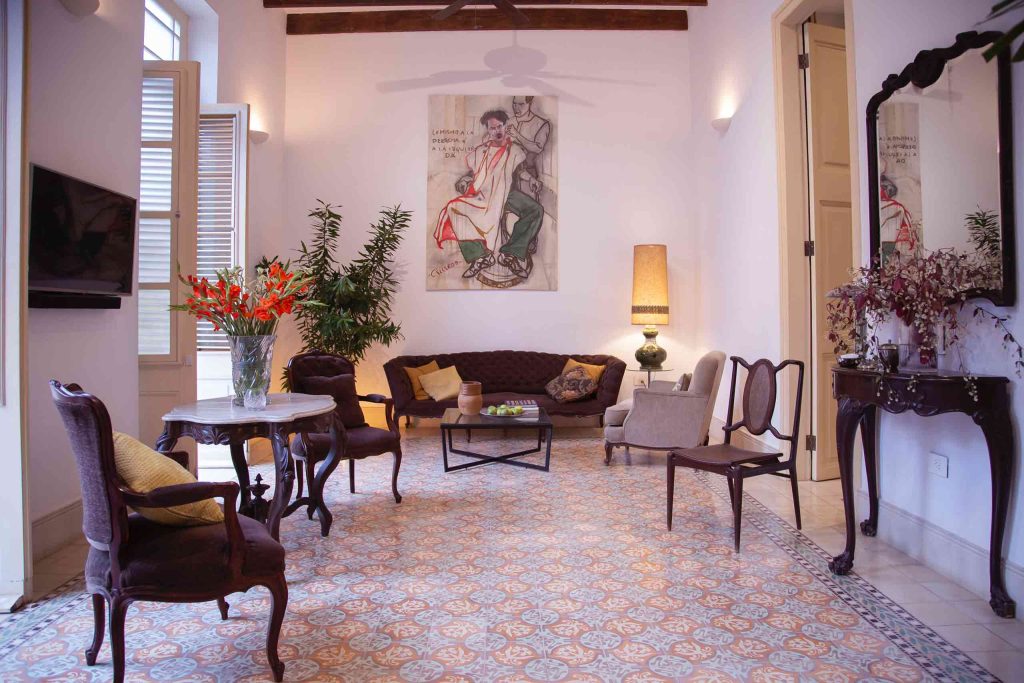 | | | |
| --- | --- | --- |
| Perfect for | Fly into | Right on time |
| The Insider | HAV | GMT -4 |
While you're Out There
Jazz tells us that he finds peace of mind in Havana Vieja on his early morning walks, where there are few people in the street, and the air is clear of diesel fumes from the 'almendrones' (old cars). From Economia 156, walk in a straight line past the Capitolio (stop to photograph its golden dome illuminated by the early morning sun), the Parque Central and down Prado, the tree-line boulevard which leads to the sea. It ends at the Malecón, overlooking the El Moro Castle, which has guarded the entrance to the harbour since the late 1500s. If the tide is high and the wind is up, huge waves crash over the sea wall near the entrance to the harbour. Return via the Plaza 13 de Marzo and the statue of José Marti on horseback in front of the Museum of Revolution. It depicts the moment he was shot leading his first battlefield charge. It's a peaceful and inspiring walk and it amplifies the fact that Havana is a living architectural museum full of history and culture.
Beyond the courtyard through black-framed glass doors was a surprisingly modern, Gasgo kitchen and dining area. It offers another informal gathering space for a chinwag over coffee, a cold beer with the owners in the morning, or one after a day of exploring. Guests can also have their breakfast of fresh fruit, yoghurt and home-cooked eggs on a long wooden table on the property's preened private rooftop garden and absorb the sounds of Havana with the company of Jazz and Stephen's pet cats. The food was meticulously prepared by our sweet chef who delighted in presenting each course and finding out what we would like to have the next morning. We fashioned him in our minds as Tenor (the butler who prefers to be called the maid) in La Cage Aux Folles. Perhaps one day he'll make it into one of Jazz's films or Stephen's play, a goal that may come quicker than expected as the couple is set to renovate the ground floor of the building into a studio/teaching theatre they're going to call El Garaje.
We loved that after touring the city each day, we could return and find plenty of quiet spaces to decompress or get lost in a book – no accident as the owners are such culturalists – whether in a garden chair on the roof or courtyard, in the reading nook that's the mezzanine library, or under the breeze made by a hypnotic rotating ceiling fan in the living room.
Staying at Economia 156 is an experience in itself, rooted in a true sense of place made all the more special by the fact that we were supporting an LGBTQ+ enterprise. Jazz and Stephen are gracious hosts. Their personal links to London meant that we had many stories to share. But they were also intent on helping us create new stories and memories in Havana, ever ready with personal tips of insider things to see and do that aren't in the guidebook. In addition, their recommendations often come with a theatrical eye, qualities that you'd find hard to tease out of a hotel concierge.
Economia 156 can be booked as part of a bigger Cuba itinerary with Cuba Private Travel.
Photography courtesy of Economia 156 and by Uwern Jong