Having been involved in the luxury travel industry for over a decade, French-born thirtysomething Geoffrey Ravoire was determined to give something back. Thus, the marketing manager and uber-leisure specialist got together with two like-minded professionals in the same sector – Lindsey Gift Silver of Oetker Collection and Chris Reed of The Ranch – to set up AVANCE Collective. We meet Geoffrey to learn about how exactly this new charity came about, and what positive impact it seeks to have.
The first word in AVANCE Collective literally translates to advance in Geoffrey's native language, which is apt, because this outfit is purposefully moving forward with various humanitarian initiatives that support inclusivity, education, and community. Funding is sourced from fellow pros in high-end tourism, and, somewhat remarkably, in an era where one constantly hears about philanthropic entities distributing very little of their contributions to the actual specified cause(s), AVANCE Collective will pass on 100% of donations directly to the social concerns it champions (which is jolly good work, we feel!).
The funds raised by AVANCE Collective are going to be allocated to four areas of need: disadvantaged youth, the LGBTQ+ community, underserved groups, and emergency help (natural disasters and human crises, inter alia). And although the charity was only established this year, it's already earmarked several people and projects all over the world it intends to benefit: it's not a surprise, perhaps, as its three co-founders have applied an identical amount of tenacity, skill and passion that's made their careers blossom, to their latest altruistic enterprise. Reason enough, we thought, to catch up with one of their number.
You've had an impressive career so far. What's been the driving motivation or force behind it?
Thank you, it certainly has been exhilarating! The driving motivation has been to help people connect with the world through travel and help them create moments to remember forever. There's no better reward than seeing how we can impact our clients' lives. With people at its core, the service industry boasts limitless creativity and experiences. The driving force has been, and continues to be, hard work, collaboration, and kindness.
I saw in your resume that you did a lot of volunteer work when you were relatively young. Has trying to help others always been part of your makeup?
Yes! My family always encouraged me to join them in their community service efforts with local food banks, fundraisers, mentorship programs, etc. All of these have been extremely formative and have taught me that no action is too small when you want to help.
When was AVANCE Collective created and who initially came up with the idea?
The first idea came during the winter of 2023. I was trying to think of how to be more involved in the community, and rapidly figured out that access to the fantastic network of the travel industry was my strongest asset. I had been involved in multiple charity auctions with clients and hotel partners, and wanted to find a different way to approach giving back, one where all members of the industry would be equal (vs. one side always being asked to donate).
Testing the concept with friends and partners from the industry, I knew Lindsey Gift Silver and Chris Reed would be instrumental in putting this together, and feel so fortunate to have them as co-founders. Together, we refined the four pillars that today make AVANCE Collective: empowering hospitality students with financial needs, supporting LGBTQ+ youth, giving microloans to underserved communities, and providing emergency relief. We started our informal 'board meetings' in the spring and began incorporating by late spring. AVANCE Collective became an IRS-certified public charity in August.
You've visited over 60 countries and even lived in a few. How has your career in marketing and luxury travel influenced and informed your work with respect to AVANCE Collective?
The whole premise of AVANCE Collective relies on the travel industry: on the access we, as a Board, have to it, and the generosity, friendliness, and kindness of fellow travel professionals. I feel so lucky to belong to our industry, one where we not only fulfill dreams but give people new dreams. It's only natural that part of the dream is to uplift anyone less fortunate than us. Having a business and marketing background helps us seize opportunities faster, and navigate the complex landscape of nonprofits. It's amazing to see how any experience comes to be useful, and how the dots connect.
It's quite a unique pair of ideas to try and unite the professionals in one particular industry and for 100% of volunteer donations to go directly to your causes. Can you tell us a bit more about these particular aspects of AVANCE Collective?
We want to ensure that people connect around causes that are relevant to them, so they see the point of committing donations. At the same time, we acknowledge that what matters to people from the travel industry might not be the same as what matters to people from other industries. Hence our focus is on one industry. Empowering new travel professionals, supporting LGBTQ+ youth, giving access to funds to remote communities, and taking part in emergency relief efforts all matter to us because they touch people we engage with daily.
Then came the question of the funding. Asking for donations makes you responsible for the nonprofit's assets, but also, accountable to every individual donor (our 'Avancers'). From the start, we wanted the capacity to say that 100% of the money Avancers trust us with goes to the causes, not toward operating costs. The way we achieve that is through our microloans pillar, supporting remote communities. Every time a microloan is repaid to AVANCE Collective, the money is reinvested in another community or entrepreneur. Once it's repaid again, we then allow a small withdrawal to cover our (limited) operating costs. In essence, the funds on the platform multiply over time.
How do you choose or vet which particular projects you'd like to get involved with and support?
After having defined our four pillars, we started brainstorming on which programs to support. For instance, our co-founder Lindsey being a Florida State University alum, she was able to obtain access to the Dean's office at the Dedman College of Hospitality, with whom we've had fruitful and exciting conversations. The programs we support or partner with are all trusted public charities, and pioneers in their own fields. They're our pillars. The options are infinite, and we are open to suggestions from our Avancers so everyone feels represented.
How important is diversity in relation to how you choose your projects and, with this in mind, why have you decided to support The Trevor Project?
Very important. No industry is more welcoming of the LGBTQ+ community than the travel industry. I am always so grateful to be able to speak freely about my husband at a conference, even with total strangers, without second thoughts. We can't take that for granted though, and recognize it's not a reality in every industry. As such, we want to support LGBTQ+ youth, show them that it does get better and that the travel industry is an accepting place for all of us. The only way to improve the future is to work on education and the next generations! Our co-founder Chris is also an active counselor for The Trevor Project, which gave us unparalleled access to the organisation, and makes the connection that much more meaningful. We also look at diversity in terms of who we help through our microloans pillar and will focus on underserved communities (which too often equates to minorities), those that without nonprofit lending wouldn't gain access to the capital needed to improve their livelihoods.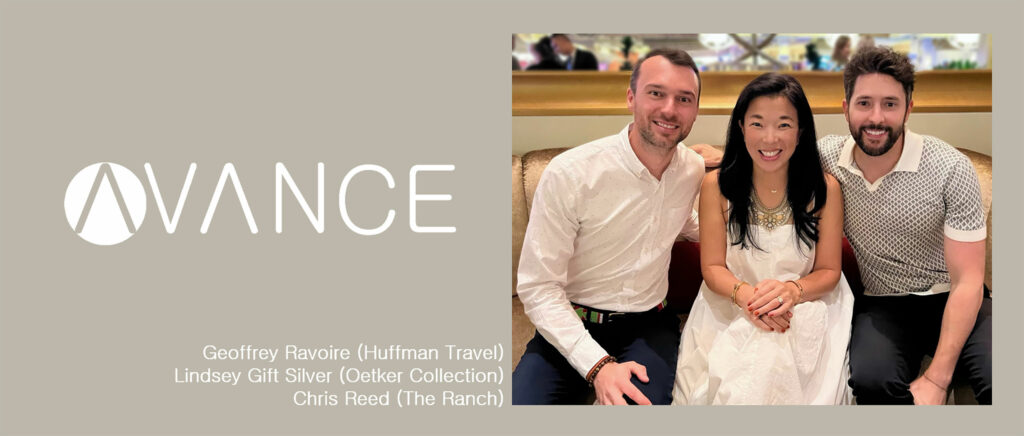 The recent tragic earthquake in Morocco has highlighted just how fragile our planet is. With this in mind, can you tell us a bit more about your emergency relief?
Our emergency relief pillar came into existence during a luxury travel conference, at our board meeting. It was just after the devastating Maui fires, and we felt the need to create a special allocation of funds for similar events, which unfortunately occur too often, and impact all of us on so many levels. Because we are in our first year, we haven't yet decided where this year's money will be distributed but it will be where we perceive the greatest need and have access to a vetted program.
If the charity could expand in the future, is there anything in particular you'd like it to get involved in?
We are open to creating new pillars for AVANCE Collective, but only as the fund grows, so efforts are not diluted. An idea we have been discussing a lot is to strengthen the education pillar to support the hospitality students in ways other than just financially – by sharing access to our network, facilitating meetings, internships, and maybe mentorship. We have outstanding resources both with professionals and academia, so we'd love to create more bridges. But, as we know, we must learn to walk before we can run!
With regard to luxury travel, what great change would you like to see in this sector of the industry?
Luxury travel is a critical vessel of change and learning. I believe that luxury travel cares about sustainability (and can afford some of the more costly initiatives) and offers a more responsible approach to travel: resorts are usually smaller, the footprints measured, and experiences are meant to deepen one's connection to the locale they visit. Every trip opens your eyes to another way of thinking, another world. That said, we, as an industry, have still some growing to do. Talking about diversity, how about a world where travel providers do not assume that a Mr. is married to a Mrs., that a Mrs. shares her partner's name, or that same-sex travel companions should have separate beds?
Particularly in LGBTQ+ travel, hotel guests are often presented with one small robe and one large robe, one pair of small slippers and one large, etc. These subtle situations result in greater micro-aggressions, where commonplace verbal, behavioral, or environmental slights, whether intentional or unintentional, communicate a derogatory or negative connotation towards marginalized groups over time. Also, with the incredible advancements in technology, robotics, and AI, we do see an urgent need to maintain the balance between tech and human connection. Finally, we hope that travel industry professionals across all sectors will continue to embrace and champion the efforts of giving back. We can't just be in this for the profit, but to enrich the lives of others and support a better future for those less fortunate.
Is there anything else you'd like to add about the charity?
We welcome thoughts and help from anyone to make this a success. If you feel you have time and ideas to contribute, please reach out to us and we'd be happy to discuss how to work together. You can also reach us through Instagram. You may also donate at any time online. No matter your donation, it will help us demonstrate the charitable power of the travel industry. Thank you!
Photography courtesy of Geoffrey Ravoire