Singita Sabora Tented Camp is the perfect place to immerse oneself completely in Tanzanian nature. A former hunting base – unenclosed and out in the wild, right in the middle of the Grumeti Game Reserve in the Serengeti – this luxury 'lodge under canvas' is now the venue for shooting of an entirely different kind: photography.
On the far west of the Serengeti, taking up 140,000 hectares of prime, private conservation land is the Grumeti Game Reserve, a breathtaking and picturesque landscape of arid lowlands and cliffs under an infinite African sky.
We just loved the regenerative tourism story behind its most remote "out in the bush" encampment, Singita Sabora Tented Camp. The African superbrand took over this once hunting camp and refurbished it (and by that, we mean razing it to the ground and starting from scratch), turning it into an upscale, standalone, private bush camp for the benefit of conscious travellers looking to experience a true slice of Tanzanian wilderness. The luxury ecotourism provider's intention was to ensure a high degree of exclusivity, so it purchased every hunting permit for the area, which has reduced outsider access significantly and single-handedly contributed to wildlife conservation efforts. It is therefore one of the most private reserves in all of Africa, its vast expanse waiting to be explored by no more than a hundred guests at any one time, shared over just a handful of camps and lodges.
Grumeti brims with wildlife all year round. Visiting in March, we were just awestruck by the abundance of animals during our game drives, possibly the most mesmerising that we've encountered in our travels to Africa to date. But it is truly spectacular during the Great Migration that moves through Grumeti between April and June. Ever popular with safari enthusiasts, the event means that Singita Sabora Tented Camp is generally booked out or at its peak rates, so while it is undoubtedly a phenomenal experience, we'd advocate for booking outside this time, as we're pretty sure the experience won't be any less magical.
Singita Sabora's private, nine self-contained suites under canvas are designed as pared-back versions of classic safari style, albeit with beautifully and mindfully curated interiors imbued with a feeling of romance and the spirit of Africa, showcasing cleverly curated reproduction campaign pieces, in wood, African fabrics and leather. Resisting the temptation to overindulge guests in classic African styling, the vibe here is chic and contemporary. We seldom gush about interior design, but here at Sabora, they have got it just right, with everything coming together to tell a story of the destination. We're suckers for a 'sense of place', but here at Singita Sabora Tented Camp, they've achieved this and so much more. It's all linked to the brand's ongoing dedication to celebrating local and African heritage and the continent's unique places and people, as well as holistic conservation and community empowerment.
The tents are all identical apart from their orientation, the furthest away from reception naturally being the most private, but it also means having to always be escorted by a rifled guard to move between your accommodation and communal areas, for good reason of course. If you opt for these tents, just be ready to hear things go bump in the night!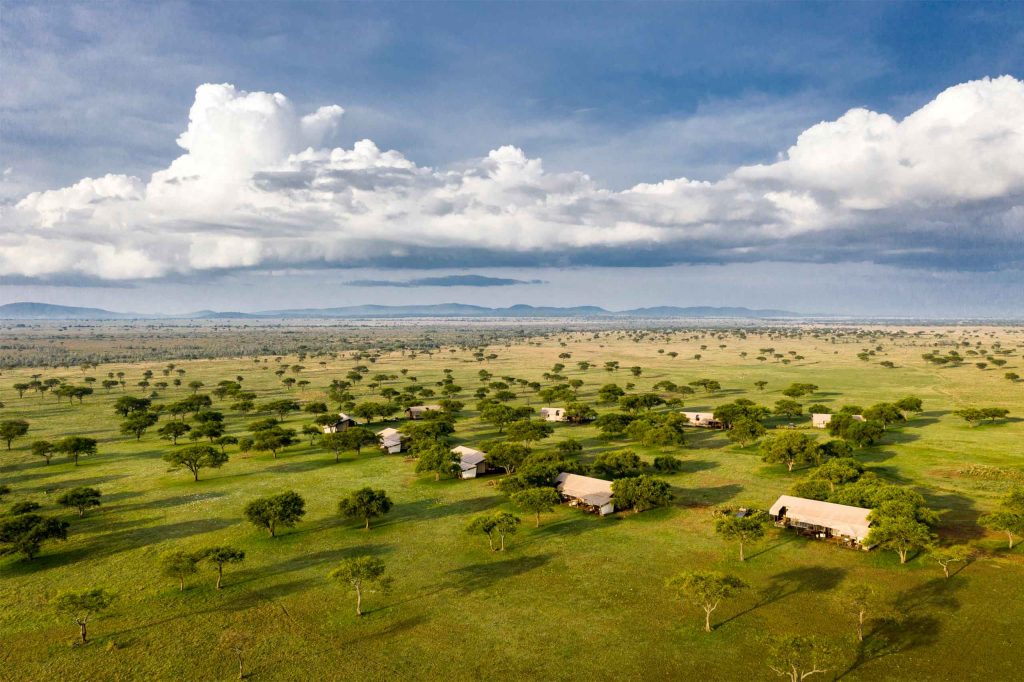 | | | |
| --- | --- | --- |
| Perfect for | Fly into | Right on time |
| The Adventurer | DOD, then connect to Singita Sasakwa Airstrip | GMT +3 |
While you're Out There
The food and beverage concept at camp is exemplary. Singita Sabora has done away with staid preset mealtimes and stuffy camp dinners to offer a dine-on-demand kitchen. Alongside a daily-changing, contemporary menu and alt-diet options on request, we grazed their pantry-deli – fridges filled with gourmet treats to enjoy in the privacy of our tent, by the pool or even on a picnic out on safari.
We enjoyed the informal casualness of life on camp, but could rest secure in the knowledge that top-notch service and safety is paramount here, being in the middle of the bush and not fenced off. Zebra and impala are often seen hanging out by the pool, perhaps they too have heard about Sabora's excellent facilities, pool deck, gym and spa tent. But, for all that wildlife spotting is the thing to do here, so too is enjoying downtime in between spectacular morning and evening game drives or at sunrise, sunset or while stargazing. With this being a truly private concession, there aren't any cookie-cutter excursions or game drives; everything was tailored to what we wanted to do and under the watchful eye of amazing guides, we could really get up close and personal with the animals.
Singita Sabora is a game changer for the East African tented-camp safari experience and is perfect for those looking for a sense of adventure without compromising on their need for contemporary design, luxury, service and hospitality. It's a journey that we'd do all over again in a heartbeat.
We travelled with Red Savannah, a luxury-holiday specialist imbued with a classic spirit of adventure.
It offers seven-night trips (or more) across a selection of Singita lodges and camps on a full-board basis, complete with game-viewing activities, airport transfers and international and connecting flights. A stay could include the sublime Singita Sasakwa Lodge manor house, perfect for either acclimatising to Tanzania or to celebrate the end of a life-changing expedition. For added exclusivity or groups, the full buy-out Singita Serengeti House is a glorious choice. If it's good enough for the Obamas, it's good enough for us.
Photography courtesy of Singita