Experiencing something different from the norm may not be on the cards when you have limited time in a new city. But we've come to learn that the best experiences often turn out to be the unexpected ones, and The Vintage Hotel & Spa, a soulful boutique property in the Portuguese capital, offered one of our favourite experiences when we visited.
Lisbon isn't all about cobbled streets and funiculars. Of course, if that's your thing, we thoroughly encourage you to go and explore. If however, the experience you seek is a little more out of the ordinary, The Vintage Hotel & Spa might be the place you're looking for. This five-star boutique hotel sits in Principe Real, a little away from the beautiful chaos of Bairro Alto, yet close enough to it that you needn't suffer FOMO.
As the name suggests, the interior is influenced by all things mid-century. Circular mirrors hang in the hallways, beige carpets, bespoke furniture and moody dark blue walls create precious nostalgia. A 1960s bar cart with a gin and tonic mixing kit in our room was a nice touch. The dark wood furniture by local Portuguese artisans adds drama and we couldn't help the feeling that somehow we'd ended up on the set of a Wes Anderson movie.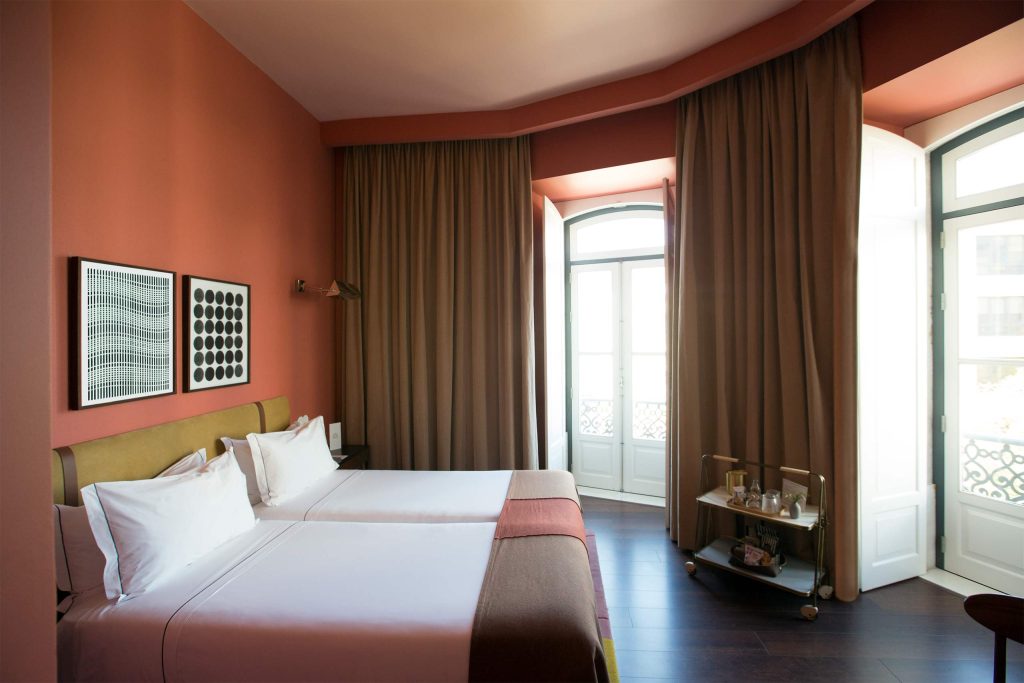 | | | |
| --- | --- | --- |
| Perfect for | Fly into | Right on time |
| The Culturalist | LIS | GMT +1 |
While you're Out There
If you have the time and can get a table, take a taxi to Omakase Ri. This tiny six-seater restaurant is a hot ticket with a long waiting list. Brazilian chef William Vargas and sake sommelier Gabriela Hatano cook up a fifteen-course sushi storm served with wine and a big splash of authenticity. By the end of the intimate three-hour experience, not only will you be well-fed, but you will have formed new friendships in Lisbon.
Most hotels in Lisbon offer a rooftop bar and The Vintage is no exception. The bar space on the fourth floor is great for relaxed dining or sipping a drink with friends. In fact, almost everyone there must have had the same idea; the space was alive with clinking cutlery, excited chatter and lots of laughter in the air. The Blue Bar and Restaurant is a more formal space that honours the cerulean skies and waters of the city. It has an outdoor patio area worth a mention on its own. With vertical gardens and terracotta highlights, the terrace has a home garden energy but with exceptional food and drink. Make time for a long breakfast here – the coffee, eggs and pancakes are fantastic. Although, with rooms this beautiful, you'd be forgiven for ordering room service with a city view.
Whilst staying at The Vintage, we also had the pleasure of experiencing the spa. It provides a quiet sanctuary from this very busy and exciting city. Our 50-minute aromatherapy massage was the perfect antidote to walking around Lisbon's hills and we highly recommend it. We followed this up with herbal tea in the water lounge and felt the day simply fall away.
The Vintage Hotel & Spa is within a short distance from Chiado, the Tagus and the flutter of Bairro Alto, so there is little compromise on location. If walking around is your thing, this is a great place to start from. From here it's easy to escape and return to the action as you please, and that serves as a great advantage. Something else the hotel offers is an alternative to the traditional experience of the city. With its design aesthetic, the property has taken a bold departure from what is symbolic of Lisbon. In a place where many hotels have historic ties to nobility and build a name around it, The Vintage Hotel & Spa has stamped a unique identity. It's a brave move, but one that is executed so well.
Photography courtesy of The Vintage Hotel & Spa