They say that magic only exists in fairytales. But, if you look at what the innovative folk at the recently launched hospitality brand Vestige Collection have been up to as of late, you might just disagree. Sprinkling an abundance of stardust on a range of rundown, noteworthy properties across Spain – in an effort to transform them, with sustainability in mind – Vestige is in the process of creating some of the most desirable vacation spots in the country.
Keen to know how this extraordinary design endeavour began? So were we. About fifteen years ago, Vestige Collection, which is owned by the Madera family, acquired its first project, the Palacio de Figueras. The half-a-millennium-old, 11-room palace overlooks the enchanting blue of the Eo River in Asturias. Nonetheless, it had fallen into complete disrepair and it took over a decade to restore the building to its former glory. In fact, the undertaking went so swimmingly and had such a wonderful impact on the region's architectural heritage, that the renovation received the gold medal from Oviedo's Chamber of Commerce – no small feat!
This unqualified success ignited a passion in the Madera clan to do more. Therefore, their raison d'être became 'to act as custodians of historical-cultural heritage, preserving and regenerating sites of exceptional architectural, environmental and community significance'. To this end, in the last 15 years, in an attempt to develop an exclusive brand, Vestige procured an astounding 25 properties. This portfolio includes abandoned 13th-century castles with more mystique than you'd find in a Brother's Grimm folk tale, and early 20th-century modernist builds that impress due to a functionalist, curvilinear aesthetic. Some of these 'des reses' are earmarked as hotels, others as private homes (2024 to 2025 will see at least four fresh openings), with many in beautifully idyllic settings, untouched by the throng of tourism.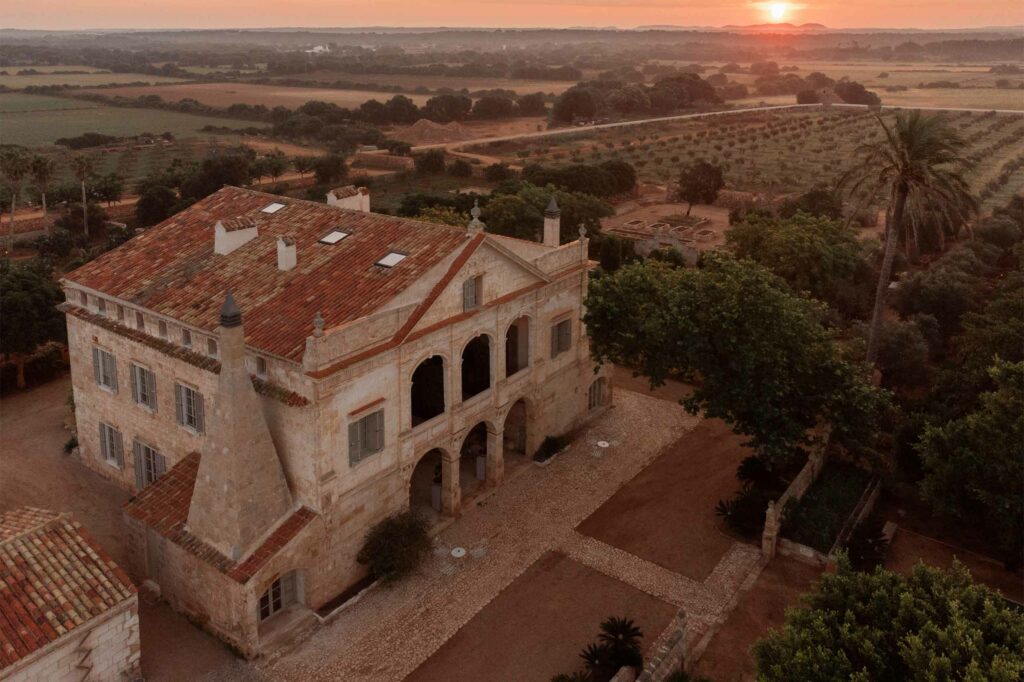 In an increasingly technologically advanced world, at OutThere, we appreciate the value of cherishing heritage and tradition. It's only in this way, after all, that we know where we've come from and who we are. And in this context, all too often, areas of natural beauty, or those home to classic edifices, have been horrendously redeveloped or simply destroyed for commercial gain. Thus, Vestige is to be applauded for taking historic buildings and culturally important landscapes – the majority of which have been woefully neglected or faced total oblivion – and breathing new life into them, not merely for the current generation, but also for those to come.
Nowhere is Vestige Collection's dedication to the cause better epitomised than in their eponymous hotel, Son Vell, which opened in June. Ensconced in the picturesque Menorcan countryside, and just 20 minutes from the captivating city of Ciutadella, the discarded 18th-century manor house was in a state of dilapidation. However, undaunted, the Maderas bought the 180-hectare estate in 2019. And as with all of their other uber-reconstructions, they enlisted a team of experts – much like we do, to maintain physiocal appearances, albeit on an (even) grander scale – such as principal architect Enrique Motilla, artists, curators, craftspeople and historians. Hey presto, three years later, the spectacular result is a 34-room, grand Italianate-style accommodation-haven, adrift in a mesmerising oasis of citrus trees, olive groves and organic vegetable gardens.
If you ask us, such culturally vibrant, distinct and meaningful properties are perfect places for discerning travellers to while away the hours. They also serve as an antidote to the often bland, soulless plethora of big-chain hotels that have sprung up along Spanish shores in a heavily profit-driven construction boom that predated the days of sustainable growth.
Son Vell's guest experience is enhanced by having the unique opportunity to obtain a deeper insight into traditional Menorcan culture. For instance, guests can link up with local artisans to learn longstanding techniques in the knack of bag, jewellery or shoe-making. And, of course, there are a variety of other interesting activities to help one unwind: cooking classes with chef Joan Bagur, sound healing, 'yogalates', or (if you're anything like us) a dip in the immaculate swimming pool. Another magical option is stargazing; yet perhaps, while glancing up at the heavens, consider the near-ruins Vestige has already cast their spell over – for they are arguably out-of-this-world, too.
Photography courtesy of Vestige Collection