The whimsical setting of the Okavango Delta can only mean an equally fanciful safari lodge – and Xigera doesn't disappoint. The brief for architect Anton de Kock and designers/curators Philip Fourie and Toni Tollman (a family member of Red Carnation Hotels, of which Xigera is a part) was to build the most resplendent lodge Africa had ever seen. And we walked away truly impressed.
Everything at Xigera has been painstakingly designed, commissioned or acquired specifically: from the Porky Hefer nest installations, Adam Birch and Chuma Maweni custom furniture, Charles Haupt and Stanislaw Trzebinski metalwork, to the objets d'art by Ardmore, Madoda Fani and Atang Tshikare. It's clear that Xigera is a labour of love, a bold statement of Botswanan and moreover African creativity and craftsmanship, both notable and up-and-coming. In combination, it's a breathtaking compendium of continental, cultural and site-specific creative narratives.
Beyond the artistry, we were impressed by the build, where no stone – often literally – was left unturned, and no detail was considered too laborious. Physically an eye-catching masterpiece, Xigera takes inspiration from the magnificent Okavango and is sympathetic to its location. The main buildings, sun/moon decks, spa and pool area form an impressive central footprint, which branches out amidst a canopy of indigenous trees into just 12 luxurious suites. Every structure frames the floodplains beautifully. Interconnecting walkways suspended above ground keep guests at a distance from wildlife that otherwise roams free below. True to its name, the lines are fluid and undulating, a tribute to the movement of the pied kingfisher in flight.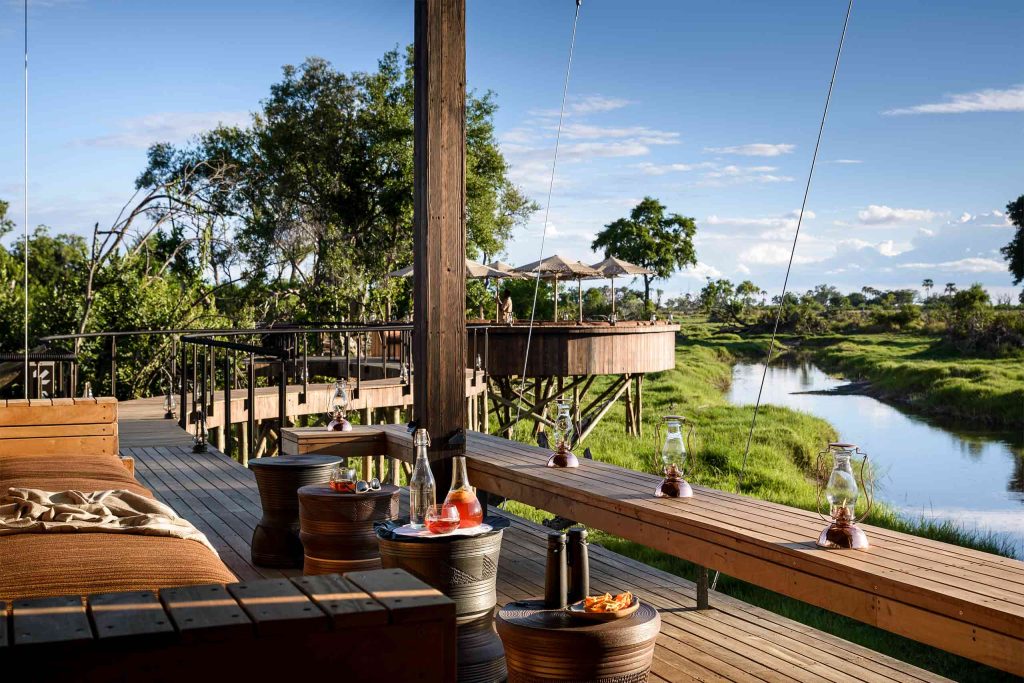 | | | |
| --- | --- | --- |
| Perfect for | Fly into | Right on time |
| The Sophisticate | JNB or CPT, then connect to MUB followed by a brief connection to Xigera Airstrip | GMT +2 |
While you're Out There
Being in the heart of the Okavango, it's pretty obvious what the experiences on offer are. But for us, the most unique excursion was heading out into the delta in a mokoro canoe, gliding quietly through the delta's narrow channels among vibrant waterlilies and experiencing the Okavango from a beautifully unique perspective, all while our Xigera guide regaled us with stories of growing up in the area and pointed out water-bourne wildlife.
Except for one two-bedroom unit, the 12 wooden-house suites are democratically identical in layout, comprising three enormous spaces each. Floor-to-ceiling windows maximise the view of the plain, as well as of the glorious sunrises, and lead out onto sweeping terraces. The decor and exquisite embellishments – colour and texture-wise – differ from suite to suite, but the lodge's artisanal theme endures, from cast-metal shower trays, handcrafted armoires and soft furnishings, down to the china and drinking glasses. Each space has a centrepiece, our favourite being a huge brass bath, perfect for a deep soak at the end of a day on safari, with hot water provided by Xigera's own solar-panel field, which sustainably provides 90 per cent of its energy needs. Beyond the luxurious trappings, guests can expect fantastic luxuries as standard, not to mention unexpected amenities and a truly welcoming and inclusive understanding of guest requirements that comes with the training that Red Carnation puts into personalisation, diversity and attention to detail.
Those looking to mix it up can also try the Baobab Suite, just over half a mile/less than 1km from the main lodge. It's a striking steel structure built in the shape of the mythical tree, ascending 10m and three storeys above the delta, offering panoramic views and an unforgettable place to sleep in the middle of the bush, whether out on the rooftop or in its first-level bedroom.
The food at the lodge is worth an honourable mention, a highlight being executive chef Ziyaad Brown's African 'omakase' tasting experience, inspired by fire, wood and smoke. It's a theme that continues into a special boma evening, a Botswanan outdoor feast consumed by the flames billowing from Conrad Hicks's designer totem firepit.
We travelled with Rainbow Tours, experts in tailormade holidays into the heart of nature. The company offers itineraries of four or more nights at Xigera, including all meals and local drinks, activities and game drives. Part of their end-to-end service includes booking return international flights to Johannesburg and onwards to Maun, plus the short Mack Air transfer to Xigera's own airstrip.
Photography courtesy of Red Carnation Hotels