Set against the Andaman Sea, an hour's drive north of Phuket's airport, the chic Avani+ Khao Lak provides a relaxed and comfortable escape from the everyday hustle and bustle. And despite this tropical resort's prime location stretching all the way to Khao Lak's never-ending beach, it does so at great value.
The resort is situated over a nearly one-kilometre-long strip of grounds that stretches back from the Phet Kasey Road to the golden sands of Khao Lak Beach. This generous footprint allows for plenty of manicured green space peppered with tropical plants and palm trees between the various accommodations and facilities. Despite the almost full occupancy of the over 300 rooms at the time of our visit, the hotel felt uncrowded. The landscaping creates the impression of the Avani+ Khao Lak being a very well-appointed clearing in the jungle. Even the colourful waterpark, where families with small children would congregate, felt a far enough distance so as not to impact upon the general sense of tranquility, and prevented the larger buildings at the eastern end of the property from feeling too overbearing.
Our spacious pool villa faced back into the grounds rather than towards the sea, but still felt secluded. An elegantly appointed modern interior blended a clean, unfussy contemporary design with subtle Thai accents. We found this pleasant, although perhaps it lacked a little of Avani's stable mate Anantara's personality. That's to be expected from a brand that has such a broad appeal. Avani Hotels & Resorts falls under the umbrella of the Thailand-based Minor Hotels and has a growing international presence with properties across Asia, the Middle East, Africa, Europe, and the Indian Ocean region, targeting modern travellers who seek style with an eye to affordability. Their contemporary and vibrant approach to hospitality is a formula that seems to be working, and we certainly felt it at the Khao Lak property.
Our aim was to decompress after a particularly busy period and we weren't disappointed, thanks to long stretches of golden sandy beaches and warm, clear sea. We started our days wandering barefoot to the beach to watch the sunrise before taking part in a guided yoga session, before strolling to the Elements restaurant for a substantial international buffet breakfast where we pondered the most difficult decision of the day: which palm tree to sit under? One facing the sea on the beach, or one by the elegant infinity pool (just one of the report's four pools)? Luckily, both lounging spots are within waving distance of the waiters working in The Mojito Factory beach bar.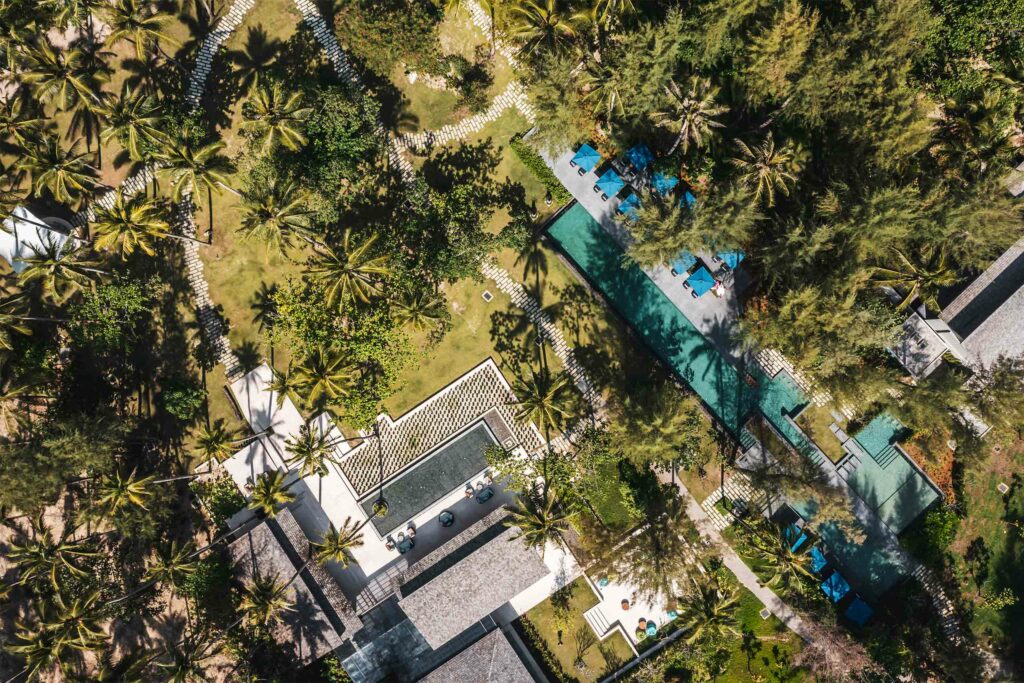 | | | |
| --- | --- | --- |
| Perfect for | Fly into | Right on time |
| The Escapist | HKT | GMT +7 |
While you're Out There
To complement your relaxing resort time we recommend that you drag yourself away from the pool for a few hours to experience some locally run, ecologically sound activities that provide a source of income and employment for locals but require minimum effort from you. Take a sedate trip down a shallow river on a bamboo raft and take in the natural beauty of the rainforest. Our guide spotted a number of snakes resting in the branches of trees above us and we even had time for a cooling dip in a freshwater pool before heading back to base. Visit the sea turtle conservation centre working to save and increase the number of sea turtles in the region, before finishing with a short trip to Ton Pling Waterfall and a final dip in the small ponds here. Hassle-free pickup and drop-off are available. Just be sure to take a hat and wear reef-safe sunscreen so as not to pollute the local ecosystem.
Of course no indulgent resort break is complete without a trip to the spa. With six treatment rooms set in and around lush gardens, the Avani spa provides an even deeper level of relaxation offering a range of calming massages and revitalising beauty treatments. For those with a little more energy to burn than us, the resort also offers a range of activities and experiences from guided nature walks, snorkelling, and bicycle rides. There was even a climbing wall but we personally preferred to stay horizontal rather than vertical, so gave that a miss. Khao Lak is well positioned to offer day trips to the Similan Islands. We recommend supporting the fun trips organised by Moo Moo cabaret, Khao Lak's resident and popular cabaret show which employs LGBTQ+ folks from around the region.
As you may expect, on-site dining is a very casual affair. Our favourite spot was The Beach House, a stylish beachfront restaurant with an international menu. The larger Elements offers a buffet-style breakfast and a variety of choices while specialising in authentic Indian cuisine and, of course, Thai favourites. There's also fresh seafood at Manao Bar and vibrant street food-inspired dishes at Little Market. On a short walk along the beach, we discovered some good local, family-run, independent restaurants, and on another occasion, we took a taxi to the nearby Bang Niang night market.
As very frequent visitors to Thailand, and with a clear intention of just wanting somewhere to relax for a few days, we didn't feel the need to go in search of too much else. But those expecting a more profound connection to Thai culture may come away feeling a little short-changed. That said, Thailand's well-deserved reputation for outstanding hospitality is certainly palpable at the resort. In our opinion, Avani+ Khao Lak makes a great base for first-time travellers to Thailand, as it is very much a safe option. The hotel appeals to travellers seeking a clean, contemporary but elevated place to kick back against a beautiful backdrop, but without needing to remortgage to be able to afford it.
Photography courtesy of Avani Hotels & Resorts