Driving up the private, oak-lined road that leads to Delaire Graff Estate, the views become exponentially more exciting with every bend. At the very top, they're so mesmerising, it's hard to imagine a more spectacular arrival experience to any hotel in the Stellenbosch region, let alone the rest of the Cape Winelands. Perhaps that's why we knew we'd found a gem of a hotel – in some ways, quite literally – the moment we set foot on the property.
The views are, of course, the first thing you notice, and we can't stress enough just how special they are. When we arrived in the late afternoon, we walked right up to the edge of the parking lot and stood by the flower beds, behind which a valley of vineyards and olive groves runs into the dramatic Simonsberg in the distance. Radiating a fiery, red glow, the mountain looked as though it had been scraped up from the ground by a giant butter knife, and left to sit in a golden hue that faded into a purple sky above. 'Show-stopping' doesn't begin to express the scenery, which is said to be the reason English jeweller Laurence Graff (of eponymous Graff Diamonds) fell in love with the estate when he first visited, buying it in 2003 and taking a total of six years to 'cut' the property, his latest gem, to perfection.
When Delaire Graff Estate finally opened in 2009, it did so with 350 different species of plants in its gardens, designed by horticulturist Keith Kirsten to bloom all year round, and an assortment of artworks from the jeweller's private collection, that would turn heads from London to NYC: Dylan Lewis' large-scale cheetah sculptures are scattered across the grounds, an evocative piece by Hank Willis Thomas greets diners at the entrance to the Delaire Graff Restaurant (which also houses a painting by William Kentridge) and, most strikingly of all, Vladimir Tretchikoff's 'Chinese Girl' is displayed in the lobby.
With so much to see in the hotel's communal spaces alone, we were more than a little curious as we walked down to our Superior Lodge, one of only 16 lodges (excluding a 660 sqm/7,100 sqft four-bedroom Owner's Villa) scattered across the hillside compound, all connected via a network of pathways that, adorned with flowers and trees on each side, gave the entire place an almost island resort-like feel. And our lodge certainly didn't disappoint: across some 76 sqm/818 sqft of indoor space and 50 sqm/538 sqft of private outdoor space, it featured a generous living room, an en-suite marble bathroom, a Poliform dressing room, a wet bar including a fully stocked wine fridge, a private terrace and its very own heated plunge pool with views over the valley. The lodge's interiors, designed by David Collins Studio, were chic, clean and contemporary throughout, although African artworks gave the space a purposefully local feel that's also conveyed externally through the usage of classic Cape Dutch rooflines.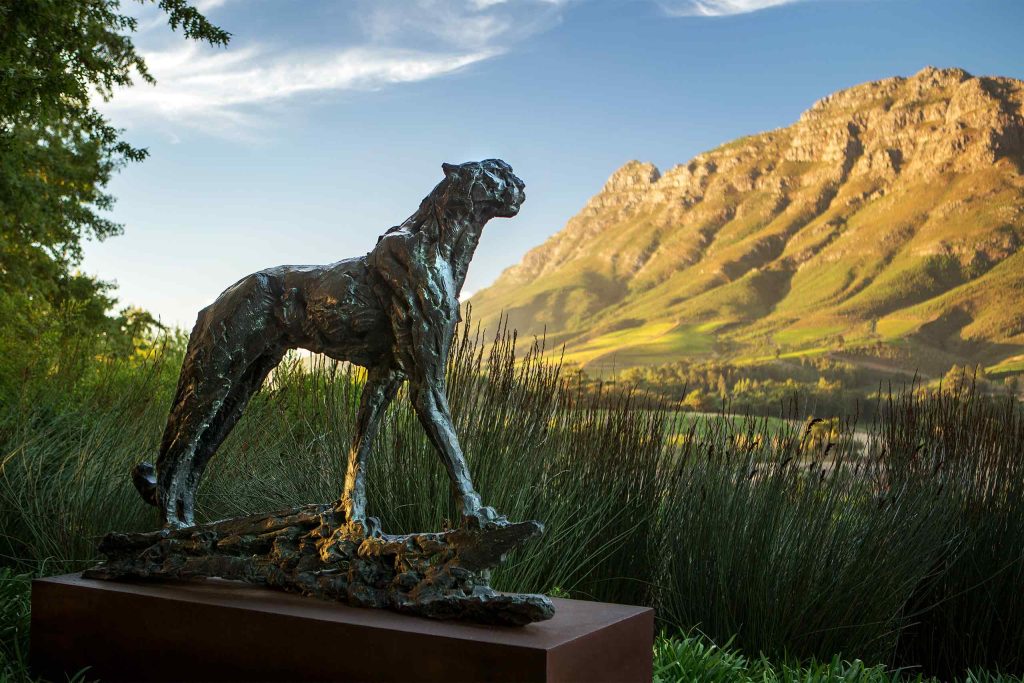 | | | |
| --- | --- | --- |
| Perfect for | Fly into | Right on time |
| The Sophisticate | CPT | GMT +2 |
While you're Out There
It's easy to head out from Delaire Graff Estate and travel far in fairly little time – thanks not least to the property's two helipads. But there's plenty to discover in nearby Stellenbosch, too: we found the town's botanical gardens, part of the local University, surprisingly varied given their relatively intimate size. Exit through the southern gate and make your way towards the old town across the road, where trendy cafés sit between yoga studios and wine bars. We can think of worse ways to while away an afternoon.
There's a noticeable drive towards providing that extra bit of luxury and comfort, and to us, this really came through in details like a scented candle by our bathtub, light switches that were as smart as they were elegant, bath salts and foam that came with a Delaire Graff-branded measuring cup and towels with a pocket at one end that would allow us to wrap them around the top of our poolside lounger and prevent them from shifting – ingenious. This theme of thoroughness also presented itself at turn-down, when the hotel's staff placed a note with a thought of the day and a weather forecast on our beds, alongside varying, immunity-boosting small bites to enjoy on our lodge prior to breakfast the following day. Charmingly, guests also receive amuse-bouches and wines some thirty minutes before each dinner reservation, to enjoy in the privacy of their lodge. These treats really set the tone for the evening ahead (and they do wonders in appeasing your other half, should you need a few more minutes to get ready – not that we knew from our own experience).
The property's gastronomic offering encompasses both Virgin Kahn-headed Indochine, known for Asian tapas with a South African twist, as well as the signature Delaire Graff Restaurant, where what the hotel calls 'bistro-style' fare is served; though we would describe the food here as far more elevated than that. It'd be hard to overstate how welcome and, in fact, celebrated we felt as vegans, with not one, but both restaurants featuring dedicated plant-based takes on the chef's signature menus, which spanned seven courses of mouth-watering delights each: josper-fired beetroot, crispy tempeh with homegrown galangal and spicy coconut, lotus root on torrefied corn furikake, olive oil panna cotta, red shiso and sancho parfait – the list goes on. Delaire Graff Estate regularly ranking among the world's best vineyards, it pays off opting for a wine pairing, although if you only allow yourself a glass or two, don't miss the estate's well-known Botmaskop Bordeaux blend, or the flagship Laurence Graff Reserve.
It's little surprising that the team at both restaurants and moreover across the hotel is also wonderful, with a few stand-out characters who would occasionally engage us in genuine conversations filled with warmth and laughter. That said, some interactions could at times feel rehearsed, and we also thought that when the reception team approached us just as we sat down for breakfast – two mornings in a row – to enquire about our upcoming check-out procedures, that this wasn't the best moment to remind us of our impeding departure (we were, after all, having a fantastic time, and didn't want to be made to feel 'on the way out' just yet).
Thankfully, the spa at Delaire Graff had a way of returning us to a state of sheer bliss: built around water features which themselves serve as the backdrop to bronze sculptures by South African artist Deborah Bell, the facilities include five treatment suites, four of which with their own, private terraces, a relaxation lounge, and a sauna as well as a steam room for exclusive use. Our treatments here were excellent, and facials routinely end with the application of sunscreen – a nice touch.
Emerging from the spa, we often strolled around the adjoining vineyard or explored the estate's on-site gardens, from where the other side of the valley, framed by flowering protea plants and a kaleidoscope of other fynbos species, is visible in all its glory. You could also stop by the property's luxury stores. An hour or two spent browsing the fine jewellery at the Graff boutique would certainly exemplify just what sort of hotel Delaire Graff Estate endeavours to be: as with diamonds, everything is about refinement here, and from whichever angle you look at it, the property is a shining example of just how polished of a stay visitors can have on holiday in the Cape Winelands. Brilliant indeed.
Photography courtesy of Delaire Graff Estate