It's funny to think, perhaps, that Sir Richard Branson – who's travelled to outer space as well as to the bottom of the world's largest sinkhole in Belize – supposedly got a little lost walking back to his Cape Winelands luxury hotel, Mont Rochelle, after enjoying lunch in the town of Franschhoek. But so we overheard staff say during our stay, and it was far from the only thing to have put a smile on our face at this five-starred Virgin Limited Edition property.
We'll be honest with you and admit that part of the reason we wanted to stay at Mont Rochelle was the prospect of bumping into and squeezing a few travel anecdotes out of the man himself. Though Branson does visit once a year (and staff allegedly never know of his arrival in advance), the adventure-loving multipreneur was nowhere to be seen when we visited – his spirit, however, was certainly present around the resort and its adjoining vineyard.
There's a general sense of play and lightheartedness across the 39 hectares/100 acres grounds, and this immediately became clear to us upon walking past the check-in desk and into the gardens, where games from boules to a giant chess set are under the supervision of a white rhino statue with Virgin branding on its chest: it's all rather original, if not a little eccentric, something we found easy to appreciate not least because we were in holiday mode.
Of the 22 rooms and suites, the stand-out options are the two Cap Classique Suites in the newer Vineyard Wing. Much to our delight, the wing features an exclusive-use guest lounge interrupting the usual door-to-door layout of most hotels, which sometimes feels like a rude awakening to the real world as you exit your personal lodgings. Mont Rochelle could've easily turned the lounge into a comfortable double: the fact that they didn't goes to show the added level of comfort the hotel seeks to provide.
Not that we personally really needed any more space: our corner Cap Classique Suite featured ample room to relax (or do cartwheels, as a matter of fact), its own private terrace, a heated plunge pool overhung with palm trees that come with a built-in island vibe, and some rather desirable amenities from Africology body scrub to a scented candle by our very generous bathtub… surely, that should be standard in any luxury hotel? We also much appreciated the indoor-outdoor living experience courtesy of our suite's open-plan layout and floor-to-ceiling glass facades on all sides, which offered uninterrupted views of Franschhoek Valley and South Africa's stunning Hottentots-Holland Mountains beyond.
In the evenings, as the last rays of sunshine tickled the very top of the mountain range and purple shadows swept over the rocks below, the scenery had us decant a bottle of the estate's very own Cabernet Sauvignon and kick back by our pool. The views of our Cap Classique Suite, in comparison, weren't quite as emotive and perhaps a little tame: though the HotCocoa-designed interiors have individual features like varying floral prints and hundreds of different artworks across all accommodation, they feel distinctively hotel-like. In all fairness, some things will always look corporate, like the large, contemporary fittings we found in our bathroom, but we thought that something as simple as a textured rug or the occasional potted plant would go a long way in creating homelier, more soulful space that carries the local DNA.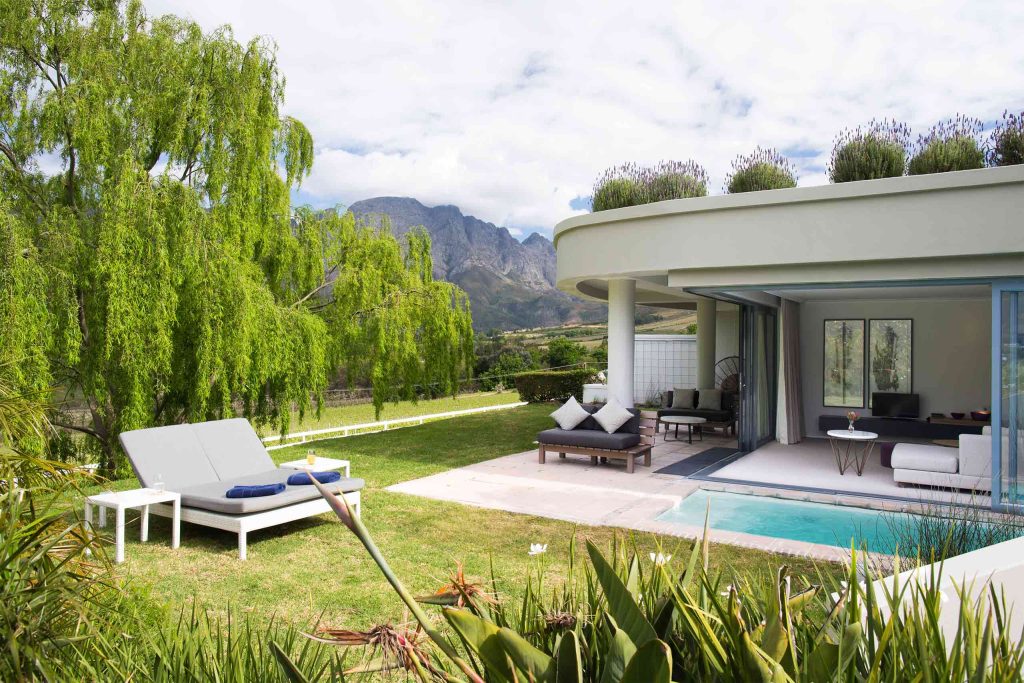 | | | |
| --- | --- | --- |
| Perfect for | Fly into | Right on time |
| The Escapist | CPT | GMT +2 |
While you're Out There
Franschhoek is less about big attractions and more about lazy lunches, but if there is one touristic place to explore, it would be the Huguenot Memorial Museum, which tells the story of the Huguenots in a surprisingly contemporary and engaging way. Don't miss the portrait of our favourite Huguenot, Charlize Theron, near the exit of the main building, or the utterly curious perfume museum, which is also on the grounds and included in the general admission.
Mont Rochelle is also home to the Manor House, where Sir Richard Branson himself stays when he's in town. Featuring four individual deluxe suites, the house offers ultimate privacy for its guests and is conveniently located next to one of the hotel's restaurants, Country Kitchen, which also welcomes outside visitors who flock here for the estate's popular wine tastings (whether you stay here or not, these are a must). We also thought that this part of Mont Rochelle is a particularly handsome example of Cape Dutch architecture, although every corner of the property, which dates back to the 1800s and was refurbished by Virgin Limited Edition under the supervision of Kritzinger Architects in 2014, offers eye candy – the main building itself, with its thatched roof and a colonnaded pool, is a sight for sore eyes.
Speaking of the latter, the pool was a delight to return to after a day in the mountains, and complimentary sunscreen and a delectable lunch menu (try the vegan quesadillas!) left us wanting for nothing except, perhaps on occasion, a second staff member servicing the area to speed up waiting times. When we craved even more relaxation, we strolled around Mont Rochelle's immaculately kept gardens and grounds, home to a tennis court and a serene lake where the friendly team will happily set up a picnic beneath a willow should you be so inclined. One of the estate's biggest perks is maybe that it's extensive enough to spend a few days without feeling the need to venture into Franschhoek; although if you do decide to go, the town is within easy walking distance and staff will gladly collect you after dinner.
Despite local gastronomy being excellent, you'd be well advised to schedule in a few meals on property, too. We liked the hotel's flagship restaurant MIKO for many reasons… Firstly, our wonderful waiter, Charles, provided exactly the type of service you'd want in a destination like the Cape Winelands: attentive and polished but never robotic or insincere. With a big smile on his face, Charles served us one tasty course after another, and we were glad to find MIKO has a number of very decent plant-based staples on its menu (Mont Rochelle's wines are vegan-friendly, too, though as of yet, there's no mention of this on the bottles). Breakfast was less inspiring, especially for those of us with dietary requirements and preferences, who might look for the treats we've come accustomed to from stays at similar hotels – chia seed and açai bowls, scrambled tofu, plant-based yogurts – in vain. 
There's also a well-equipped gym and a spa at Mont Rochelle, and though intimate in scale, the latter truly packs a punch, with top-notch, highly personalised treatments. When we went for a facial, our therapist made time to have a close look at our skin, tailor our treatment according to exactly what it needs, and provide just enough valuable insight for us to be able to take better care of it without feeling lectured: fabulous.
A total of 15% of the price of several treatments available also supports the Kusasa Project and, should you wish to give back to Franschhoek's community further, the hotel also partakes in local organisation FRANCO's 'Pack for a Purpose' scheme, which encourages travellers to dedicate some space in their suitcase to much-needed supplies for the region's schools and soup kitchens. If you're anything like us, you'll be glad you've freed some space in your bag at the end of your stay: who wouldn't want to pick up a bottle or two of the estate's award-winning Chardonnay?
Photography courtesy of Virgin Limited Edition