Situated in the hustle and bustle of the city's shopping district, the handsome place to stay that is the Hotel Colón Gran Meliá seeks to embody a quintessentially Sevillian hospitality experience in its hallowed, heritage (but contemporised) halls.
There's something quite magical about soaking in utter romance (quite literally) from the rooftop spa of the Hotel Colón Gran Meliá, where the luxury of a heated outdoor plunge pool complemented a special view over the rooftops of the beautiful and enchanting Spanish city of Seville.
Its imposing landmark, the Catedral de Santa María de la Sede, stands out proud and Insta-worthy in the distance; as does the colourful and majestic roof of the Real Parroquia de Santa María Magdalena de Sevilla right next door. It seems almost within reach, if only we didn't have our hands full of bubbly cava. We had acted on a tip that our friendly receptionist gave us as we checked in… to enjoy the pool around lunchtime when others are out exploring the city. She was absolutely right, we had it all to ourselves and despite it being wintertime, it was delightfully sunny.
There were many other reasons for us not to leave the Hotel Colón Gran Meliá. The adjoining Spa by Clarins offered soul-restoring treatments, to aid in relaxing and unwinding. We also found ourselves spending much time in the RedLevel (Executive Class) lounge, a comfy spot for complimentary tapas, more cava or a goldfish-bowl serving of gin and tonic. We loved the VIP treatment there, but the hotel's main bar outside, set beneath the building's original Art Nouveau stained-glass dome, is really where it's at to rub shoulders with other guests, coming complete with live music throughout the day – great at 'wine-o-clock', but at times a little too much for enjoying a quiet breakfast.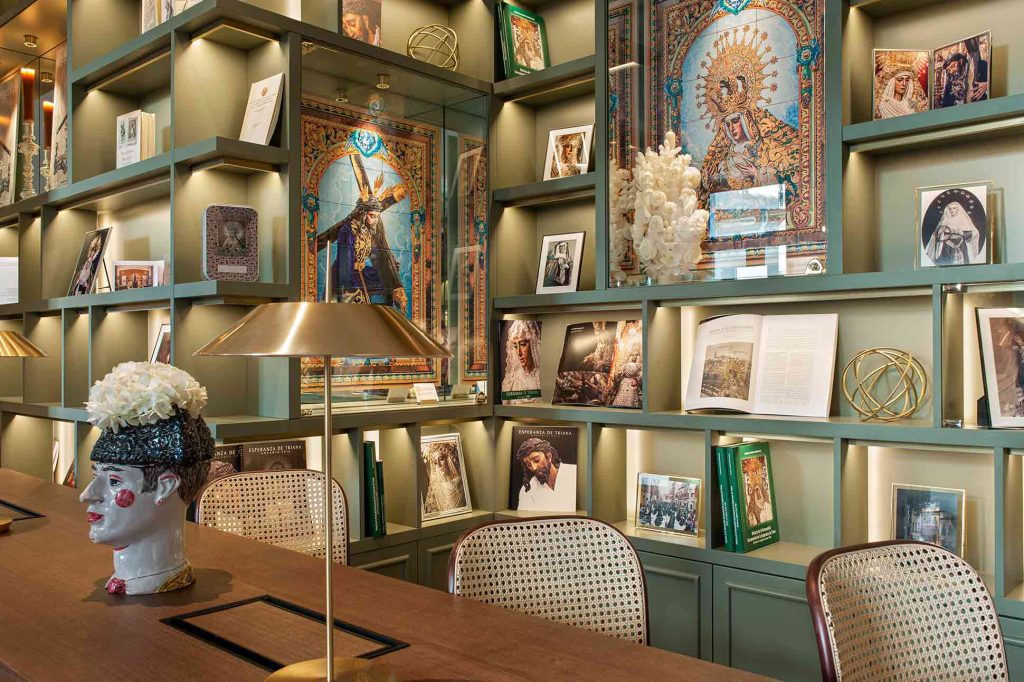 | | | |
| --- | --- | --- |
| Perfect for | Fly into | Right on time |
| The Culturalist | SVQ | GMT +1 |
While you're Out There
There are many reasons to venture out to explore Seville's magnificent edifices, gardens, landmarks and culture, but one special experience stood out. We spent a sublime evening at the magical Aire Ancient Baths where we were bathed, rubbed and wined (both consumed and submerged in). It's a gorgeous, other-worldly spa and bathhouse set in an old, 16th-century Palacio on Aires street in the monumental Santa Cruz district of the city. The view from its private, rooftop thermal pool is magnificent and renowned, but my tip is to go at night, where by the light of the full moon, the vibe and the vista is ethereal.

We indulged in an Andalusian feast at the El Burladero restaurant. The décor and ambience here tell the story of Seville's bull-fighting tradition in a modern way, but you'd have to know, to know… if you get what we mean. It took us a while to figure out, but perhaps that was more because of the number of glasses of delicious dry sherry we had, recommended by the restaurant's sommelier before the food even arrived. The innovative cuisine here (at the time of press under the expertise of chef Javier Rico Martin, who we joked was called Chef Ricky Martin – yes, as we said, we had consumed many glasses of sherry), was a delicious take on tapas, for those with bigger appetites. It's a great pick for dinner and while we'd usually say to savvy travellers not to eat in the hotel restaurant, it rivals the hundreds of amazing, atmospheric tapas restaurants and bars that Seville has to offer.
Our RedLevel City View Cathedral room was everything it said on the tin. The view was the best feature of a comfortable and cosy, but otherwise pretty standard hotel room that you'd find across Spain. We'd perhaps have expected a little more from the decor, considering just outside, across the entire floor, the walls and doors are completely covered in reproduction Goya paintings (another floor features the work of El Greco). But with so much to explore in Seville and the rest of the property, we found ourselves rarely in the room.
The Hotel Colón Gran Meliá is a solid accommodation pick for the city. What we certainly enjoyed was its special dedication to service excellence, which came as no real surprise. After all, it is the signature of the internationally renowned, Spanish-owned Meliá Hotels brand.
Photography courtesy of Meliá Hotels International