The most expensive expedition vessel per berth ever built, the Silver Endeavour by Silversea is a high-tech mega-yacht featuring only 100 suites (with 10 more currently being added) – it's decidedly more intimate and luxurious than what might instantly spring to mind at the mention of a modern-day cruise ship.
Most expedition ships make the journey from the southernmost tip of Patagonia to Antarctica in 48 hours, but on our trip, the Silver Endeavour got us to the white continent in 36. The latest addition to Silversea's imposing fleet, the vessel stands out from its sisters, not least because of its smaller, more exclusive scale. Why not build a larger ship, you ask? There are several reasons.
Firstly, vessels carrying more than 500 passengers are prohibited from landing anyone in Antarctica, meaning there's little point in them coming here in the first place. And secondly, Silversea's ambition for the Silver Endeavour is for the ship to feel like a 'proper' luxury hotel – although, if you're thinking swaying chandeliers and gilded imperial staircases, that's not quite what we mean. Rather, the luxury element here lies in the silent joviality of being at the end of the world with a number of people just small enough for them to recognise one another as they rub shoulders during daily recaps and lectures in the Explorer Lounge or exchange friendly glances in the Otium Spa.
This more personal touch is something we also felt during our interactions with the crew: from our designated butler, with his impeccable manners, to the thrilled-to-be-there expedition leaders keen on sharing their knowledge of the seventh continent or busy looking up specialist information in the ship's top-floor library. They also kept a watchful eye on us – as well as on local wildlife – to ensure a safe and responsible visit to this most extreme of environments at all times.
That's not, of course, to say that the Silver Endeavour doesn't wow on a surface level, too, but like the best of 'seawomen', she abandons the gaudy in favour of a more appropriate 'diet luxury' that's low on calories yet bursting with flavour. Artworks across the vessel's public spaces are quietly beautiful. In the restaurants, wave-like light fixtures pay homage to the sea, and a bespoke crystal feature that's in the works from glassmaker extraordinaire Lalique is destined to elevate the ship's fine-dining French restaurant La Dame yet further.
---
This Basecamp review is an extract from a longer feature article, first published in print. To read the full article, click here.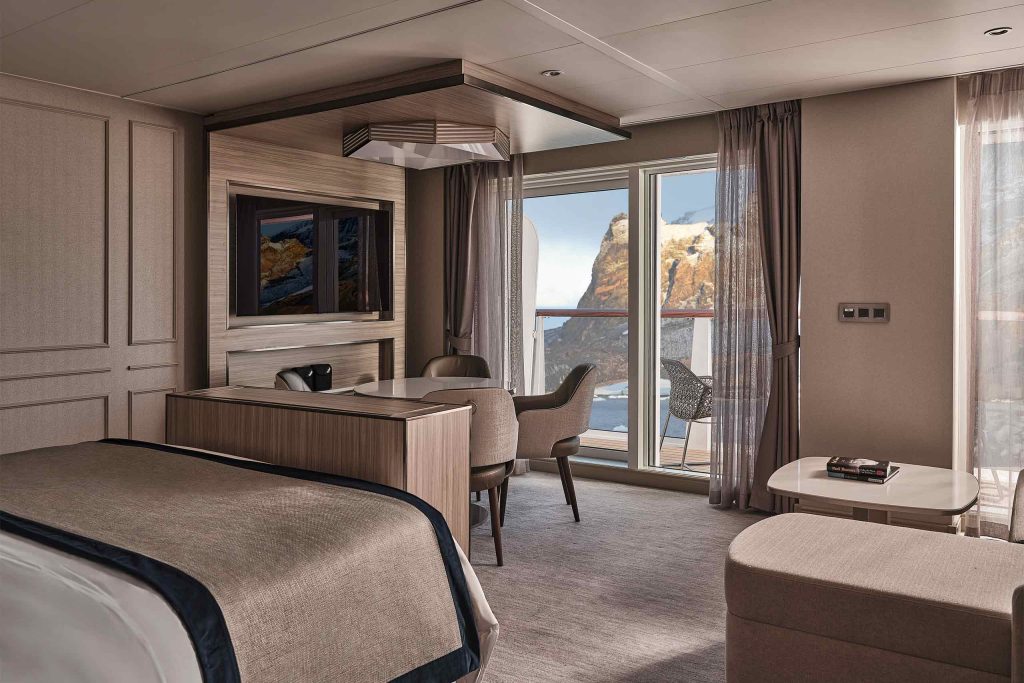 | | | |
| --- | --- | --- |
| Perfect for | Fly into | Right on time |
| The Sophisticate | Depending on itinerary | Depending on itinerary |
While you're Out There
Make use of the incredible guest lectures, briefings and daily round-ups in the Explorer Lounge. We never knew just how much we could learn on a holiday and the Endeavour's team, plus an ever-changing roster of guest lecturers, add tremendous value to any voyage. If you're looking to get active instead, why not sign up for a kayak trip?
The spacious Observation Lounge, with its Art Deco elements and golden trimmings running through dark wooden panels, was perhaps our favourite hang-out. One night, we asked the pianist there to play us a sultry rendition of Britney Spears' Toxic as we sipped dry vermouth and watched minke whales breach the icy waters of Antarctica below.
While the Silver Endeavour is too genteel to try and compete with the spectacle all around it, it does steer passengers' gaze towards its surroundings. At least, that's how we felt each time we stepped into our Superior Veranda Suite, with its floor-to-ceiling glass doors leading out to a private balcony at one end. Decorated in natural, calm colours, the suite would not look out of place in a five-star hotel. Besides the obvious – king-size bed, writing desk and dressing table – we delighted in 'added-value' amenities such as Etro bathrobes and a built-in bench in our shower (plus champagne upon arrival). Only our walk-in wardrobe was too narrow to open our suitcase in, a first-world problem that left us wanting to opt for one of the top suites on our next expedition (and you should, too, if you're looking to have a private Jacuzzi or a bed facing your suite's glass doors and the hypnotising world beyond).
Just past the ship's spa, you'll find a pool and Jacuzzi in a spectacular, light-flooded atrium, which is also home to The Grill, one of four on-board restaurants. They're all gorgeous in their own way, but eating a plant-based diet meant we often missed out: when the team improvised a menu, for instance, it left us with no options to choose from; at other times three courses were presented to us when our companions were served four. We also longed for more imaginative dishes: dressing beetroot in three different ways makes a pretty starter, but hardly a satisfying one, and when non-vegan dishes were accidentally served to us – twice – we were tempted to eat them, but instead decided to fill up on bread. Don't get us wrong: some meals were filling and delicious, but for the ultimate luxury cruise to the end of the world, 'some' just isn't the gold standard.
Neither is it the 'Silver' standard, rightfully the only benchmark Silversea endeavours to match, which differentiates the brand from competitors. It's why we never tired of shore leave with the personable crew. When everyone is literally in the same boat, and every last detail, from gripping lectures to Silversea's Antarctica Bridge option, which allows passengers to skip the Drake Passage and fly to the continent instead, has been thought through to help you make the most of your precious time on board, you'd be naive not to notice the impeccable planning that goes into organising an adventure like this. In some ways, being 'this close' to 'that far' is like going on the world's most epic safari – except you're not confined to a vehicle.
Photography courtesy of Silversea