For newbies to life on the ocean waves, a trip through the Mediterranean on one of the new generation of luxurious mega cruise ships could be all it takes for them to join the ranks of the boys who love buoys – as we find out, on the Celebrity Edge.
We are somewhere between Rome and Naples, ploughing through the Tyrrhenian Sea at a nippy 21.8 knots, though from the comfort of our daybed on the top deck of the ship, cocktails in hand, bright blue skies overhead, we can barely tell we're moving.
It's our first time aboard a mega cruise ship and, to our eyes, the Celebrity Edge looks like the sort of craft the creator of Star Trek had in mind when he envisioned life exploring deep space – all futuristic curves and high tech.
We're on our honeymoon, having married in the States the week before, and though I'm generally not one for sitting around, I'm still coming down from all the excitement. The same can't quite be said of my husband Kaiden, who's never happier than when sprawling on a sun lounger, sipping a Baileys on ice.
We boarded the ship a couple of hours ago at Civitavecchia, 45 miles north of Rome. As Suite Class guests, we were welcomed by our very own – and very amiable – butler, Tania, who talked us through the various dining options and onboard services before leaving us alone to tuck into our complimentary bottle of Perrier-Jouët.
Over the course of the next seven nights, we'll call at Naples, Palma de Mallorca, Barcelona, Monte Carlo, Santa Margherita, Florence and Pisa. It's just one of several routes the Celebrity Edge follows in the course of a year and in conversation with our fellow guests at various points – many of whom are Celebrity devotees and on their seventh or eighth cruise – we learn that the routes it takes can have quite some impact upon the type of guests on board.
Judging from what we've seen so far, we appear to be one of just a handful of LGBT+ couples among a crowd of middle-aged, straight white couples from the UK, US, South Africa and Japan. Not our usual kind of set-up, you understand, but as a mixed-ethnicity, intergenerational couple (one of whom is gender non-conforming), we're used to inciting interest here and there and, as we walk hand-in-hand through the boat's public spaces, we receive lots of lovely comments, though one guy did take us for part of the ship's entertainment and ask us to entertain his children on the dance-floor.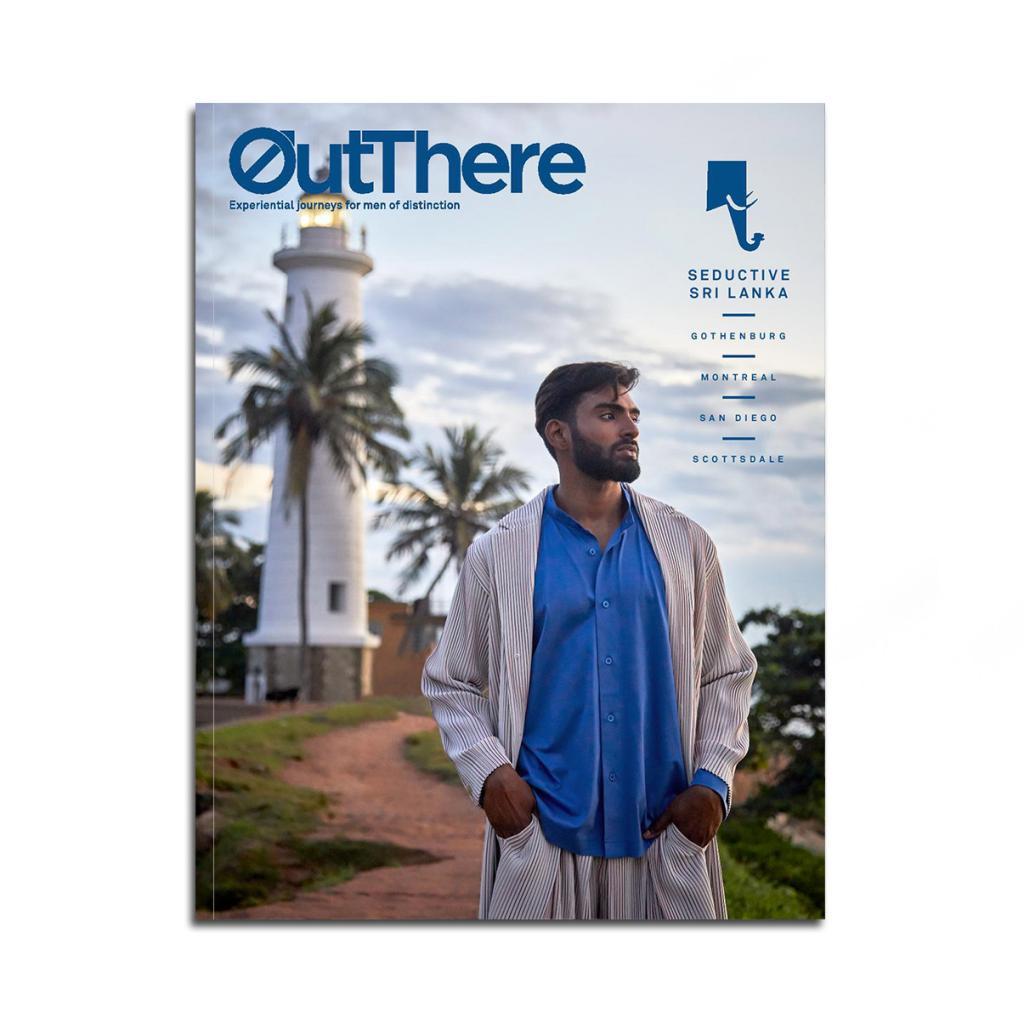 The Celebrity Edge launched in December 2018 and is no traditional stuffy cruise liner. Gone are the usual solutions for providing thousands of passengers with convenient amenities. Instead, new thinking has prevailed and almost every aspect of the ship has been reimagined to take the brand into the 2020s. To do that, Celebrity Cruises employed a raft of prominent designers with a pedigree in their fields, but no previous experience of cruise-ship design. They included renowned architect Tom Wright, of WKK, and interior designer Kelly Hoppen, who both worked extensively on the project.
The ship's overriding aesthetic is a combination of swooping curves and playful theatricality, most clearly evident in its inspired external features. A half-mile looped exercise-track snakes around the upper decks, passing two hot tubs perched on elegant 20ft-high Martini-glass-shaped structures. But perhaps the boldest of them all is Tom Wright's Magic Carpet, a multi-purpose entertainment space attached to the side of the ship which moves from one deck to another, reaching a height of 13 storeys above sea level. The novelty of dining while suspended off the side of an enormous boat is clearly a huge draw and the evenings the Magic Carpet becomes a restaurant sell out quickly, so our advice is to get in there early.
Like any honeymooning couple, we wanted our accommodation to be just right. Our Sky Suite was the size of a substantial five-star hotel room, with all the features you'd expect of one: a comfortable king-size bed with hidden storage for suitcases, a full-size wardrobe and a chest of drawers. The living area had a two-seater sofa and, in the space between the end of the bed and the balcony, a flip-out TV. Alongside a separate loo was a sizeable bathroom, complete with combination shower and a bath large enough for two (we tested it). A nice touch was the large bathroom mirror, which opened to reveal a window overlooking the bed and out to the sea view beyond. Amenities included umbrellas, comfy quality-cotton bathrobes and slippers, C.O. Bigelow shower gel, shampoo, conditioner and body lotion in eco-conscious refillable bottles, together with a powerful hairdryer – not that we needed it.
To continue the intergalactic theme, Trekkies would love the wall-mounted touch-screen panel, which controlled the lights, air-con, blinds and curtains. On those mornings we couldn't be bothered to leave our bed (it was our honeymoon), the same features were available via the Celebrity app, which even allowed us to unlock the door of our room without a key. USB and international power sockets were thoughtfully provided and conveniently located, but don't count on the WiFi: although it's a miracle you can even have internet access in the middle of the ocean, the service was slow and very droppy.
One other nitpick (it's all part of our job) was the sparsely furnished balcony, which looked uninviting, but on the whole the accommodation was well above average.
Like most things on board the Celebrity Edge, you can book excursions via the Celebrity app or in person with the knowledgeable guest-services team. Suite Class guests have access to the expert concierges in the Retreat, who can offer advice and book trips on your behalf. But it pays to plan well ahead – before you step foot on the boat even – as many excursions sell out fast. It's also worth finding out what each trip entails – we were surprised by some of the distances between the ports and the advertised destinations; some were several hours' bus journey apart.
That said, nothing could compare with waking up and gazing out bleary-eyed from our vast floor-to-ceiling window at the sun-kissed Mediterranean coastlines that peppered our route. Even if we had to dock in less-than-picturesque industrial harbours sometimes because of the boat's size, by the time we were on the transfer bus the beauty of the rural Italian, French or Spanish landscape couldn't help but win us over.
One particularly memorable journey was en route to the Drach Caves in Mallorca. The view from the bus window was enchanting as the sun illuminated the early-morning mist that clung still to the ground. Silhouettes of decommissioned windmills punctuated the landscape here and there, heightening the island's melancholic beauty and making the journey romantically cinematic.
Our favourite port of call was Barcelona, where we had an overnight stop. It's one of the most interesting Mediterranean cities for us, with so much to offer, from Gaudí's numerous architectural feats to enticing eateries and fantastic nightlife. We'd both been there before, so opted for a leisurely stroll around the shops of the Old Town before meeting up for a boozy rooftop lunch with a friend from the US who happened to be there for a few weeks. After that, we hiked up to Park Güell to take in the view of the city that beguiled Gaudí so much and is filled with his work.