We don't usually play favourites at OutThere, but this exceptional hideaway hugging a densely forested hill on the eastern shore of Koh Yao Noi, Phuket's sleepy neighbour, isn't merely a fabulous resort, but a destination in its own right – that said, the location of the Six Senses Yao Noi on this bucolic islet is an invaluable bonus.
Arriving by boat, it's hard to stop your excitement from skyrocketing as you turn Yao Noi's southern tip, suddenly coming 'face to rock' with the karst formations jutting out of Phang Nga Bay's emerald waters. This is a view not simply idyllic or beautiful, but breathtaking and bordering on otherworldly. Step ashore and the show continues: on the back of a buggy, we found ourselves engulfed in a tropical potpourri of a thousand and more exotic plants and flowers growing on all sides (and high above our heads) as we were chauffeured up to our Ocean Panorama Pool Villa, a five-star take on the kind of rustic beach hut that helped Thailand cement its reputation as Southeast Asia's original holiday destination.
Many of the Six Senses' 56 villas allow guests to wake up to the stupefying views of Phang Nga Bay, though there's more to love than merely what's behind those floor-to-ceiling windows. For instance, we enjoyed a number of endearing details you'd struggle to find at other resorts, where playfulness is often sacrificed in the name of bold design. From a wooden hedgehog greeting us by our front door to a 'Don't disturb' sign on the quirkier side of things or an organic construction of branches from which a mosquito net would hang around our bed (equipped with a chemical-free mattress by Naturalmat) at night. This organic look and feel is a key component of the Six Senses Yao Noi, with cutlery on our villa looking not unlike hand-carved relics from a local tribe, and natural materials setting the tone across the hotel.
But our villa also benefited from its spacious layout, sporting both indoor and outdoor showers, a generous bathtub, a freestanding double-basin stand with mirrors hung from thick ropes, and its most noteworthy feature, a large terrace complete with a private infinity pool, seating areas and a separate, roofed pavilion where we played chess during the day and gazed at the stars at night. To move around the resort, guests would be well advised to call for a buggy – not just because the many narrow pathways traversing the hotel grounds are charmingly labyrinthian, but also because there are more fun things to do on a holiday than scaling a hill in Southern Thailand's hot and humid climate. Our personal villa having been near the very top, however, we gladly walked up to The Hilltop whenever the urge to mingle with our fellow guests kicked in.
It was at The Hilltop, where we lay by a curved infinity pool during sunrise and dined on green papaya curry and pomelo salad with iced rosella tea and young coconuts at night, that the scenery had such gravitational pull, we felt not in the presence of something, but someone. When you sit here, take a moment to remind yourself you're one of only a handful of people in the world enjoying this unique view at this very moment. If this isn't luxury, we don't know what is. Aside from the scenery, dinner at The Hilltop was intimate, consistently made bespoke to our dietary requirements and yet authentically local (we would know, having once lived in Thailand).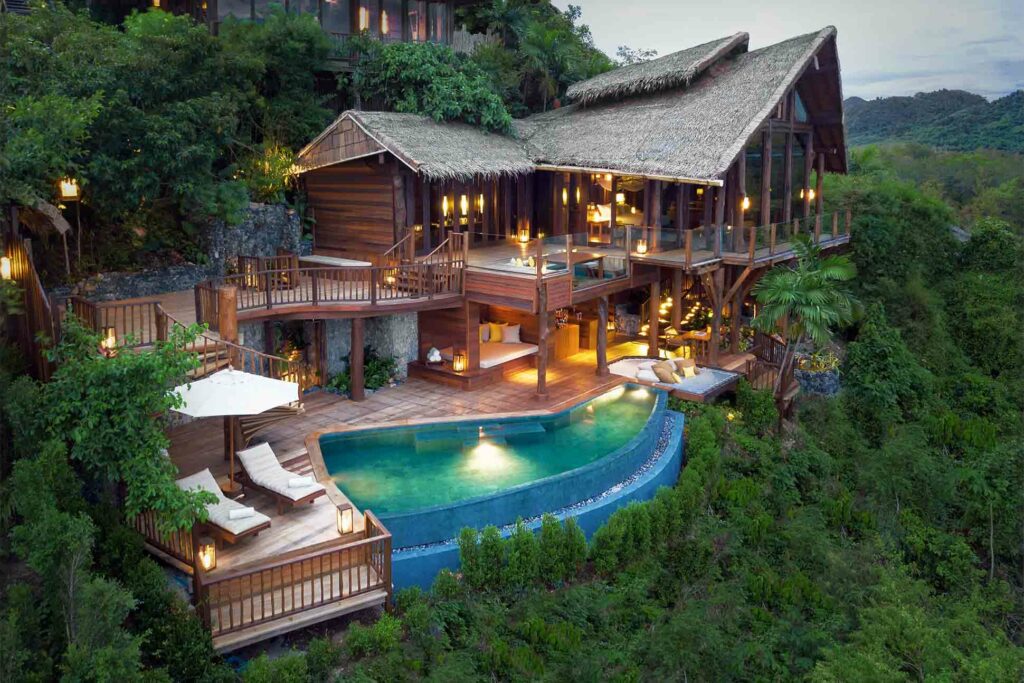 | | | |
| --- | --- | --- |
| Perfect for | Fly into | Right on time |
| The Escapist | HKT | GMT +7 |
While you're Out There
It's worth seeing the small island via a guided tuk tuk tour, but true explorers will head for the Phang Nga archipelago, where mind-blowing scenery and marine wildlife await. The Six Senses Yao Noi offers a half-day or full-day castaway experience including either sunrise or sunset. Your crew will even find you a private beach on a secluded island. Frankly, it doesn't get dreamier than this.
There's also The Dining Room, including a chef's table, for supper in a jungle embrace. We didn't try this, though having walked past the restaurant one night, found the atmosphere to be just as enticing. For a truly special treat, we instead enjoyed a seaside, open-air screening of the 1974 Bond – the scenes of villain Scaramanga's lair having been filmed on a nearby islet – with our feet in the sand of the resort's secluded beach as five courses were served alongside a martini or two.
The spa at the Six Senses Yao Noi, meanwhile, had all our detox needs covered and wows with its Edenic setting amid palm trees and waterlily ponds. Facilities include everything from an alchemy bar to a yoga pavilion, where one morning we went into the downward-facing dog position only to spot a hornbill sitting right behind us in a tree, presumably amused to see a group of humans with their bums up in the air. It's a no-brainer to book a few treatments here, and we opted for a massage and cupping combination made complete with the addition of a singing bowl ceremony – all of which was just divine.
As our masseuse scrubbed and cupped away, we couldn't help but think of just how cheerful everyone seemed to be here: from smiley staff clad in sky-blue and raspberry-red uniforms to guests dressing down – not up – to visit the resort's organic farm or day-trip out to the bay. This is a place to feel happy and whole, and accordingly, those who stay here tend to get up early and embrace a 'healthy' lifestyle. You can do so by visiting the resort's mushroom hut, for one, where the mushrooms used across its dining outlets are grown hyper-locally, or by taking a stroll around the organic garden. We learned all about the sustainability credentials of the Six Senses Yao Noi here; from the hotel's commendable water filtration station, 35 replicas of which it has already built at hospitals and schools throughout Phang Nga Province, to a wood workshop where disposed of furniture is turned into boardwalks and the like.
We did at times wish that by now, they'd up-cycled the clunky front door of our villa or some of its slightly crooked cabinets, that just wouldn't close properly. But then again, if you stay here, you're probably after a more rustic and off-the-beaten-track experience of this exceptionally beautiful corner of Thailand than what's on offer in nearby Phuket, with its sleek and streamlined resorts and fabulous gay nightlife – there's no partying on Muslim-majority Yao Noi, although the two LGBTQ+ couples we met during our stay at the Six Senses, didn't seem to mind. Like ourselves, they had come to experience the hotel's ultra-private and postcard-pretty pool villas, which take the inner glam-packer back to the days when Thailand was an exotic, faraway land to most. The Kingdom's appeal to intrepid travellers was one of wonder and utter amazement back then. Remarkably, at the Six Senses Yao Noi, it still is.
Photography courtesy of Six Senses Hotels, Resorts and Spas