When it comes to inclusive travel, 'belonging' is everything. In St. Lucia, one beautiful Caribbean resort – Windjammer Landing Villa Beach Resort – is making waves as a getaway that celebrates all who comes to visit. We speak to OutThere travellers, Jamie and Robbie, who with their sixteen-month-old son Parker, recently travelled to the property.
LGBTQ+ families represent an important and rapidly growing segment in travel. In the UK, USA and Canada alone, it is estimated that there are over 4 million LGBTQ+ parented families; and that's before we count the families where it's the children who are openly LGBTQ+ or non-gender conforming themselves.
For the many OutThere travellers who are LGBTQ+ parents, there are still major concerns around inclusion and belonging when travelling the world. This burgeoning group of people are anxious about how they are perceived by the governments and people in destinations, or by the staff and other guests at hotels and resorts. And it's not just LGBTQ+ parents… we have heard the same from many heterosexual single-parents; and those who have come to be parents later in life, too. The unconscious bias that still exists today around what a typical family should look like, means that 'unconventional' modern families are very aware and cognizant of a destination's or travel provider's perceived acceptance when choosing their holiday.
The Caribbean may not immediately come front of mind for LGBTQ+ family travel; but OutThere insiders know that on the right island, and at the right resort, an amazing holiday awaits. St. Lucia is said to be the most captivating island in the Caribbean, not only is it renowned for its spellbinding nature, it's home to a vibrant, laid-back culture and people, who are more naturally celebrating of difference. Perhaps it's something in the air, or cobalt blue water, but there's an irresistible, free-spirited, rejuvenating energy there that allows visitors to drop their guard and enjoy all that is on offer.
Windjammer Landing Villa Beach Resort has long curated a safe space where LGBTQ+ travellers and families can be their authentic selves and truly belong. Discretion and privacy have always been at Windjammer Landing's heart, as has attention to detail and an atmosphere of inclusion. This gorgeous island retreat – concealed in a secluded, lush hillside facing the ocean – exceeds the needs of guests from all backgrounds, with its private villas, luxury amenities and most importantly… genuine, friendly Lucian hospitality.
"We are very proud of the welcoming and laid back atmosphere that Windjammer Landing is so well known for. At our resort, it is very important that our guests feel a sense of belonging. We look to ensure that everybody feels accepted and part of our family – no matter how long they are staying with us." says Nick Prattas, Vice President and Managing Director of the resort.
The property is ultimately versatile, also great for honeymoons and milestone celebrations, as well as for multi-generational-family escapes and vacations for groups of friends. But for OutThere families, like Jamie and Robbie and their young toddler Parker, the property is unrivalled. So much so, that they originally booked a holiday for two weeks and ended up staying six. We caught up with this lovely couple on their return, to learn more about them and their experience of staying at Windjammer Landing Villa Beach Resort.
---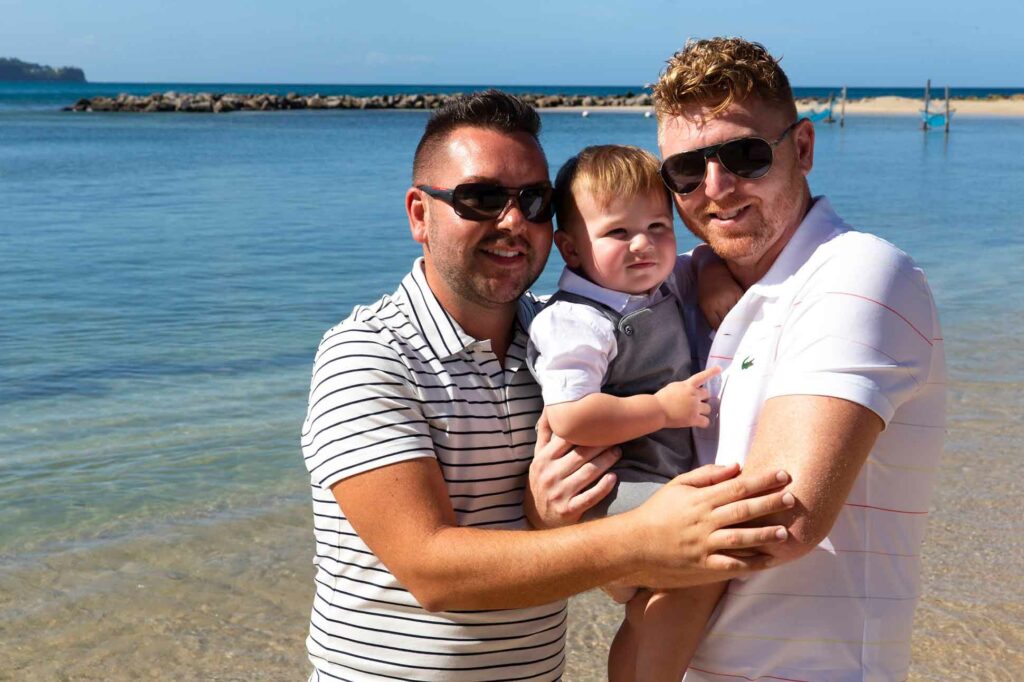 Jamie and Robbie have been together 15 years and for most of their 20s, their priorities had been about pursuing their careers and having fun. It wasn't until their 30s that they decided to 'settle down', getting married in 2017 and shortly afterwards started a family. In 2019, they had Parker via IVF/surrogacy.
Tell us about your journeys, both your life journey and your travels?
Parker has made our lives complete. In our 20s and early 30s, we travelled a lot but it was primarily for hectic, on the go, hedonistic, party adventures. We were fairly young and free; and it didn't matter too much to us where we travelled to, how we travelled, where we stayed (if we didn't like somewhere we'd just move!) and how long we were away for, work permitting.
Settling down and having a family – particularly an infant – changed all that. Family and holiday time became very precious all of a sudden. Where and how we travelled had to be carefully considered and thought out – it's now important we travel safely and comfortably, to welcoming destinations. Robbie and I work very hard and one of the rewards from that has to be that we get to experience luxury properties. We want to feel safe, relaxed and frankly, a little bit spoilt.
We want to see the world, but moreover, we want to educate, spend quality time with and spoil our son (the son we never thought it would be possible for us to have). Within reason and where possible, nothing will stop us.
Why is travel important?
Travel is extremely important to us. There is so much more to life and the world than what you find on your doorstep. We genuinely believe that seeing different places and cultures shapes the person you are and who you become. As well as being educational, travel makes you that little bit more thankful for the life that you have.
We had Parker in September 2019 and the pandemic hit in early 2020. We couldn't help like we were being robbed of what should have been fun and exciting times with our new baby boy. We felt like our lives were put on hold at what should have been our most enjoyable time. So quite early on, we made a decision to not let the pandemic beat us. In the last two years, Robbie and I have travelled with Parker to a number of Greek islands, St Lucia, and Antigua. We quickly learnt how to travel safely, taking all the recommended precautions, following the testing rules and guidance and we successfully made it work. I'd be surprised if Parker wasn't one of the best-travelled two-year-olds in the country!
Why did you choose the Caribbean / St. Lucia for your family holiday?
We chose St. Lucia for a number of reasons. The climate in January and February was a big factor, along with the feedback we'd had from friends and family who had previously been. We spent hours and hours on the internet looking at Caribbean Islands in general and more resorts than we can possibly remember. We stumbled by accident across Windjammer Landing and we are so glad we did. It was just what we were looking for – somewhere secluded, safe and spread out (we didn't want to stay in a hotel block during the pandemic), with a gorgeous beach. It also looked really authentic and had a sense of place. There are so many hotels out there now that are all uniform, sleek and shiny, but you could put yourself in any of them and you wouldn't know where in the world you were.
What do you look for when you travel? As an LGBTQ+ person and family, what are your concerns when you travel across the world?
To be honest, we've never really let being gay affect us in terms of travel, mostly! We honeymooned in Dubai for example and a lot of people would tell you that Dubai wasn't suitable for same-gender couples, but that's not true! For the most part, the destination is open to everybody, but that depends on how you want to behave and your levels of respect for local law and tradition, which applies to everybody… straight, gay, undecided or in between!
We have become more mindful of it since we've had Parker, though… purely because of perception. We have to be. We are still two men travelling around the world, but now with a baby. We're anxious that a country's border control officers will stop and interrogate us, just because of who we are. We're worried that they won't understand our family situation. Will they get and accept that one of us is Parker's biological father, but married to his other Daddy? And why there is no Mum? All these things cross our minds and affects our decision making..
Fortunately, we haven't experienced any problems to date. We were questioned at the border when arriving in St. Lucia, but when we explained the situation as it was – that we are married and Parker is our little boy – our answer was accepted, understood and we didn't feel in any way judged.
At Windjammer, bizarrely (and in the loveliest of ways) we were never even once asked or questioned. From the minute we arrived, we were just 'Jamie and Robbie and their little boy Parker'. The staff at the resort just adored him, and that was very heartwarming for us as proud new parents. The Vice President and Managing Director, Nick Prattas and his entire team (from the restaurant staff to those at the beach and in housekeeping) were very friendly, personable and they all genuinely went out of their way to spend time getting to know us and take a genuine interest in who we were.
We haven't been to many hotels where the head honcho personally comes and introduces themselves. We met Nick within 24 hours of arriving and we regularly saw him throughout the trip. Nobody was ever too busy to help and that was very much appreciated when travelling with a small baby.
What did you enjoy most about Windjammer Landing?
Well, we booked to stay at Windjammer for two weeks and we stayed for nearly six, which says it all. We absolutely loved how safe we felt and well looked after we were. We arrived at Windjammer slightly tired, probably not our healthiest from an overindulgent Christmas and generally fed up with the world in a pandemic. Within days, we were eating better, sleeping better, we had more energy and as silly as it sounds we became nicer to each other! We both hadn't had much time to relax for months as new parents and we'd probably become a little bit grouchy, so beyond us being able to take some time out as a family, it improved our relationship. We laughed so much throughout the trip. Plus, we had quality, uninterrupted time with our son. It's six weeks that we'll never forget and memories that we'll treasure forever.
Why would you recommend Windjammer Landing for other travellers/LGBTQ+ families?
We'd recommend it for a number of reasons. Firstly, for safety and security. But moreover, it's absolutely beautiful, the food in the resort is excellent, and the facilities are spot on. But most importantly, we'd recommend it because of the staff. We have stayed in some of what many will claim as 'the world's best hotels' and we have never felt as welcomed as we were at Windjammer. The staff knew us by our names, they knew what villa we were in without having to ask and they invested their time playing with Parker… looking after him and us so well. We honestly did not want to leave.
Book your next holiday at Windjammer Landing at www.windjammer-landing.com
---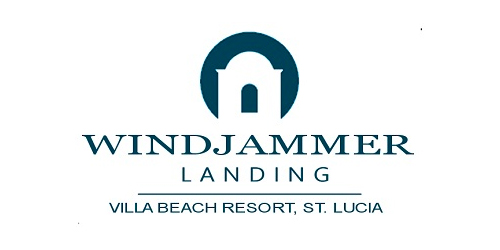 This article is in partnership with Windjammer Landing Villa Beach Resort.
---
Photography courtesy of Windjammer Landing Villa Beach Resort and Jamie Farell.
At OutThere, we believe in boundless travel. But we understand that some destinations can pose challenges to travellers that complicate visiting them. We advise all visitors to inform themselves about local legislation and customs, and to work with a trusted travel provider in order to ensure a safe and pleasant holiday.