Ever since people first gazed up at the heavens, mankind has been fascinated by the realm beyond our planet. So much, in fact, that we found ways to travel to said realm. And yet, until just a few years back, following in the footsteps of cosmonauts looked like a distant dream for us lesser mortals. French company Zephalto is set to lead the way in a new era of celestial tourism, however, by offering civilians the opportunity of going 25km above terra firma… in a hot air balloon.
Indeed, if the apotheosis of luxury travel is the uniqueness of the experience, this is definitely one outing that would be almost impossible to beat (according to Fédération Aéronautique Internationale figures, ten times as many individuals have summited Mount Everest as have been into space). The remarkable project was conceived by Zephalto founder, Vincent Farret d'Astiès, in 2016; the former aeronautical engineer's overriding ambition was to transport six passengers into the stratosphere, so that – in the absence of any light pollution – they could glimpse a vista of the earth, sun and stars usually only reserved for astronauts.
His extraordinary vision is destined to be fulfilled in late 2024, when the capsule-like Céleste, a specially built stratospheric hot air balloon that will do the 'heavy lifting', takes her maiden voyage. In fact, calling this hi-tech, low-emission (emphasizing eco-friendly and sustainability credentials) vessel merely a pod is akin to saying a Tyrannosaurus Rex was just a big lizard. The oval-shaped, pressurised structure is practically a miracle; a light, carbon configuration means it can drift across and up through the clouds. But that's not the only spectacular panorama this craft's three-metre wide windows afford: occasionally, the interminable mass of darkness that constitutes our universe, appears to pirouette around the plush blue of planet Earth like a flirtatious ballerina. If you ask us, having really enjoyed a conventional balloon ride on the outskirts of Barcelona, we believe the thrill of floating heavenwards in this silver-coloured marvel would take the experience to new heights (pun intended).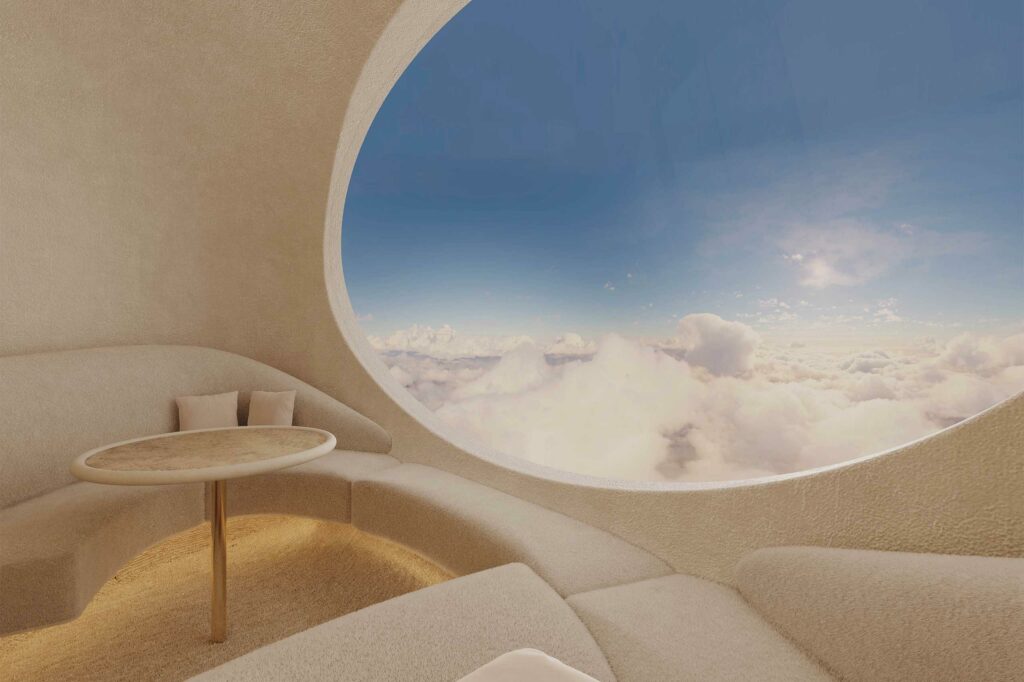 In the last number of years, two or three enterprises have already conducted space tourism flights or, at least, have made a commitment to do so in the very near future. These include Elon Musk's SpaceX, Richard Branson's Virgin Galactic, and Jeff Bezos' Blue Origin. In our view, although Zephalto's first launch isn't until the tail end of 2024, one area where they perhaps have a vital edge over their competitors is comfort. Rather than being strapped into a chair in a rocket that's hurtling up to yonder at Mach speed, inevitably putting considerable strain on the body, their passengers will have a vastly slower (4 metres per second), much gentler ascent into the stratosphere. Furthermore, in respect of hospitality and cosiness, the Céleste's capsule's trio of cabins – designed by Joseph Dirand – are stylish, intimate cocoons that ensure relaxation and bliss are paramount. Added to this, guests are lavished with Michelin-starred cuisine.
Of course, prospective spacefarers have anxieties and fears with regard to safety. It's been seared into all our consciousnesses, about the fatal accidents that have occurred as Homo sapiens endeavoured to conquer the eponymous ultra-low-gravity domain. Worries, that have naturally been heightened, as some of the operator's crafts in this emerging field, have had catastrophic incidents. For instance, Virgin Galactic's VSS Enterprise crashed in 2014, and a SpaceX Starship exploded just over six months ago. OutThere reckons due to Céleste's method of propulsion, she looks to be the best option when it comes to any risk aversion concerns. And, as is to be expected, Zephalto makes the welfare of all clients their top priority: all aviation standards will be met.
When it was released, the film 2001: A Space Odyssey (1968) was billed as 'The Ultimate Trip'. Yet, the Céleste's six-hour expeditions are set to transcend the innovative epic's fictional vision of an uncertain future of exploration, with a bold, gorgeous reality.
Photography and renderings courtesy of Zephalto