The inside track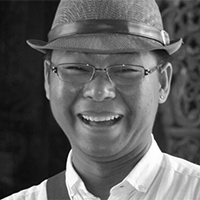 So Kwah Thu is a Yangon resident and Belmond's Tour Manager. He's a walking encyclopedia of Myanmar.
Eat
Port Autonomy Restaurant Gay chef Kevin Ching's relaxed, food truck-style, open-air bistro typifies the new Yangon. It's fun and contemporary, showcasing a mix of regional dishes with Mexican flavours and serves refreshing but potent cocktails.
Visit
Shwedagon Pagoda. No trip to Yangon is complete without a visit to this stunning 2,500-year-old Pagoda, consisting of hundreds of temples, stupas and statues. For the best experience, arrive in the late afternoon and watch the sunset from here.

Shop
Pomelo Handicraft is simply amazing. There's no better place in all of Yangon for unique gifts. Everything sold in this fairtrade store is handmade by local people and raises money for Myanmar's most disadvantaged. What's not to love?