Long before we arrived in Cape Town, we had heard how the ultimate luxury experience is to book and stay in a private house in Camps Bay, otherwise known as the Platinum Mile. Our opportunity to try out the Camps Bay 'lifestyle of the rich and famous' came in the shape of Anella II, a jaw-dropping five-bedroom, five-bathroom, detached, private-let home straight out of the pages of Architectural Digest.
This 'Beverly Hills on the sea' meets 'Fire Island' of Cape Town known as Camps Bay is an affluent suburb of the city with a beautiful, namesake white sand beach. It is filled with upscale, to-die-for, modernist mansions. Up on the slopes, set among the houses and hotels, is Anella II, a magnificent holiday home and party pad that features spectacularly across three floors, each with its own sun decks and killer views. We were spoiled with stunning vistas in every direction. To the west, the bluest of seas stretched out for miles; to the southwest, the Twelve Apostles cut into the expansive sky; and to the north, the Lion's Head rose proudly above us.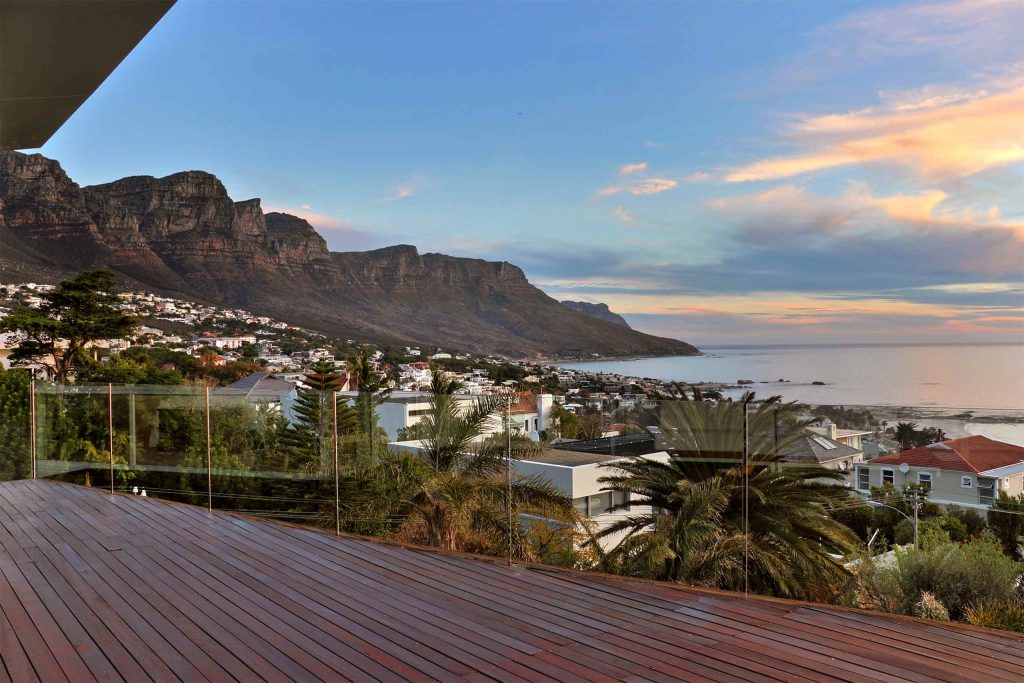 | | | |
| --- | --- | --- |
| Perfect for | Fly into | Right on time |
| The Hedonist | CPT | GMT +2 |
While you're Out There
Camps Bay is all out hedonism and good times, but it's also a great place for walks, photography and experiencing nature. So before heading down to the sea where all the fun and frolics happen, take a morning stroll (the sun gets too hot in the afternoon and evening) along what locals call the Pipe Track, which begins at the very top of Kloof Nek, one of South Africa's oldest byways. It's an easy walk that follows an old water pipe along the top of Camps Bay – admittedly, it doesn't sound all that glamourous, but the views you get and pictures you can take of this iconic coastline and of the Twelve Apostles will leave you in awe.
Of course, Anella II comes fully kitted out with a gorgeous swimming pool, barbeque (or braai as they say here) and a party room complete with an enormous pool table. The living and dining spaces are equally impressive, making it the ideal place to stay if you're travelling with a group of friends – or perhaps even to entertain new ones that you will undoubtedly make in this ever-friendly city.
Located just a short walk down the hill are the seafront bars and restaurants of Camps Bay beachfront. Come dusk, this part of the coastline is blessed with some of the best sunsets in the city. That's if you can tear yourself away from the property: a housekeeper is always on hand to cater to your every whim, as well as a cook and 24-hour security posted directly outside the front door to ensure the highest level of security and privacy are met.
Photography courtesy of Anella II