Located at the beating heart of the Victoria & Alfred Waterfront, the One&Only Cape Town couldn't be more central if I tried – and yet, this unabashedly luxurious urban resort offers an exclusive microcosm of all things high-end that feels so private and calm, the property is lovingly referred to as 'the Maldives of Cape Town' by those in the know.
There's another reason for the moniker, admittedly, and it's to do with the two private islands at the hotel's centre, one of which houses 40 of its 133 rooms and suites, while the other is home to an award-winning 1,000 sqm/10,760 sqft spa. Interconnected by bridges and abounding in palm trees and flowering plants that sit between individual buildings, the islands feel amazingly retreat-like, not least because they're strictly accessible by hotel guests only… though exceptions are made for a flock of birds that has made the hotel's trees its home, chirping away blissfully as guests dip their little toes into the hotel's enormous infinity pool below or order iced coffees and light bites from the poolside Isola restaurant.
The One&Only Cape Town unveiled an extensive refurbishment in 2022, and it was immediately apparent to us upon driving up to the front entrance that no expense had been spared to elevate the brand's big, bold and highly polished aesthetic: the property's lobby, for one, opens up to a wide, open space with a glass wall on one end that perfectly frames the grandeur of Table Mountain straight ahead and had our jaws drop to the floor for a moment or two (which made it easier for the friendly staff at the Vista Bar & Lounge, cleverly placed in front of this view without obstructing it, to pour a welcome drink down our throats). While we overheard fellow guests criticise this part of the resort, saying it reminded them of a 'very fancy, big mall', we can't say we personally minded the large scale. After all, why stay here if you were looking for an intimate boutique property?
In any case, our personal lodgings weren't in the main building, but at the far end of the accommodation island, placing us well out of earshot of any potential gossip. Its recent renovations saw the hotel's rooms and suites refreshed by famed interior design studio Muza Lab, which created a mature yet strikingly contemporary blend of textures, prints and patterns that draw from the hotel's location in South Africa's legendary Western Cape without ever relying on clichéd aesthetic codes. Beaded pots by Zimbabwe-born artist Richard Madongwe, carved mirror frames, handmade ceramics and visual references to Ghanian Kente cloths brought African creativity and craftsmanship into our 73 sqm/785 sqft Island Superior King in a way that was harmonious with the space's overall feel, which was not unlike that of a Manhattan loft.
Between a freestanding bathtub and a rain shower on one end and a private terrace overlooking the waterways on the other, our open plan room at the One&Only Cape Town featured just about every desirable luxury modern travellers might look for, and details from sublimely scented signature toiletries to beautifully designed bathroom amenities sustainably packed in biodegradable plastic were demonstrative of how thought through of a guest experience One&Only seeks to create. At the top end of the accommodation spectrum, you'll find a two-bedroom Presidential Suite with its very own, fully equipped gym, a massage bench, a state-of-the-art kitchen with a separate staff entrance for 24h butler service and private chef access, as well as artworks by local creators Johanny Twala and Claude Chandler. We'd imagine the suite also has what we thought was perhaps the most original feature on our room, a bathrobe with its right sleeve placed to call to mind the endearing 'hand-to-heart' gesture staff at One&Only properties so courteously make each time they interact with guests.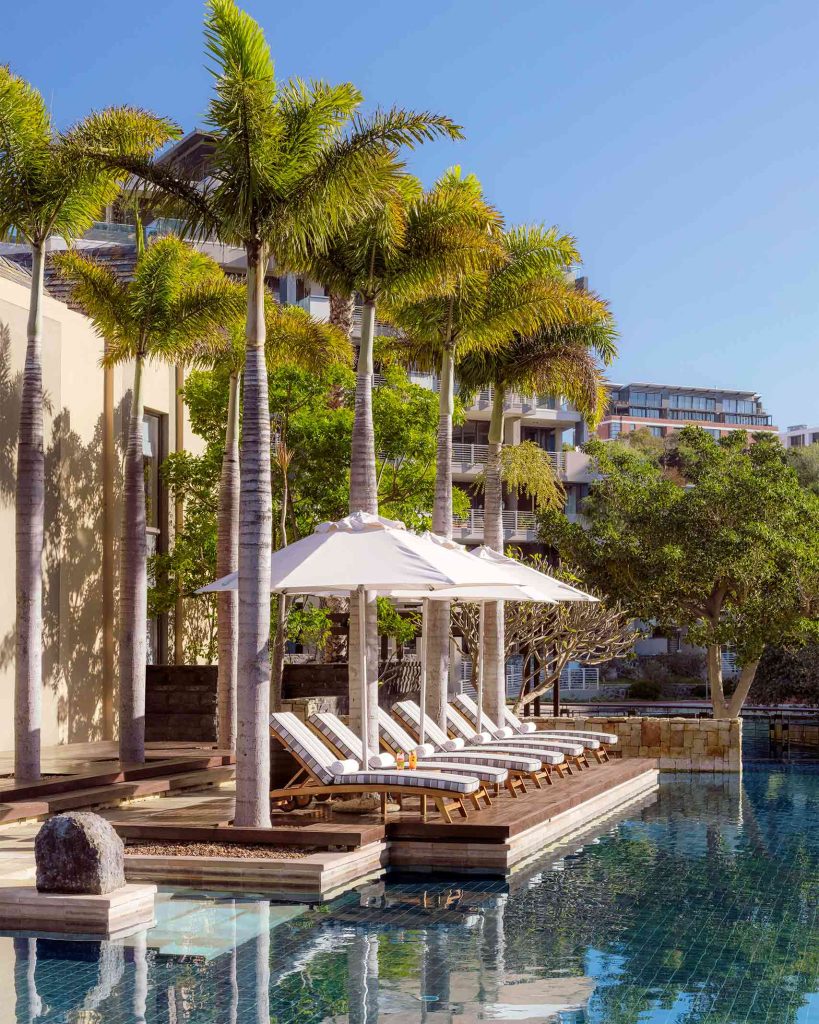 | | | |
| --- | --- | --- |
| Perfect for | Fly into | Right on time |
| The Hedonist | CPT | GMT +2 |
While you're Out There
Up for a sushi masterclass at Nobu? A tour of the resort's Wine Studio with head sommelier Luvo Ntezo? Or keen on a yoga session atop Table Mountain? All these activities are conveniently bookable at the One&Only Cape Town, though the one thing you can't miss is a mixology lesson with Elton at Vista Bar & Lounge. An absolute superstar (and born entertainer!), Elton taught us how to concoct the incredible Cape Nectar, and, after finding out about our personal tastes, tailor-made a grapefruit and rose-infused daiquiri for us… Only here!
On that note, no review of this urban resort would be complete without a mention of the people who run it in such a spectacular fashion. We had a feeling we were in good hands from the moment of our arrival, when doors flung open and a warm towel was handed to us at the reception desk. The team quite simply couldn't do enough for us, accommodating every wish (and enthusiastically jumping at the opportunity to safely package a few bottles of wine we'd bought in layer upon layer of bubble wrap, so they wouldn't break in our suitcase on the way home). One&Only being owned by Dubai-based Kerzner International, we'd like to think the reason for this level of service standards is its roots in Emirati culture, with its extremely obliging take on hospitality in the hotel sector. And though there were times when, during breakfast, we could've done without repeatedly being asked whether everything was to our satisfaction, we were overall highly appreciative of the very hard-working staff.
One thing we'd like to see improved, however, was the lack of diet-inclusive dining options at Vista Bar & Lounge. There wasn't a single vegan-friendly main on the menu designed in collaboration with Karen Dudley at the time of our visit, forcing us to order a 'light meal' of cauliflower that, upon being served, turned out to be broccolini topped with cheese. Noticing our obvious confusion, our kind waiter had the chef himself stop by our table, but his suggestion to 'cook whatever we desired', though well intended, placed the burden of creativity on us: if we'd wanted to come up with an original and harmonious three-course meal ourselves, we wouldn't have gone to a restaurant. We found it puzzling that Vista doesn't cater to dietary requirements, not least because breakfast at Ochre was incredibly versatile, including oat milk flapjacks and a vegan cheeseboard served with Kalamata olives, hummus and lavash – and when we dined at the property's very own Nobu outpost, its dedicated, plant-based Nikkei (Japanese-Peruvian) degustation menu was a delight from start to finish.
Luckily, the spa menu at the One&Only Cape Town was just as promising, with each treatment more sublime-sounding than the next. We opted for the African Journey massage, which commenced with a rooibos and rock salt scrub followed by a massage using an African 'Rungu' stick and concluded with a rooibos tea ceremony. The whole experience was, in one word, heavenly. We also spent some time making use of the facilities, which would be impressive by any standard, but are all the more so because of the hotel's urban location. From a sauna and steam rooms to ice fountains, vitality pools, the adjacent StudiO, where guests can book everything from pedicures to micro-blading, and a separate, 200 sqm/2,150 sqft state-of-the-art gym, there's nothing that hasn't been thought of. It's at the spa, we thought, that the property lives up to its Maldivian reputation the most. That's because the area is a serene retreat, with an outdoor section dominated by a large tree placed upon a tranquil pool surrounded by pretty water features. A hideaway within a hideaway, this was our favourite spot at what's perhaps the most ambitious place to stay in town.
Photography courtesy of One&Only Resorts