One of the world's most historic hotels, locals and fans alike affectionally refer to the Mount Nelson, A Belmond Hotel, as 'The Pink Lady', or simply 'The Nelly'. You could admire the iconic, rose-pink palace in the shadow of Table Mountain from afar, but nothing beats joining the ranks of thousands who have come to stay at this Cape Town Grande Dame over the decades.
With nearly 120 years of history, hosting famous and influential people from Sir Arthur Conan Doyle to the Dalai Lama, it's not exactly surprising to think that the Mount Nelson, A Belmond Hotel, has become known as the single-most famous luxury property in Cape Town, and perhaps all of South Africa. Its gate, made of gleaming white columns that open up to a palm tree-lined driveway, was constructed to welcome the Prince of Wales in 1925, and when Churchill visited in 1899, he thought the hotel 'a most excellent and well appointed establishment which may be thoroughly appreciated after a sea voyage' (mind you, most visitors nowadays trade in a gruelling nautical journey for a red-eye into CPT).
Though a number of contemporary places to stay seek to claim its title, the Mount Nelson's history is one of the many feats to set it apart from local competition: expect a sense of old-world throughout the hotel's seven different wings, with stories from its illustrious past brought to life across shared spaces, from the wooden liquor and tobacco license hung above the front entrance, to the original displays down the property's many corridors. As you'd expect from a place like this, the tradition of afternoon tea is very much alive – so much, in fact, it's a popular Cape Town experience in and of itself, and not rarely comes with a waiting list.
Of the 198 rooms and suites at the Mount Nelson, our favourites must be the Garden Cottages, set in a more private part of the grounds across from the main building. Our 'Rose Cottage' was generously appointed with a fireplace, a small kitchen aisle and coffee and tea station, Venetian mirrors, illustrated books and original decor. Not only did we appreciate ample storage space and a small private outdoor area all set with a table and two chairs underneath a large parasol, but also a large smart TV that, at the click of a button, appeared like a mirage from a cabinet at the foot end of our King size bed. Modern in-room amenities such as this matched the cottage's overall aesthetic, which was more contemporary than the rest of the hotel.
In line with the exemplary level of service Belmond is known for, we enjoyed the attention to detail as demonstrated by the property's housekeepers, who left us daily notes on our bed at turn-down, or angled the toiletries in our black and white marble bathroom with a large bathtub and double sinks, so they would be perfectly aligned each time we returned from a day out exploring (the sheer satisfaction of that!). Our cottage was in essence also combinable with the neighbouring one, as our front door faced that of our neighbours, within arm's reach. All cottages feature a small, roofed veranda and a front lawn whose flowering shrubs attract all sorts of pretty birds.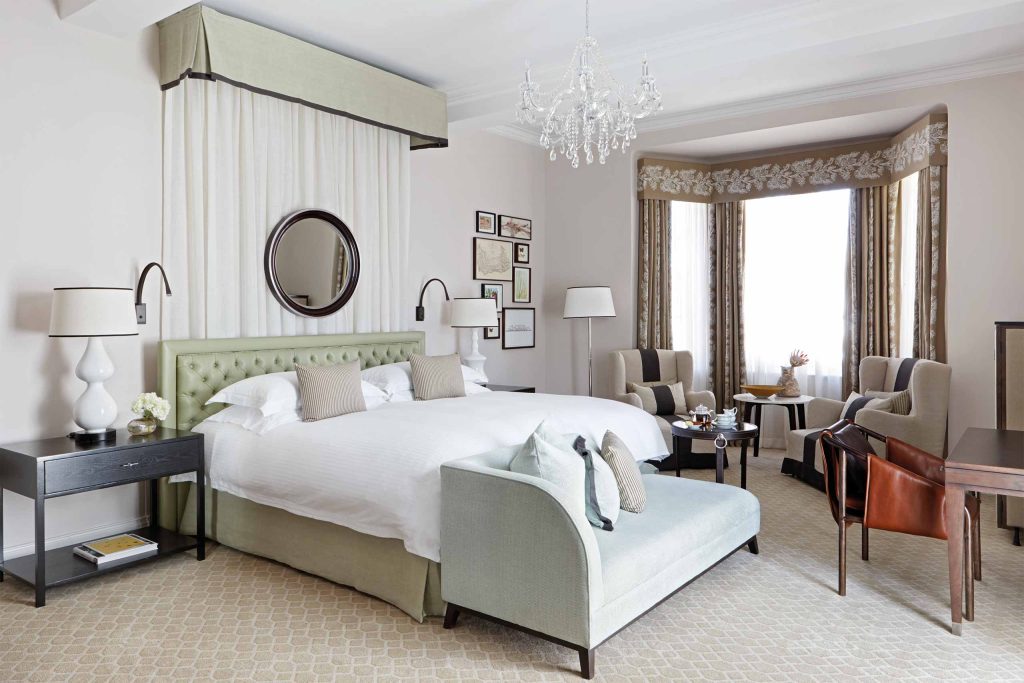 | | | |
| --- | --- | --- |
| Perfect for | Fly into | Right on time |
| The Sophisticate | CPT | GMT +2 |
While you're Out There
The Mount Nelson is the gateway to the great (and grape) outdoors and everything Cape Town and the Western Cape have to offer. You'll be spoilt for choice as there are numerous Cape Wineland journeys to pick from: in a 4×4, classic car, or even a motorbike and sidecar if it takes your fancy. We opted to head out of the city into the Constantia Winelands to experience three historic wine estates using private roads with access only given to the Mount Nelson's tour team. On this journey, we enjoyed meeting the region's youngest female winemaker and tasting what is said to be the best Sauvignon Blanc in the world.
Just across from the cottages, you'll find the Mount Nelson's adults-only pool, which allows for a more relaxed swim than the hotel's main pool, though that is by no means to say that the latter is unpleasant. To the contrary, with its beautiful location embedded into the property's manicured gardens – featuring palm tree-lined walkways, boules, two tennis courts and more – the main pool couldn't be more of a joy to swim a few laps in (or lounge alongside, an iced something in hand).
You'll also find the Librisa spa next to it, set in refurbished Victorian heritage homes and featuring steam rooms, saunas and small plunge pools for men and women. We thought this part of the hotel could do with a makeover, frankly, as the amenities looked rather dated and the area around the plunge pool felt a little loveless to us. That said, if you frequent the spa for a treatment instead, we're sure the lovely team will have you feeling cool, calm and collected in no time.
The Mount Nelson being a Belmond-branded property, there's no way around some fabulous dining, too, and we can wholeheartedly recommend The Lounge for all things epicurean as well as people-watching. The restaurant overlooks the gardens with its floor-to-ceiling windows and terrace seating, though pretty as they are, our eyes quickly moved on to a handwritten menu placed upon a wooden easel our waiter set up next to our table – charming, that! When we dined on our own, staff also kindly handed us a book about the hotel's famous afternoon tea to browse as we waited for one delectable course after another. For a nightcap, make sure to stop by the Planet Bar or play a round of pool in the small, wood-panelled room adjacent to The Lounge, equipped with a fireplace, deep armchairs and all sorts of memorabilia.
Our single-most memorable culinary experience at the Mount Nelson was at breakfast, where plant-based options like chickpea-based tomato omelette and scrambled tofu (optionally with Indian spices) were both exquisite and lovingly presented, leaving us wanting for nothing. As vegans, we sometimes have a hard time at hotel breakfasts – even at properties that get overall dining right for people with dietary requirements. Hence, when we say the Mount Nelson serves one of the finest and most dietary-inclusive breakfasts we've ever enjoyed, it truly is testament to how well the hotel understands that luxury is all about acknowledging guests' personal preferences, and catering to them: bravo!
In fact, we found this dedication to personalising the guest experience was present throughout our stay, owing to the wonderful team that work here, who on so many occasions went out of their way to make us feel at home, away from home. Though service can at times feel a little formal at first, and a never-ending chorus of 'Certainly, Sir/Madam' resounds all across the property, we found that all staff members were exceedingly warm and happy to share a smile or, on occasion, even a funny anecdote. If people are what makes a hotel – and we'd very much argue they are – then the Mount Nelson is a 10/10.
www.belmond.com

Photography courtesy of Belmond