Just minutes from Kirstenbosch National Botanical Garden and a world away from central Cape Town (yet close enough), The Cellars-Hohenort, a hidden-away boutique hotel part of The Liz McGrath Collection, sits in nine acres of gardens so beautiful, you could be tempted to set up camp outdoors – but then, the rooms are just as pretty, and a lot more comfortable.
The first thing we did after checking into this much-lauded property was to head straight back out. That's because we were in dire need of fresh air after two consecutive long-haul flights, but also because the nine-acre gardens at The Cellars-Hohenort are some of the most special in the entire Constantia Valley. Amongst other examples, they're home to the second-oldest Camphor trees in all of South Africa, one having reached a height of 24 metres and a crown diameter of almost 19 metres over its +250-year lifespan, as well as to some 2,500 roses, including the Liz McGrath Rose, which was hybridised here in 2003 in honour of the legendary hotelier who transformed the property. Tours of the historic gardens led by Garden Manager Leigh-Ann Van Wyk are available each Wednesday (and usually followed by tea and scones, just because), though we rather enjoyed exploring the many walkways, water features and ponds on our own.
It's a good way to familiarise yourself with the hotel's grounds, of course, and to figure out which of its two pools is the one you'll be spending your days lazing away by (the Cellars pool is a more private affair, but we opted for the Hohenort pool with its glorious views over the hotel's vineyard instead). There's also a tennis court and a small gym while mountain bikes are readily available from the reception if ever you were to crave some physical activity – rest assured, however, that the relaxed setting of The Cellars-Hohenort is a lot more conducive to a spa visit or a leisurely round of croquet or pétanque on the estate's sweet-smelling lawns. Overall, we'd say the hotel is well-equipped to cater to the needs of today's boutique luxury travellers, which is all the more fabulous seeing just how much history the property can look back at.
Originally set up as an estate for the chief surgeon of the Dutch East India Company, Hedrik ten Damme, in 1693, Klassenbosch – as it was then called – would go on to make a significant contribution to local viticulture in the 18th century before being bought by businessman and botanist Arnold Spilhaus in 1906, who decided to add the Hohenort building constructed in the German style ('Hoher Ort' meaning 'high place' in his native German). The compound was divided into various sections sold to different buyers in 1947, and it wasn't until Liz MacGrath purchased the Cellars building and the Hohenort building, in 1991 and 1993 respectively, that The Cellars-Hohenort was born in its modern-day constellation. Throughout all this history, the hotel grounds have only grown more beautiful while the Cape Dutch architecture has lost nothing of its charm, nodding to Cape Town's rich history.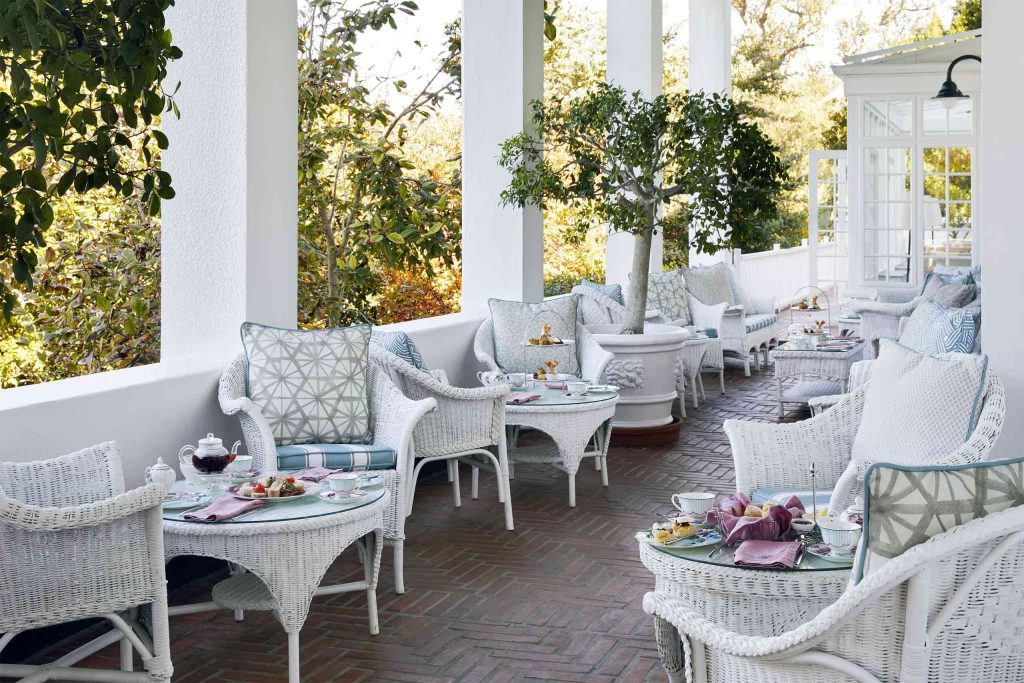 | | | |
| --- | --- | --- |
| Perfect for | Fly into | Right on time |
| The Insider | CPT | GMT +2 |
While you're Out There
If ever you'd like to dine outside of quaint Constantia and surrounded by the hustle and bustle of Cape Town's V&A Waterfront instead, we enjoyed popular GINJA, which serves generous portions of hearty South African and international cuisines just steps from the water. With unbeatable views of Table Mountain looming in the distance, it'd be a crime not to sit outside… just make sure to get your reservation in early.
But there's more beauty to be found inside: all of the hotel's 51 rooms and suites have been individually decorated, with unique features that ensure returning guests will never get bored of the interiors. You'll find the usual amenities to be expected from a boutique property like The Cellars-Hohenort, from smart TVs to a coffee and tea station and truly detail-oriented turndown service. We particularly enjoyed our Suite's elegant colour palette that combined rather on-trend 'greige' surfaces with minty green textiles and floral-print cushions shown to advantage thanks to the large windows that let in South Africa's glorious afternoon sun (while also allowing us to step outside, onto a private veranda overlooking the aforementioned gardens). There's also the two-storey Madiba Villa, the top accommodation option at The Cellars-Hohenort and a tribute to former South African President Nelson Mandela, featuring three bedrooms, a private pool as well as a dedicated driveway to ensure maximum privacy in its garden setting.
No luxury in the world can guarantee to keep the somewhat frequent infrastructural issues plaguing South Africa at bay, however, and so when a nearby pipe burst just hours after our arrival, the entire neighbourhood was left without running water for a whole day, and there was nothing to be done about it. To their credit, this was something beyond the staff's control and the team was apologetic about the inconvenience nonetheless, providing us with large bottles of water to cover the bare necessities. We felt that the hotel did everything it could while trying to keep us updated. Overall, The Cellars-Hohenort's employees were ever-friendly and clearly keen to help us have the best possible time on property. That said, service was at times on the slower side and we could've done with a more efficient check-in.
Fortunately, breakfast was a decidedly more organised affair (despite the buffet boasting its very own Bloody Mary station… or perhaps because of it?). While we vegans were quite restricted in terms of food choices compared to our travel companions, and our search for plant-based yoghurts or an açai bowl was in vain, we do have to commend the property on its formidable, dedicated vegan dining menu. Dinner at The Conservancy, spearheaded at the time of writing by Executive Chef Tronette Dippenaar, is a treat for the views of the stunning gardens alone, but beyond the vistas, we savoured a mouthwatering beetroot carpaccio with aquafaba aioli, rocket pesto and shaved cashew cheese before tucking into an equally tasty baby gem salad with cauliflower tempura, toasted pine nuts and sherry truffle dressing. For dessert, the restaurant served an aromatic orange and almond polenta cake with sorbet on the side.
Admittedly, with so much of the Cape region's world-famous gastronomic offering on our doorstep, we only ate at The Cellars-Hohenort once, though, in our ongoing quest for new Epicurean delights, we thoroughly perused the menu at The Conservancy and were thrilled to find a few plant-based options for each course, meaning guests with dietary requirements have a great deal of culinary variety to look forward to during their stay. No meal is complete without a drink, of course, and while the property's Martini Bar & Lounge is a staple, we preferred the more intimate Greenhouse Bar next door. It was here that we ordered the signature Hibiscus & Fynbos Cosmopolitan, sitting by the large windows that revealed views of the hotel's +250-year-old Camphor trees while jazz oozed from the loudspeakers all around, that we thought how lucky we were to have found this completely gorgeous yet hidden-away place in the Constantia Valley.
www.thecellars-hohenorthotel.com
Photography courtesy of The Liz McGrath Collection