On a journey to the lesser-unearthed city of Kathmandu, curious explorers like Samia Qaiyum may find moments of clarity amid the chaos – that is, once they've come to terms with the culture shock.
Hectic, chaotic, exotic – I had heard at least one of these adjectives associated with Kathmandu prior to my visit. But, whether these are terms of endearment or backhanded compliments to describe the densely populated capital of Nepal, I'm here in search of something beyond the chaos, something yet unknown, to complement my trek up Ghorepani Poon Hill.
Standing at a humble 3,210m, the hill station of Poon Hill is a proverbial walk in the park compared with the 5,895m I've just completed on Mount Kilimanjaro, despite never having hiked or slept in a tent before. As a third-culture kid whose sheltered upbringing in Dubai resulted in an embarrassingly risk-averse adult, my new-found appetite for summits was a long time coming. But, while the mystique of the Himalayan mountains has its place on this trip, the city-slicker in me is curious to explore the urbanity of Kathmandu Valley.
Nepal's capital is seen by most foreigners as merely a gateway to the dramatic landscapes that, admittedly, have also been the focus of my own journey. For them, the city is where they pick up hiking equipment, board domestic flights to Lukla and Pokhara and alleviate their sore post-trek muscles with cheap massages and even cheaper dhal bhat platters before returning home.
Those adjectives often used to describe the Nepalese capital become an unapologetic reality at Pashupatinath Temple. It's sensory overload for me, after my days in the mountains. The Hindu temple's claim to fame isn't just centred around its size (518 pagodas, shrines and other structures) or its history (400AD, according to estimates). Instead, it's the lingam, a votary object symbolising the god Shiva, discreetly located in an inner sanctum, that makes Pashupatinath one of the most significant religious sites for devotees of Lord Shiva.
To say the riot of colours, sounds and smells is overpowering would be an understatement. Garlands of bright-orange marigolds adorn funeral pyres, adding an element of life to the thick grey smoke rising from the countless cremation ceremonies taking place on the banks of the sacred Bagmati River. Standing on the other side, I resist the urge to capture these scenes on my camera in any capacity, instead allowing my other senses to catch up. The scent in the air is pungent but indescribable. If there's a word that accurately sums up the combination of corkwood, camphor and burning human flesh, I have yet to come across it.
A few feet away, I spot the occasional tourist shelling out hundreds of rupees in exchange for an entirely contrived photo of dreadlocked sadhus – ascetics who've renounced the worldly life. But I can't bring myself to follow suit. If anything, I'm still unnerved by the fact that I'm a witness to the last rites of someone I never knew. There's something about death that feels deserving of a lot more privacy and, as someone who is neither a grieving relative nor a practising Hindu, I feel like a tone-deaf tourist for the first time in years.
As stray dogs vie for a spot in the shade and monkeys scamper from temple to temple, I have an epiphany: as long as I possess a Pakistani passport, this is the closest I'll ever get to India – the birthplace of my grandparents, three of whom I never knew. The political relationship between the two neighbours is worsening as we speak, reinforcing the reality that access to India is a pipe dream. I silently vow to embrace Nepal and its people wholeheartedly, curious stares, chaos and all.
In stark contrast to the display of human and animal activity at Pashupatinath is Boudhanath, the centre of Tibetan Buddhism in this Hindu-majority country and one of the world's largest stupas on the planet. Here, monks silently walk clockwise around the white dome and pyramid tower painted with the all-seeing eyes of the Buddha. Prayer flags of all colours flutter in the wind and pilgrims spin the many cylindrical prayer wheels that contain scrolls of Buddhist mantras. As with the rhythmic activities that I turn to in times of stress, I find the repetitive nature of this environment relaxing, almost meditative. Even the humidity here feels less stifling somehow.
My pace is now slower, my breathing less laboured. I start circumambulating, suddenly aware of the toxicity behind the phrase 'going around in circles'. I have nothing to accomplish except walking the circumference of this stupa, but I'm not lost. If anything, this feels like highly familiar territory – the circle is present in the repetitive spinning of whirling dervishes as well as in the obligatory ritual of tawaf, both significant in my Muslim faith. Clearly, Kathmandu is not the one-note wonder that mainstream media will have you believe.
"The idea was to acquaint myself with Newa architecture and browse temples dating back to the third century, but fate had more exciting plans."
My state of calm is short-lived. The route to Narayanhiti Palace is laced with pushy street vendors, impatient motorcyclists and pedestrians practising the croak-and-spit routine. I press on, pausing only when crossing a major intersection requires a surge of adrenaline. Every now and then, my reflexes fail me and I sidestep a pile of garbage a little too late, my once-white Chuck Taylor sneakers taking on a muddy brown tinge that I'll have to obsess over another time. Add to that the notoriously polluted air that I'm breathing and, just like that, I've internalised the frenzy of this city in a desperate bid to cross the essentials off my Kathmandu bucket list.
Narayanhiti Palace – now a public museum – once served as the residence of Nepal's monarchy, its macabre backstory making it the city's definitive dark tourism spot. Crown Prince Dipendra opened fire on his parents, siblings and other family members before shooting himself in the midst of a dinner party at the palace back in June 2001. Cameras and phones aren't allowed inside and I can't help but wonder: with all those bullet holes still visible, does the country really need more reminders of its grim past? But, perhaps, like the damaged terracotta structures from the 2015 earthquake that pepper the city, it's a perpetual reminder of human resilience that doesn't ever make it into the guidebooks.
This is Kathmandu – strong, fascinating, frustrating and full of surprises. And the nearby Garden of Dreams is further proof. Amidst the pond and pergolas of this Neoclassical garden, the city's loved-up teenagers laze away an afternoon. It serves as a reminder that pockets of tranquillity exist in this (chaotic indeed) metropolis – provided you know where to look for them.
Nothing, however, could have prepared me for unknowingly lumbering into the festivities of Gai Jatra – the Festival of Cows – at the premises of Kathmandu Durbar Square, a UNESCO World Heritage Site. The idea was to acquaint myself with Newa architecture and browse temples dating back to the third century, but fate had more exciting plans. A celebration of life, this annual festival sees thousands of people from the Newar community honour loved ones who have passed away, but its spirit is far from sombre. The procession I'm now a part of entails singing, dancing, laughter, and the offering of cash and gifts to any cows moving slowly through – 'gai' means cow in Hindi and it is believed that these sacred animals guide deceased relatives to the doors of heaven.
Now, I've encountered my fair share of public spectacles around the world, but street scenes of this sort? Never. Young boys wearing elaborate headdresses feature prominently in Gai Jatra, their faces painted with bright lipstick, heavily applied eyeliner and even drawn-on moustaches. As they walk, revellers leap forward to drape garlands of marigolds around their necks and pour milk into their mouths. How appealing can all that dairy be in this heat, I wonder.
Unsure of where I fit into this picture, I'm lost (both literally and metaphorically) and decide to surrender to my surroundings. A crowd is gathering to catch a glimpse of the Kumari, a prepubescent girl picked to be a living goddess and worshipped by Hindus and Buddhists alike, and my curiosity prompts me to join in. Photography is strictly forbidden as she momentarily appears at one of the windows in Kumari Chowk, a three-storey palace and her place of residence until puberty strikes and she's back to being a mere mortal.
"LGBTQ+ rights organisation Blue Diamond Society organises its annual Pride festival to coincide with Gai Jatra and the sheer number of attendees is downright heartening."
Admittedly, I find myself inwardly judging this devotion to what is essentially a child isolated from society – and this isn't just about my stance as a monotheist. The luxury of interacting with a Kumari isn't afforded to the general public, but for those fleeting moments of her appearance, all I see is a little girl who's visibly overwhelmed. Or am I just projecting?
The crowd disperses as I linger, questioning why the culture shock in Nepal feels more 'offensive' than in the likes of Portugal, Tanzania and Cambodia, each presenting a way of life that looks nothing like the one back home in Dubai. I reckon it has something to do with the fact that this stint in Kathmandu has unintentionally become about accepting (and connecting with) my roots in the Indian subcontinent. And it only took 30-odd years to get here.
Elsewhere in the city is another celebration that I unknowingly stumble into, this one more in sync with my comfort zone and the times, albeit a little unexpected for a small, landlocked country in South Asia. Not only is the neighbourhood of Thamel teeming with tourists, but it's also at its liveliest – LGBTQ+ rights organisation Blue Diamond Society organises its annual Pride festival to coincide with Gai Jatra and the sheer number of attendees is downright heartening.
Rainbow flags, feathered costumes, colourful balloons, rally signs, masquerade masks and all manner of bands collectively weave through the tourist and backpacker district, drawing attention to Nepal's seemingly endless quest for equality. As of 2007, the country legally recognises transgender individuals through citizenship documents that provide them with better access to healthcare and education, making Nepal a pioneer in the region.
I ask one of the out, loud and proud participants where the parade is headed.
"Hanuman Dhoka," she replies, flashing both a smile and the peace sign. The palace-turned-museum in Durbar Square gets its name from the Hindu deity of Hanuman, a statue of whom sits by the entryway. It turns out that there's nothing coincidental about the procession's destination. Many Hindus believe that Hanuman, the monkey god, was gay, citing his immense loyalty and devotion towards Rama – the seventh avatar of Hindu god Vishnu – as proof. Who says spirituality and sexual freedom are mutually exclusive.
I now know that I won't be boarding my return flight unchanged. Kathmandu isn't for everybody, but it's exhilaratingly real. And in your face. It's forced me to confront an uncomfortable truth about myself: 39 stamps in my passport later, I'm not entirely immune to culture shock. It's offered me moments of reflection and serenity when I least expected it, yanking them away before I get too comfortable. It's allowed me the type of proximity to my grandparents that India never will. And it's offered me hope for a more inclusive future in conservative South Asia. Nepal may be on the bucket list of many an adrenaline junkie, but from where I'm standing, its true magic has nothing to do with mountaintops.
For the latest information on visiting Kathmandu and Nepal, go to www.welcomenepal.com.
Photography by Ingmar Zahorsky and via Unsplash
Get out there
Do…
… grab a coffee at Himalayan Java Boudha. Often referred to as 'the Starbucks of Nepal', it has exceptional views of Boudhanath stupa.
…indulge in a Newari Massage Therapy at Pancha Kosha Himalaya Spa. It's the definitive antidote to a day spent exploring Kathmandu on foot.
…support Fair Trade by picking up gifts at Timro, Ekadesma, Pia, Sana Hastakala, Ramalaya and The Local Project Nepal. Tibetan singing bowls and thangka paintings are great, but lokta-paper products, pashmina shawls, silver jewellery and yak-milk soap are much easier to carry home.
Don't…
…plan a trip during monsoon season if you want clear views on the world's most awe-inspiring day trip. The Mount Everest sightseeing flight offers passengers a front-row seat to the snow-capped mountains of the Himalayas and back.
…bother lugging around multiple camera lenses. Nepal's capital promises endless street-photography opportunities, but things happen fast, so there's no time to lose.
…dismiss a trip to Pokhara. It boasts activities such as paragliding and white-water rafting, as well as countless eateries and boutiques and stunning scenery – Annapurna included.
The inside track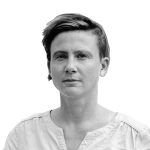 French entrepreneur Pauline Driard has lived in Nepal since 2009. She founded and operated both Pauline's Garden and 3 Rooms by Pauline before selling them to local stakeholders. She now runs Pauline's Rooftop bar and has a pop-up concept in the works.
Dine
At Raithaane, a small restaurant in the courtyard of a traditional Newar house, ingredients that even Nepalis have forgotten are rediscovered to take you on a journey through ethnic cuisines. It's utterly delicious.
Discover
Take a drive towards Kakani, just outside Kathmandu. You'll pass trout farms and restaurants. Choose a sunny one – the team there will catch the fish and prepare it to your liking (or theirs). Either way, it'll be great.
Drink
For sundowners, Friday night parties and Saturday barbecues, Pauline's Rooftop is the go-to bar. The staff there do everything themselves and create some of the most unique cocktails in town.