When exploring hectic but eclectic Kathmandu, you'll need a comfortable base to retreat to when the sun goes down (or when it's too hot). Dwarika's Hotel positively seems to come from another time, yet this forward-looking property entices travellers with all sorts of luxurious amenities – and plenty of charm.
More living breathing museum than hotel, this haven of luxury is a result of the late Dwarika Das Shrestha's lifelong passion for the preservation of heritage. He set out to collect, protect and replicate the traditional wooden structures that were being desecrated in favour of more modern ones. In the hotel's wide, atmospheric courtyards, we took in the intricately carved doors, pillars and window frames that represent the best of Kathmandu Valley's craftsmanship, before seeking a moment of calm in our room or enjoying a round of bagh-chal, a two-player boardgame that originates in Nepal. There's one in every single guestroom – in brass, no less.
Dinner at the signature restaurant at Dwarika's Hotel, Krishnarpan, offers not only an unmissable experience in slow dining but also the chance to engage with Newari culture. We were presented with a 22-course meal against a backdrop of native masks, traditional earthenware and even more wood carvings. Bragging rights, meanwhile, come courtesy of those who have dined here before us: King Charles, Demi Moore and Selena Gomez among them.
The selection of hors d'oeuvres featured kidney beans, flattened rice and a pancake of sorts, all generally served during religious ceremonies. A traditionally attired waitress politely asked us to 'make a small offering to Lord Krishna first'. We guessed that the portion of flattened rice was the one to go. The proceeding courses consisted of chickpea curry, sautéed mushrooms, spiced potatoes and exquisite buffalo-meat dumplings called momos.
Spirituality really does reign supreme in Kathmandu and here at Dwarika's Hotel. You'll see it in the property's landscape of sunken fountains, pomelo and persimmon trees and in the pool inspired by 12th-century Malla Dynasty baths.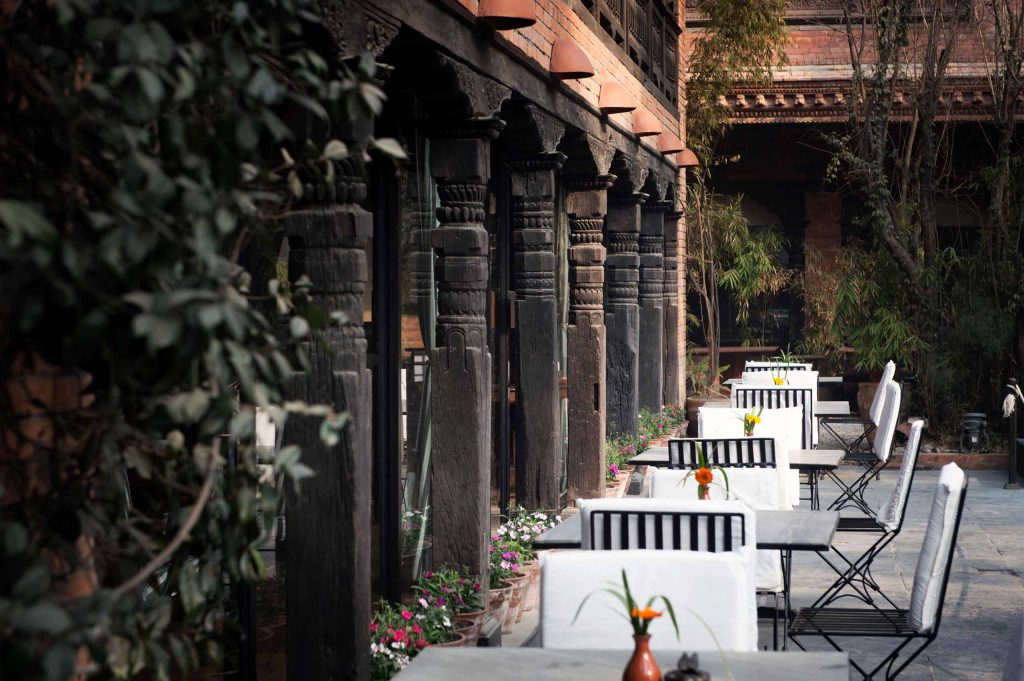 | | | |
| --- | --- | --- |
| Perfect for | Fly into | Right on time |
| The Culturalist | KTM | GMT +5:45 |
While you're Out There
The pretty Ram Mandir temple is right around the corner from the hotel, making for a convenient detour before you head out into town proper. It's not the most impressive you've ever seen, but therein lies its charm: Ram Mandir feels like a decidedly local affair, offering a more spiritual way to observe Nepalese culture as it lives and breathes.
Photography by Thomas Dutour and courtesy of Dwarika's Hotel