There's a lot to be said for going off grid.

I've just returned to London from a magical trip in the Galapagos, where the impact of COVID-19 seemed a world away. But as we disembarked, l learnt that our boutique yacht owners, Ecoventura would be ceasing operations until further notice as a result of the pandemic. It was sad, but the right call, one of many made in all corners of the travel industry, large and small, across the world, to take a remarkable and responsible decision to put the safety their staff and passengers first, all while safeguarding their business interests, amid looming government lockdowns.
We are not unfamiliar with the sometimes volatile threats to our usual pace of business. As an industry – and more often than not, as a 'family' – we have worked tirelessly to overcome many past challenges and will no doubt continue to do so, together. My time in the Galapagos certainly reinforced the power of travel in broadening horizons and drawing unique perspectives on life, but it also taught me lessons in resilience, overcoming adversity and even thriving in the most challenging of scenarios. Pachamama, as they call her there, doesn't always play nice, but it is how you adapt and come out the other side – stronger and oftentimes more colourful than before – that matters.
So firstly, to our extended family of travel folk – we want to let you know that we remain open for business and are here to help. Our fantastic team are at your disposal to help you get what is a daily-changing feat of information out to travellers; and also assist you in planning your upcoming outreach and campaigns, to enhance your offering and be even more creative in capturing the imaginations of OutThere travellers for when the pendulum swings back. We're absolutely up for banding together and we're committed to the continuity of this spectacular industry. So keep sending us your releases, news, ideas and inspirational content – we'll do all we can to keep telling your stories. To our advertisers, sponsors and partners – as agreed, we'll help you strengthen the intensity of; or defer your campaigns to a later date, if you need. Our advice is not to go dark, keep some momentum going – and after the storm has passed, our community of travellers will remember that you were there through it all.
And to our loyal readers, we'd plead that you to do something similar. If your travel plans have been affected, we'd ask that you consider deferring and rebooking, rather than cancelling completely, or asking for a refund. Whilst some of the businesses you book with may be able to weather the storm organically, others really need your help; and a pipeline of comeback bookings will do wonders for their confidence. Plus, there are thousands of people employed in the industry that this directly affects and whose livelihoods are at risk. You'll be surprised at how far even the smallest of gestures will go at this time.

Don't stop dreaming
Even at a time where there are physical restrictions in place, do let your mind continue to 'travel' and feed your wanderlust. At OutThere, we have always believed in the power of positivity, inspiration and dreams. And that's why in a media-landscape awash with negativity, we won't be lying low – in fact, over the next few weeks, you'll be hearing a lot more from us. For every doom-harbouring social post you see, we'll match it with content from an inspirational journey. For every worrying news story, we'll tell you a tale of discovery and wonder. For every closing border, we'll throw it wide open again with endless possibilities. We'll bring balance and feel-good factor back to your timelines and newsfeeds. We'll tell experiential stories all about the magical and mystical world that we live, in every which way we can. We promise to continue with the brand of storytelling that gives us our name – and position our planet in a transformative, mind-expanding and meaningful way – to show what getting out into the world can do for humankind. And beyond the destinations we showcase, we will also be putting faces to the OutThere people we've encountered along the way, those who have facilitated and enriched our journeys – because behind the luxurious digs and designer experiences, are real people, as passionate about travel as you are.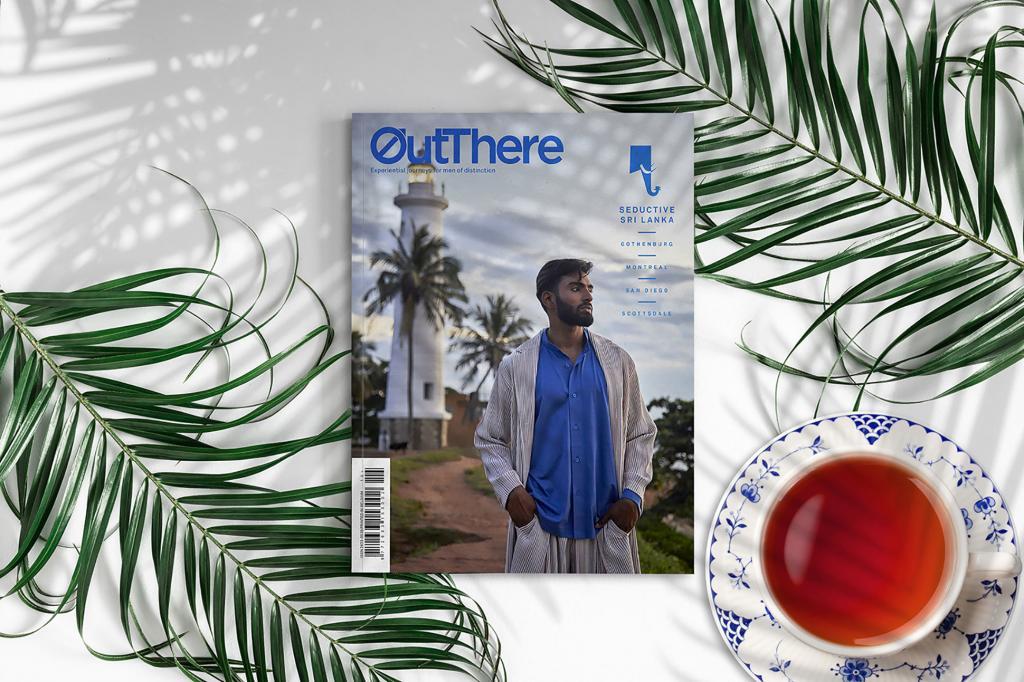 To kick things off, we're prouder than ever to launch our Seductive Sri Lanka Issue. Alongside our usual compendium of feel-good destination stories and places to stay, we delve into 64 gorgeous pages focussed on this breathtakingly beautiful, storied, spiritual and experiential country that knows more than anywhere else, what it means to bounce back. What our experientialists found most spellbinding about visiting Sri Lanka was the hospitality of its people and their lust for life; and how, coming out of the troubles they had last year, they have grown to be even more friendly, open and particularly resistant to any form of division and discrimination – something this world could do with a lot more of.
The power of community
OutThere travellers will know more than most, about coming together as a community. At this time, we urge you to put the interest of the herd ahead of your own. Take time to look after each other – your friends, the vulnerable; and yourselves, not just in direct relation to the virus, but also with other important factors like mental health. Also, stay worldly, look beyond your doorsteps to see if there are other OutThere people on this earth that could do with your help.
I take inspiration from how our community came together to spearhead the battle against HIV/AIDS just a few decades ago. It was incredible how we, in the face of adversity, affected a change that benefitted the whole society. It would have been easy to advocate abstinence and social stigma, but instead we did our very best to proactively drive visibility and a safe-sex message across the world, prescribing reasonable precaution, personal responsibility and education instead. And together, we fought it and overcame. We also countered ignorance and intolerance, which is sadly going to be the ugly side-effect of today's pandemic – something we each must take every responsibility to combat. I've long expressed how a growing tide of insularism will harm the travel industry and society as a whole, so let's stay aware of the easy dangers of isolationism at this time.
If you're healthy and solvent, think about how you can play your part. By all means, stay safe – and keep abreast of the latest developments with the WHO – but don't just sit back and watch it pass. Do what you can, in whatever way you can. Volunteer for those who need it and check-in on the at-risk and vulnerable – walk a dog, or provide meals on wheels. Disseminate factual information and know-how on prevention and social action. Donate to local health or homelessness charities or other first-line health-providers. Support local businesses and commerce on a whole wherever you can. And don't hoard valuable resources if you don't need it.
I know that it's frustrating that so much of the world and what we love seems out of reach, but take comfort in knowing, and ensuring, that it is all only temporary. And always remember, you're OutThere. And because we are too, we'll be there with you every step of the way.