What could possibly be better than one of your favourite brands? Well, that would be two of your favourite brands coming together: collaborations offer travellers something ever more distinct and 'destination design', the idea that a particular part of the world or place to stay is so iconic, it lends itself to working with established brands in fashion and beyond, is booming. Here are two recent collaborations that caught our eye.
Greater Palm Springs x Globe-Trotter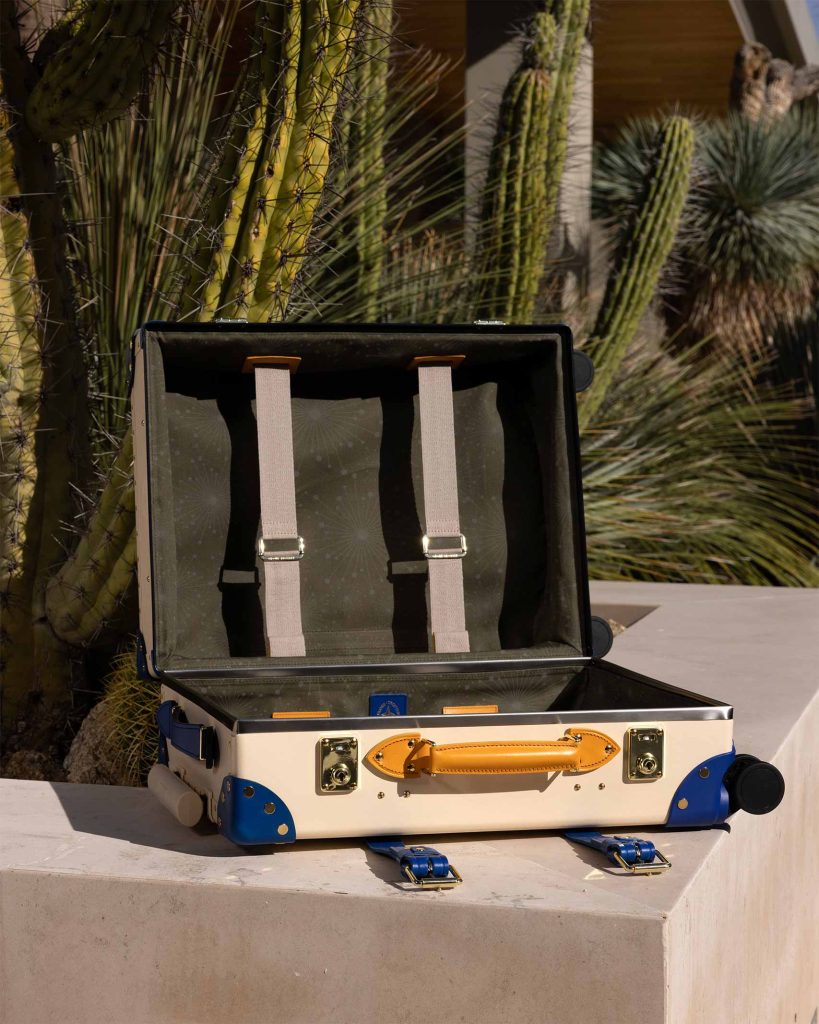 Imagine a place so appealing in every way, it provides the backdrop for a movie about a flawless utopian town named Victory, no less. A place so dazzling that it eclipses the world's biggest pop star on the silver screen. Now, imagine something you own evoking the spirit of this blissful paradise each time you look, touch and feel it. The place we're referring to is Greater Palm Springs – the filming location of Don't Worry Darling. And the beautiful thing in question is none other than the new Palm Springs-inspired range of suitcases inspired by luxury luggage brand Globe-Trotter (which we adore).
This, in our eyes, is a match made in postmodernist heaven. The Globe-Trotter range, which launched at the Palm Springs Modernism Week in February this year, consists of three essential pieces: a check-in case, carry-on case, attaché, two luggage tags (small and large) and a Palm Springs-designed leather sticker. The colour palette rekindles the hues of the Palm Springs desert and the aesthetics pay homage to the city's renowned mid-century modern architecture. The range is a collaborative effort between Visit Greater Palm Springs and Globe-Trotter to showcase the Southern Californian lifestyle and the region's spectacular scenery.
What can you expect from the capsule collection? Globe-Trotter, established in 1897, handcrafts their luggage in England for world travellers. The brand's cases are synonymous with the Golden Age of travel, with many of the shapes and styles remaining unchanged over the years. Production is still done by hand in England, with the same attention to detail, using some of the methods and machinery of the Victorian era. It would be fair to say that each piece is a labour of love and integrity, and an ode to British craftsmanship – arguably another type of destination design.
Darius Alavi-Ellis, Marketing Director of Globe-Trotter tells us that 'Palm Springs has a strong aesthetic tradition and we are excited for our global community to see that come to life in the form of carefully designed Globe-Trotter products'.
The President & CEO of Visit Greater Palm Springs, Scott White, adds: 'We're proud that our destination, with its unmistakable desert oasis and iconic mid-century architecture, serves as the inspiration for the Palm Springs Collection. Globe-Trotter's new luxury line will inspire travellers to discover all that Greater Palm Springs has to offer'.
To kindle sparkling pools, yellow sand and green palm trees, and more importantly, to travel in style, we couldn't think of a better collaboration. Our (very stylish) bags are packed and we're headed to the beguiling mountains and endless blue skies of Greater Palm Springs.
www.visitgreaterpalmsprings.com | www.globe-trotter.com
Photography courtesy of Globe-Trotter
Brown's Hotel x Paul Smith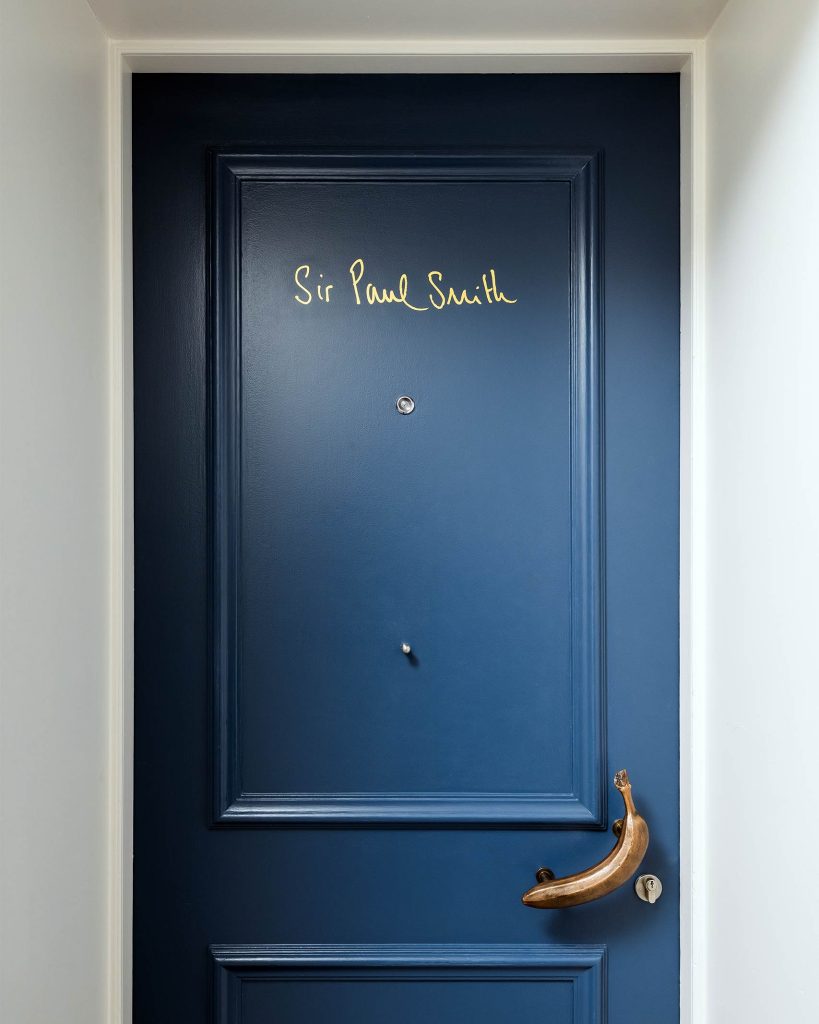 Next on our radar is the quintessentially British Sir Paul Smith Suite at Brown's Hotel, an OutThere favourite. This has got our attention because it's a collaboration between Smith himself and Olga Polizzi, Director of Design at Rocco Forte Hotels, which owns iconic Brown's.
The suite is designed for rest and relaxation but it's also a space for igniting inspiration and creativity through art and objects. Soft furnishings from the Paul Smith Home collection, beautiful rugs and curated art adorn the suite. Several of Paul Smith's other collaborations have also been included; sofas, tables and leather goods from the Everyday Life collection with Italian luxury furniture company DePadova, Type 75 lamps from the partnership with British brand Anglepoise and checked wool blankets, designed by Paul, for Maharam (although there's no word on whether or not our favourite Paul Smith collab has made its way into the suite…).
However, what makes the Sir Paul Smith Suite at Brown's unique is the designer's personal touch. The Christopher Simon Sykes' photograph of Chatsworth House library and the 1970s leather desk chair by Mario Bellini are the same as those in Smith's office in Covent Garden. The limited edition prints by the designer's friend Julian Board and the art wall pay homage to Smith's Albemarle Street store which is only a few metres away from Brown's Hotel: you could take that as an extremely local form of destination design.
'It's exciting to have a Sir Paul Smith suite at Brown's. He has caught the feeling of the hotel, but with a Paul Smith twist' says Polizzi.
Smith's twists on the suite include whimsical details such as banana door handles, custom-made fire dogs inspired by Homer, his first canine shopkeeper, a robot made from a vintage camera and striped fireplace tiles.
'Being asked to design a space for such an iconic Mayfair institution is a great privilege. On a more personal level, I'm pleased we've been able to include objects that inspire me and in turn, they'll inspire the suite's guests' adds the designer.
We recommend making a beeline to experience the Sir Paul Smith Suite at Brown's Hotel. You'd be in great company; other British greats such as Oscar Wilde, Arthur Conan Doyle and Agatha Christie have all stayed here.
Photography courtesy of Rocco Forte Hotels