The Italian coast might be a little far for our usual mid-week dinner, but when Explora Journeys – the hotly anticipated luxury lifestyle brand by MSC – invited us on a whirlwind trip to Senigallia for a first taste of what to expect aboard the EXPLORA I, it would've been rude to turn down our seat at the (dinner) table.
It's no easy feat disrupting the cruise industry, a branch within travel that's consistently pushing for innovation to quite literally keep afloat of trends that determine how the discerning luxury travellers of tomorrow choose to spend their holidays. There's been increased interest in ocean journeys amongst OutThere travellers (as showcased in our most recent travel trends report), though some aspiring seafarers hold long-standing beliefs and prejudices the industry is doing its best to shake off: cruises, supposedly, are a 'one size fits all' vacation choice, where true customisation is an afterthought rather than a priority. Having recently returned from an epic expedition ourselves, we can't say this is true – though the gastronomic offering of some brands doesn't exactly tickle our tastebuds just yet.
Explora Journeys is seeking to change this with the launch of EXPLORA I, one of six vessels to debut between 2023 and 2028. The jewel in the crown of some 11 onboard dining experiences, from restaurants to in-suite meals, the ship's Anthology restaurant is set to be more than just another place to dine – rather, Anthology will showcase an ever-evolving roster of celebrity guest chef-created menus to immerse passengers in what the brand calls the 'Ocean State of Mind'. The first chef who got 'on board'? None other than Mauro Uliassi, head of Senigallia's three Michelin-starred Uliassi (which officially ranks as the twelfth best restaurant in the world).
Uliassi, the kind of chef we got the sense looks at their work as a form of art, says the collaboration 'is a celebration of the sea, and an homage to Adriatic heritage'. It's a sentiment mirrored by Jason Gelineau, Head of Product at Explora Journeys, who explains that the aim of any invited guest chef would be to 'enhance the memories that guests take with them long after the journey has ended'. Having gotten a taste of what's to come on our trip to Senigallia, we certainly walked away with a memory or two: from cardoncelli mushrooms with blueberries and toasted pine nuts to pasta served on tomato sauce infused with fig leaves and roasted tofu on bayleaf oil, topped with umeboshi – each of our courses was delicate and delicious, featuring elegant flavour profiles executed to mouthwatering perfection.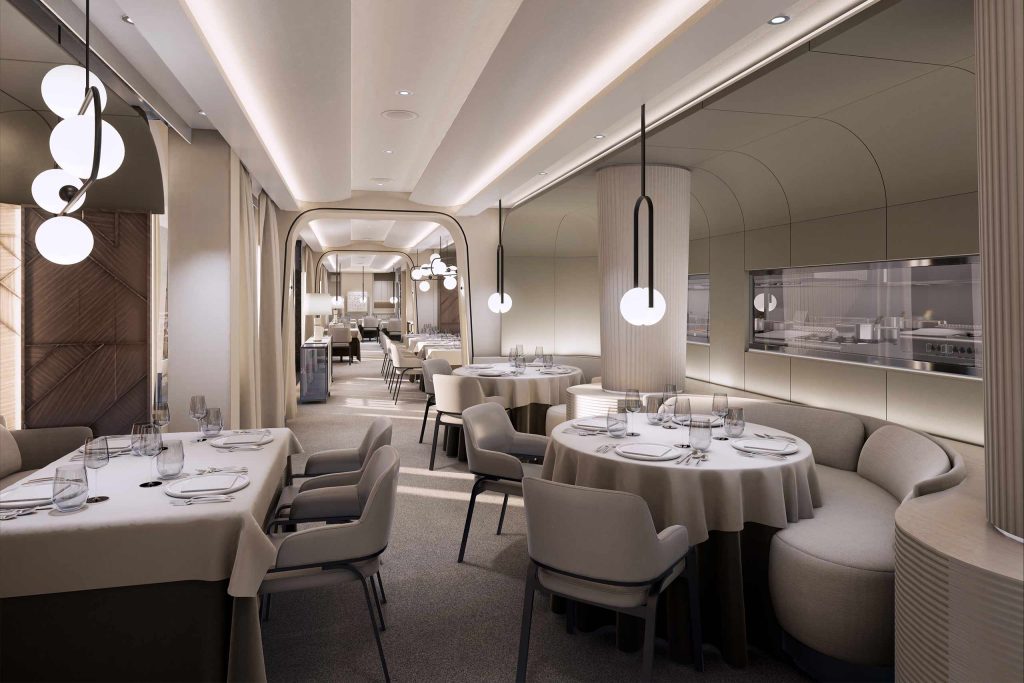 Uliassi has dished up a plant-based menu for us upon request, and we'll be honest with you: getting a vegan-friendly tasting menu signed off wasn't as straightforward as we'd hoped from a chef of such esteem. Catering to dietary requirements and preferences is quite simply a must for any brand operating in the luxury hospitality sector, and arguably all the more important for a lifestyle brand such as Explora Journeys, which is set to compete with household names in cruising for the attention of a new generation of ocean enthusiasts. The brand couldn't quite confirm whether our special menu will find its way into Anthology, giving herbivores like ourselves full access to the Explora experience, but we sincerely hope it does: not least because not having a plant-based menu disinvites not just vegans, but also every constellation of passengers with just one vegan in it, from couples to families and friends wanting to dine together.
We have a feeling Explora Journeys will come around to including our menu, partly because of how well it works, but also because Anthology is set to be the only non-included dining experience aboard the EXPLORA I and as such, we don't see why anyone wouldn't want the restaurant to be accessible to all. But whatever your diet, Mauro Uliassi's creations will be available from July 17th, when the vessel departs Southhampton for her maiden voyage, until the ship arrives in NYC on September 25th.
Featuring a total of 461 oceanfront suites, penthouses and residences, all with private terraces, the EXPLORA I is sure to turn heads at sea. Though luxury isn't merely confined to generous interiors and private, panoramic views at Explora Journeys, as Jason Gelineau tells us over dinner: 'We're doing away with what people think they know about cruises. There are no set timings or a single, designated space for entertainment… Instead, passengers will be able to drop in and out of lounges across our ships to experience varying artistes putting on all sorts of shows and performances. And we've traded in the 'friends of Dorothy' code for a more celebratory way to refer to our LGBTQ-driven programming: it's called Prism, and we can't wait to share it with the world'.
With so much going for the brand, and the promise to truly disrupt the cruise concept in a drive for more personalisation and better value for seafarers, we're glad we've gotten a first taste. Now onto a second!
Photography courtesy of Explora Journeys and by Steffen Michels