It's the coldest place on the planet – the driest and windiest too. So how better to experience the continent of superlatives, Antarctica, than from aboard the world's most luxurious and advanced expedition ship? Even travellers unsure about earning their sailing stripes don't have to miss out.
It starts with an end, as it so often does when you travel someplace beyond the reach of imagination. The end of familiarity comes in varying degrees, from making a wrong turn in your hometown to going off the beaten track in a foreign land. Here, it comes with the end of land altogether, for, as we look over our shoulder, we see the southernmost stretches of Chile's Tierra del Fuego disappear into the distance. We're on the water at nightfall, looking at a fireball of a sun peeking out from behind low-hanging clouds, a fiery glow glimmering on the sea. The landmass below our feet, we know from having studied topographical maps of the area, recedes even more rapidly than that on the horizon.
A sense of adventure comes with the territory when settling down for the night on the legendary body of water known as the Drake Passage. For the first hour or two, the sea gently sways us from one side of our bed to the other, effectively rocking us to sleep. But anticipation lingers all around us, as we've been told to expect rougher waters from midnight. With three of the world's oceans crashing into one another here and no land to decelerate them on their collision course, waves can climb to an eye-widening 12m/40ft, and storms approach some 300 days a year. On all sides, mountain ranges of water rise and fall within seconds, an ever-evolving record of forces taking transitory shape, courtesy of the oceans.
You don't need to know the Drake Passage to picture it. It's the kind of sea that nautical fiction writers have spent the past 200 years filling with ship-size octopuses and epic battles. But while some voyagers travelling through it are called upon to weather the infamous 'Drake Shake', others traverse waters so placid they're sometimes referred to as the 'Drake Lake'. Until you've set sail, you won't know which to expect. What all travellers on this route have in common, however, is a burning anticipation of what lies ahead: the least explored continent and the bottom of the world, a land so remote, it's more myth than matter in the minds of many – Antarctica.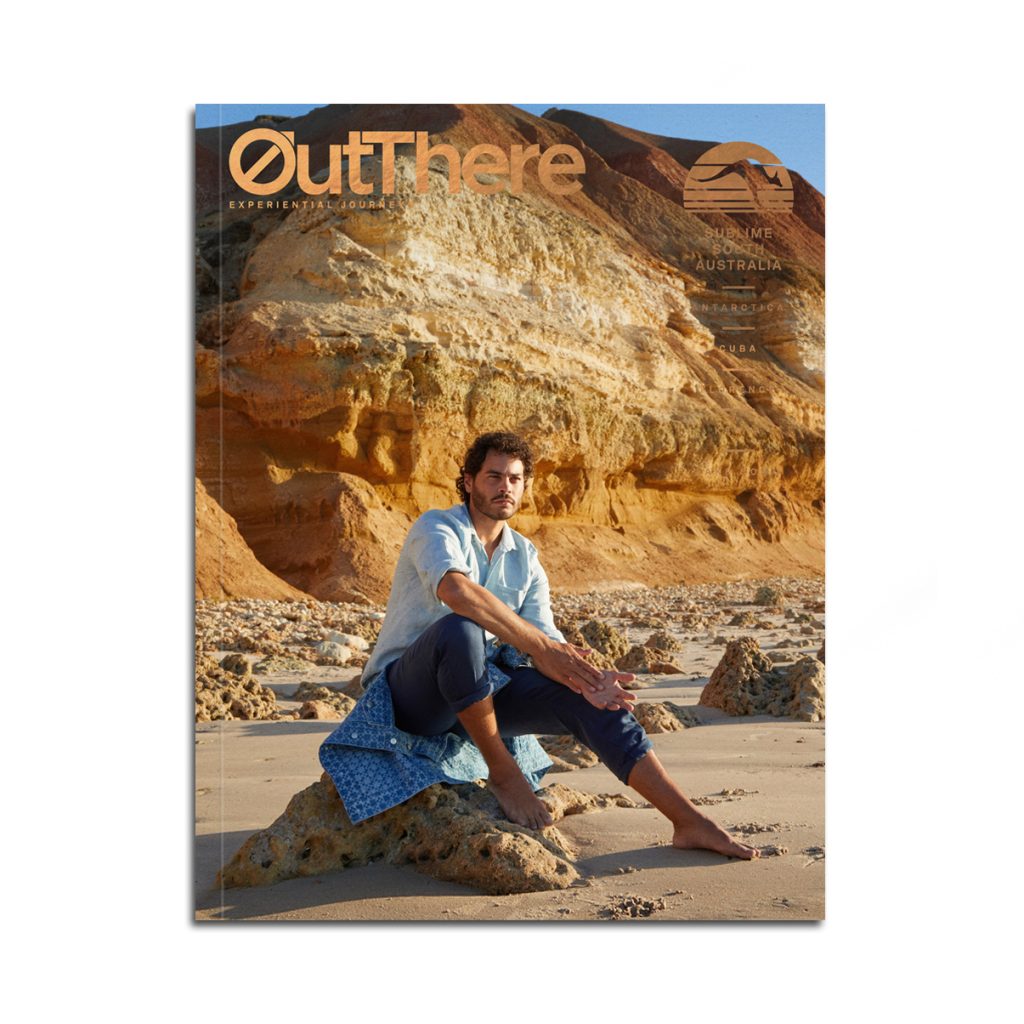 Most expedition ships make the journey in 48 hours, but on this occasion, ours gets us here in 36. We're on Silver Endeavour, the latest addition to Silversea's imposing fleet. But the Endeavour stands out from its sisters: as the most expensive expedition vessel per berth ever built, this high-tech mega-yacht features 100 suites (with 10 more currently being added), making it decidedly more intimate than what might instantly spring to mind at the mention of a modern-day cruise ship.
There are reasons for this, of course. Firstly, vessels carrying more than 500 passengers are prohibited from landing anyone in Antarctica, meaning there's little point in them coming here in the first place. And secondly, Silversea's ambition for the Endeavour is for the ship to feel like a 'proper' luxury hotel – although, if you're thinking swaying chandeliers and gilded imperial staircases, that's not quite what we mean. Rather, the luxury element here lies in the silent joviality of being at the end of the world with a number of people just small enough for them to recognise one another as they rub shoulders during daily recaps and lectures in the Explorer Lounge or exchange friendly glances in the Otium Spa.
This more personal touch is something we also feel during our interactions with the crew: from our designated butler, with his impeccable manners, to the thrilled-to-be-there expedition leaders keen on sharing their knowledge of the seventh continent or busy looking up specialist information in the ship's top-floor library. They also keep a watchful eye on us – as well as on local wildlife – to ensure a safe and responsible visit to this most extreme of environments at all times.
That's not, of course, to say that the Endeavour doesn't wow on a surface level, too, but like the best of 'seawomen', she abandons the gaudy in favour of a more appropriate 'diet luxury' that's low on calories yet bursting with flavour. Artworks across the vessel's public spaces are quietly beautiful. In the restaurants, wave-like light fixtures pay homage to the sea, and a bespoke crystal feature that's in the works from glassmaker extraordinaire Lalique is destined to elevate the ship's fine-dining French restaurant La Dame yet further.
The spacious Observation Lounge, with its Art Deco elements and golden trimmings running through dark wooden panels, is perhaps our favourite hang-out. One night, we ask the pianist there to play us a sultry rendition of Britney Spears' Toxic as we sip dry vermouth and watch minke whales breach the icy waters of Antarctica below.
While the Endeavour is too genteel to try and compete with the spectacle all around it, it does steer passengers' gaze towards its surroundings. At least, that's how we feel each time we step into our Superior Veranda Suite, with its floor-to-ceiling glass doors leading out to a private balcony at one end. Decorated in natural, calm colours, the suite would not look out of place in a five-star hotel. Besides the obvious – king-size bed, writing desk and dressing table – we delight in 'added-value' amenities such as Etro bathrobes and a built-in bench in our shower (plus champagne upon arrival). Only our walk-in wardrobe is too narrow to open our suitcase in, a first-world problem that leaves us wanting to opt for one of the top suites on our next expedition (and you should, too, if you're looking to have a private Jacuzzi or a bed facing your suite's glass doors and the hypnotising world beyond).
"It's important to watch your every step – of the few plants you'll find, many take 100 years to grow a single centimetre. We don't know about foreign worlds, but Antarctica is certainly a place of mystique"
Just past the ship's spa you'll find a pool and Jacuzzi in a spectacular, light-flooded atrium, which is also home to The Grill, one of four on-board restaurants. They're all gorgeous in their own way, but eating a plant-based diet means we often miss out: when the team improvise a menu, for instance, it leaves us with no options to choose from; at other times three courses are presented to us when our companions are served four. We also long for more imaginative dishes: dressing beetroot in three different ways makes a pretty starter, but hardly a satisfying one, and when non-vegan dishes are accidentally served to us – twice – we are tempted to eat them, but instead decide to fill up on bread. Don't get us wrong: some meals are filling and delicious, but for the ultimate luxury cruise to the end of the world, 'some' just isn't the gold standard.
Neither is it the 'Silver' standard, rightfully the only benchmark Silversea endeavours to match, which differentiates the brand from competitors. It's why we never tire of shore leave with the personable crew. When everyone is literally in the same boat, and every last detail, from gripping lectures to Silversea's Antarctica Bridge option, which allows passengers to skip the Drake Passage and fly to the continent instead, has been thought through to help you make the most of your precious time on board, you'd be naive not to notice the impeccable planning that goes into organising an adventure like this. In some ways, being 'this close' to 'that far' is like going on the world's most epic safari – except you're not confined to a vehicle.
On our landings in the South Shetland Islands, we walk among colonies of gentoo, chinstrap and Adélie penguins, observe Weddell seals in admiration and southern elephant seals in awe as wandering albatrosses, brown skuas and blue-eyed shags dash across sapphire skies above. In Neko Bay, we're mesmerised by a frozen world, where icebergs with electric-blue interiors crackle and meringue-like layers of snow the height of double-decker buses cling to mountain slopes. And when we set foot on Cuverville Island, a metallic light in the atmosphere sinks into a snowstorm ahead, resulting in the illusion of a bent horizon. Then, there's Petermann Island, with its rich polar history, and the dramatic Lemaire Channel, where glaciers plunge into a sea as still as a black mirror.
Some have suggested Antarctica is the closest thing to a foreign world that there is on this planet, and the procedure required to visit it certainly seems to support that idea: disembarking from the Endeavour on to a Zodiac boat to take us ashore, we put on insulated gear, make our way down a portal-like hatchway, and disinfect our polar boots upon return. Out there, the land is so bright, it's sometimes impossible to tell where it ends and the white sky above begins. In the continent's warmer regions, it's important to watch your every step – of the few plants you'll find, many take 100 years to grow a single centimetre. We don't know about foreign worlds, but Antarctica is certainly a place of mystique.
As our voyage nears its end, the Endeavour makes a final stop on Deception Island, which is really the caldera of an active volcano protruding from the depths. Despite this strangest of environments, we feel perfectly at ease – as we have during the entire expedition. Antarctica might be indifferent to us, but we are not to it. Humans are ironically attached to this most difficult of lands to reach. So much so, in fact, that the Antarctic Treaty states that the continent shall never become a place of discord, but shall for ever remain designated a site for scientific research and peaceful cooperation toward that end.
In that regard, Antarctica shows us a way the world could be. There's a lot of beauty to be found in the idea and, moreover, in letting the arresting landscapes of this place seep into your bones while you're aboard the Endeavour. Floating in a volcano crater certainly isn't our everyday, but somehow, some 10,000 miles/18,000km south of home, in a place about as unfamiliar and unlikely as there's ever going to be in the world, we find a comfort zone where we least expected it.
Photography by Paola Calamarà, Kris Markovska, Steffen Michels and courtesy of Silversea