A resort so respectful of the environment it's in, Habitas Tulum (and the 42 luxury tented suites that make up its accommodation options) feels almost as though you could pack up the entire place and plant it somewhere else entirely – but then, you probably wouldn't want to, seeing the hotel's dreamy location along the coast of Mexico's legendary Riviera Maya.
The dialing back to self begins at check-in: it's the 'Art of the Welcome', as the Habitas team calls it. A truly unique experience, guests are invited to partake in a ritual based on cultural practices local to the area, through which they can set an intention for their stay, and speak to their innermost selves before entering what is more of an experiential pathway than a simple hotel stay. Thus begins an experience guided by purpose, connection and intention, with each guest embarking on their own personal Habitas journey.
Swathed in jungle foliage on the shores of the Caribbean Sea, in Mexico's hipster enclave, Habitas Tulum is the flagship hotel of lifestyle brand Habitas. Driven by the urge to disconnect, seek wellbeing and foster community, Habitas Tulum offers guests a curated, nature-focused experience straddling lush greenery and a secluded beach.
The connection between land and sea is celebrated and honoured in Mayan culture as the givers of life. Habitas Tulum is centered on bringing guests as close to the earth's elements as possible, to become part of the celebratory cycle of life and admiration of 'Pachamama'. Arousing every sense through considered design and guest experience, from drifting off to sleep to the sounds of tropical rainfall dancing atop your suite's palapa roof, to awaking with nostrils filled with the aromatic scents of burning resin in the traditional "copalera", the Habitas Tulum experience is designed to be inimitable.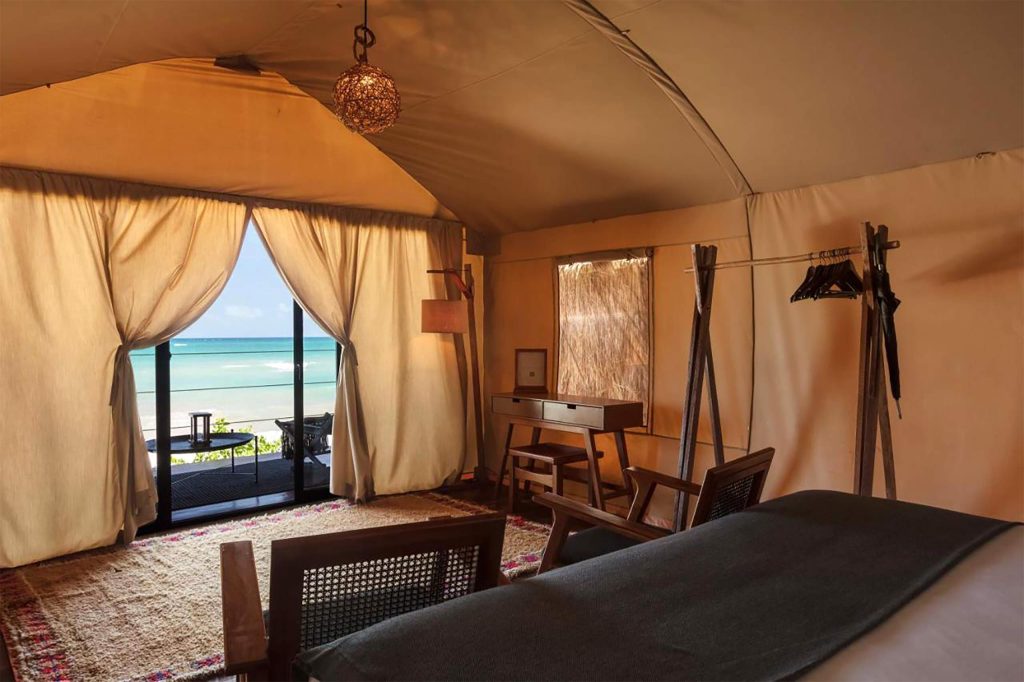 | | | |
| --- | --- | --- |
| Perfect for | Fly into | Right on time |
| The Escapist | CUN | GMT -5 |
While you're Out There
Our secret sauce for a great night out here is feasting on vegan tacos at the night street food market on Geminis Nte. and Geminis Sur. Here you'll find Perro No Come Perro serving a vegan taco feast like no other! Afterwards, drop by Palma Central for some live salsa dancing and spicy margaritas, before joining the 'it' crowd at Casa Jaguar, an open-air jungle club hosting international DJs and serving the town's most experimental libations.
With 42 luxury tented guest suites, each with private outdoor rain showers and wooden porches designed for nights spent stargazing, Habitas Tulum has created its very own notion of laidback luxury. Elevated on wooden stilts, the safari-like tented suites are filled with full-sized, mid-century furniture, while the bathroom is adorned by Mother Nature's finest greens. It's easy to forget the threat of Mexico's inescapable mosquitos when bathing beneath a sparkling night sky.
The entire estate feels as if it's a pop-up secret, one that could be packed away and moved on to pastures new within a matter of hours. There's something truly magical about the setup, in that its respect for nature gives the feeling that you're a guest of this little corner of the earth. The entire place feels less like a hotel and, in fact, the only bricks-and-mortar structure at Habitas Tulum is the glass pavilion that houses the ashtanga yoga studio, overlooking palm tops, straight out to the ocean, and the restaurant, Moro.
Just like any family home, Moro is a gathering space for loved ones from dusk until dawn. During daylight hours the space is flooded with golden light and swaying palm shadows, while at night, the dim flicker of candlelight moves between the breaths of familiar stories told over well-worn dinner tables. With your toes rooted in the sand, panoramic views of the jungle's teeming vegetation, and a menu inspired by nature and local dishes, Moro is the heartbeat of the Habitas experience.
Featuring a strong focus on artisanal design, indigenous culture and ecological protection, a stay at Habitas Tulum will trigger your reset button and help you tap into the Tulum way of living. That's certainly what it did for us.
Photography by Pepe Molina and courtesy of Habitas