Nature takes centre stage at Hof Flieth, a tranquil escape from the urban bustle just an hour's train journey from Berlin. In the picturesque Uckermark countryside, the property's owners Andreas Zaremba and Gary Abela have struck the perfect balance between hosting and self-catering in their exquisitely understated, secluded yet accessible rural getaway.
Andreas Zaremba along with his partner Gary Abela are experienced hosts, with a raft of guest apartments in Berlin. They moved the base of their operations out to the sleepy village of Flieth in the East German countryside during the pandemic and haven't looked back. Bringing their wealth of experience and eye for design to every aspect of this rural retreat.
Approaching the property for the first time, we were greeted by the couple's three enthusiastic and friendly dogs who led us along winding gravel paths, through a garden designed by Rainer Elstermann. We visited in the middle of the German summer, when the garden and the surrounding countryside were at their peak, with a myriad of wildflowers in bloom attracting hundreds of little honeybees busying themselves collecting pollen. The centrepiece of the garden is a large, concrete brutalist seating area and fire pit, facing a row of outbuildings, which divide the space into an outdoor kitchen and vegetable garden.
Nestled away in a secluded area at the back are a hot tub, outdoor shower and sauna, with views of the land beyond. Around the back of the house lies a small orchard of fruit trees, where we ate most of our meals, all of which had been lovingly and skilfully prepared by Gary, who has grown all the fruit and vegetables himself. This personal touch makes Hof Flieth a truly special experience.
That's not to say staying here means spending all, or in fact any, of your time with your hosts. The level of contact with Gary and Andreas is something which happens organically and is very much a matter of preference. We're told that some guests choose to have no contact at all. This is possible due to the location of the self-contained guest apartment with its own entrance and kitchen and outdoor seating area. But for us, a huge part of the joy of our stay was due to spending time with our convivial hosts who have poured their hearts into creating a haven that resonates with their values and passion for hospitality, and of course their lovely dogs.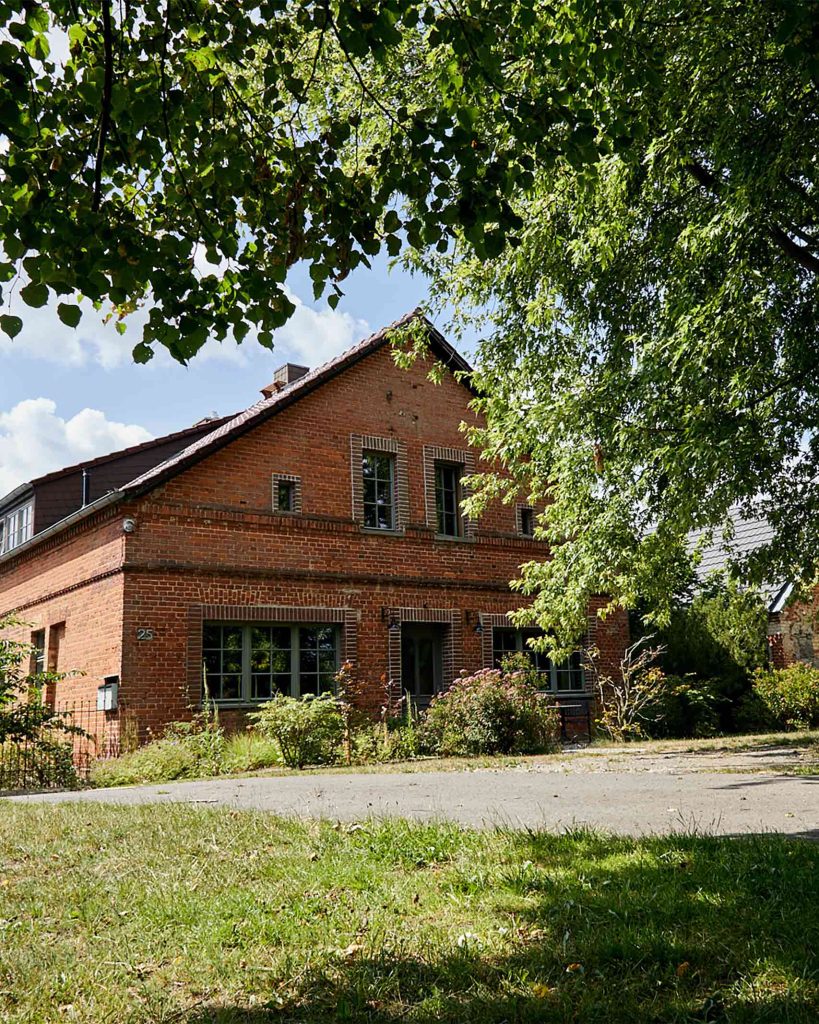 | | | |
| --- | --- | --- |
| Perfect for | Fly into | Right on time |
| The Escapist | BER | GMT +1 |
While you're Out There
Just a few minutes driving from Hof Flieth in the village of Gerswalde is Großer Garten, an unassuming collection of outbuildings set in meadowland, that host international gourmet residencies from top chefs, many whose reputation has been forged in Berlin's exceptional and boundary-pushing food scene. Workshops including wild flower arranging are also a regular feature in the summer months. In addition, Hof Flieth's ever-entrepreneurial Gary Abela has recently taken up residence, combining his considerable cookery skills with those of collaborators to cook up new and exciting offerings to Großer Garten's trendy customers.
The one, double-bedroomed guest apartment has been sympathetically redesigned by Andreas, who has an exceptional talent for interior design. He has preserved many of this East German farmhouse's original features, whilst adding to them with just the right amount of contemporary elements to elevate the property into a stylish, understated luxury offering. The hallway with its original checkerboard tiles leads us to a country-style kitchen exuding rustic charm with its butler sink, a 1930s dresser and small kitchen table with a welcome basket laden with homegrown fruit and homemade preserves (which we incidentally brought home and scraped every last morsel from over the preceding weeks).
The sitting room incorporates homely vintage mid-century furniture set against warm burgundy painted walls and a large ceramic-tiled boiler, whilst the bedroom houses a large comfortable bed sat on bare wooden floors. Roughly textured walls in earthy pallets exude an effortless urban sense of cool, which is carried through into the bathroom complete with a utilitarian metal basin and a roll-top bath incorporating a rain shower.
This deceptively simple style runs throughout the rest of the property and echoes the Berlin guest apartments, which the couple still run as part of their holiday rental business. Even though we visited in summer and didn't spend too much time indoors, we can imagine it being the perfect cosy place to hide away in the colder, darker months with a good book and bottle of wine.
The house is situated within easy reach of the train station linking the village to central Berlin in just over an hour. Hof Flieth is a haven from frenetic city life, where one can embrace a slower, rural pace surrounded by nature. Long, leisurely walks through the expansive rural landscape, swimming or picnicking beside one of the many nearby lakes in the region should all be on your to-experience list when visiting. We suggest bringing along your camera, or even a set of watercolour paints, as opportunities for capturing the outstanding beauty of the region abound. All in all, this is a place we would like to return to time and time again – perhaps at different times of the year, to experience the changing seasons.
Photography courtesy of Martin Perry