The Mandarin Oriental Munich exemplifies the Bavarian capital – its past, present and future – showcasing a characterful fusion of rich local heritage, contemporary cultural enchantment and worldly refinement, that has incidentally become synonymous with, and a signature of, this global luxury hotel brand. We'd argue that there aren't many places better in old München to find such refined, modern comfort, intertwined seamlessly with authentic charm.
Looking out over the city's red-tiled rooftops at the perfectly framed twin-domed Frauenkirche from our quaint loft room, we imbibe the historic charms of Munich's Altstadt (old town), all with a standard of international luxury and elevated hospitality that we as OutThere travellers have come to associate with Mandarin Oriental hotels.
In our suite, no stone was left unturned (and trust us, we went well out of our way to find at least one fault). The attention to detail, amenities and facilities in the room must be applauded, credit where credit is due! Our generously appointed and surprisingly contemporary accommodation – unique because of its position in the old building's attic and the juxtaposition of new-world luxury and old-world charm – was flooded with natural light. This spotlighted cleverly put-together décor and furnishings, inspired by the late Biedermeier era of the 1800s, but tastefully and creatively brought up to date for today's traveller. We'd often advise against booking into suites with vaulted ceilings, but in this case, the quirky layout added a real sense of place, without compromising on space or headroom for that matter. We felt that spending time up here added so much more character to our stay, but that's not of course to say the other rooms in the house are any less individual. An upgrade to a Tower Suite or Bavaria Suite, for example, will provide a similarly distinctive feel, but provide an even more sumptuous and spacious place to rest your head for a night or seven.
The idiosyncrasies continue in other parts of the hotel, an edifice that although has seen numerous evolutions through its nearly two centuries of existence, was first built as a culture palace that once housed ballrooms for King Ludwig II's artsy follies and grand parties. As such, the architecture is a symphony of the Wittelsbach dynasty's sophistication, with an elegant and theatrical foyer and dramatic sweeping staircases reflecting the royal's penchant for Neo-romanticism. To ensure some modernity, contemporary artwork is peppered across the now Mandarin Oriental Munich, alongside fine and ornate Chinoiserie, steeped in Asian grace… to ensure that all guests that pass through its hallowed halls remember that they visited a Mandarin Oriental, despite its Bavarian heritage.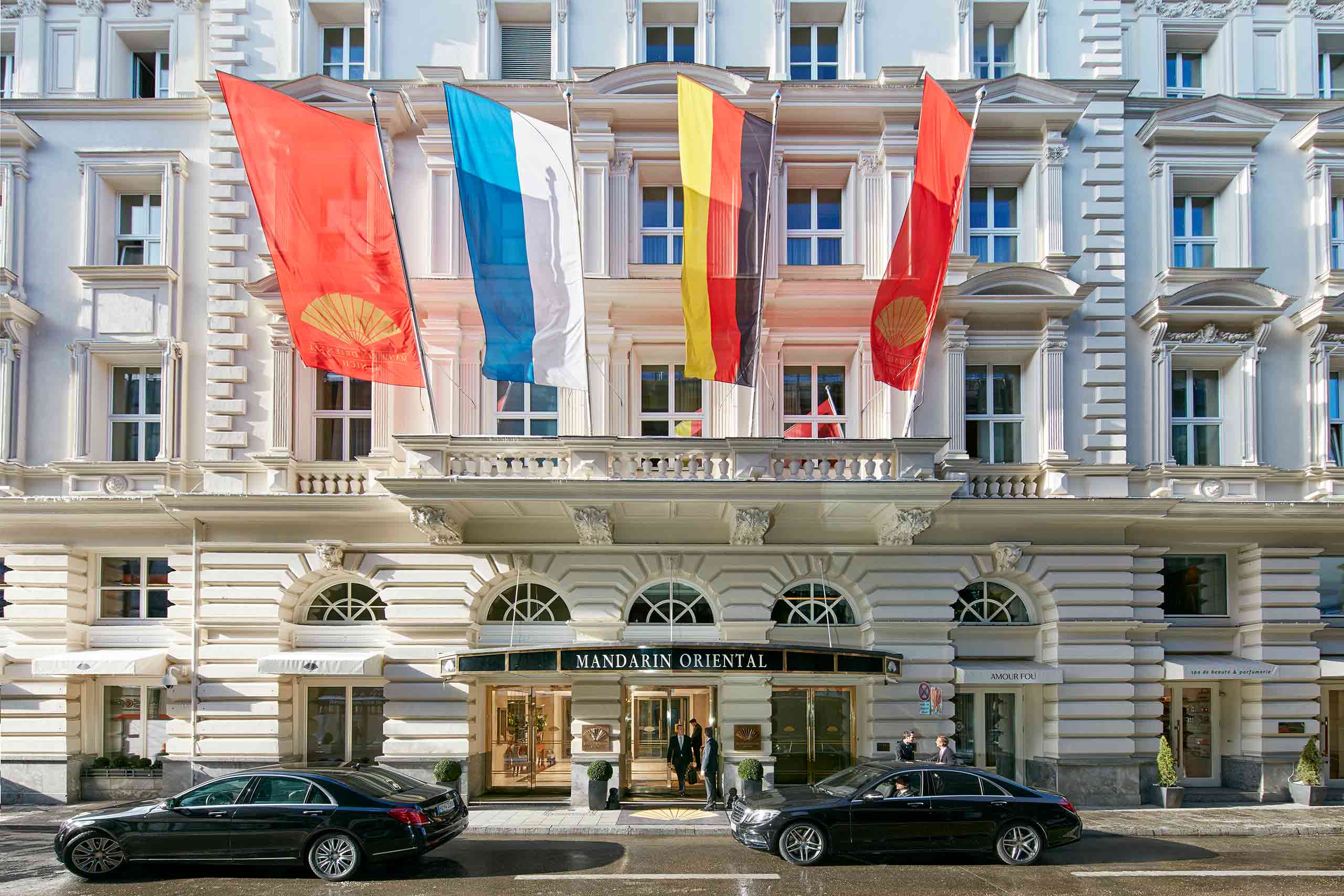 | | | |
| --- | --- | --- |
| Perfect for | Fly into | Right on time |
| The Culturalist | MUC | GMT +1 |
While you're Out There
As the Mandarin Oriental Munich is situated in the heart of the historic centre, the hotel is a vibrant gateway to the city's cultural treasures: be it history, culinary or retailtainment (Maximilianstrasse is billed as among the most expensive shopping streets in Western Europe). Being based here, we found ourselves within walking distance of the city's most iconic landmarks, including Marienplatz and Viktualienmarkt. And of course, should you visit in the autumn or fall, it'll make absolute sense to coincide your stay with Oktoberfest, or as the Mandarin Oriental Munich terms it – MOktoberfest – where the property throws an amazing and unique celebration in honour of the two-century-old beer festival.
Dining at Mandarin Oriental Munich is accordingly east meets west. On the mezzanine floor, we grazed at Matsuhisa Munich, bringing more fusion – this time of Japanese-Peruvian flavour – to German palates. The restaurant also offers a semi-private dining section and an eight-seater Omakase counter for special occasions or when there is a need for privacy. As big fans of chef Matsuhusa, we were left a little surprised that with this illustrious setting, the restaurant isn't a flagship Nobu, but all of his hallmark dishes (and our favourites!), from miso black cod to yellowtail sashimi, feature on the menu. By day, the space serves an elaborate breakfast and it is here we found the service from the well-heeled, international Mandarin Oriental team to be exceptional. But this is not something just aligned with the restaurant, throughout the hotel, we experienced a precise, yet friendly level of hospitality from the staff.
For a more casual dining experience, the Lounge at the Mandarin Oriental Munich was a delightful spot. Here they serve an informal, mixed menu of classic international fayre, signature Mandarin Oriental Asian staples and some Bavarian titbits for guests to try.
If like us you enjoy a drink – and in the home of Oktoberfest, it comes with the territory – take a leaf from our cocktail menu and enjoy some liquid refreshments at sundown at Mahjong (best in summer months), on the hotel's rooftop terrace and pool deck with a view. Otherwise, down at ground zero, Ory, the hotel's chic hotspot cocktail bar, serves avant-garde libations in an uber-cool setting – that we can only describe as a contemporary lacquer box – conceptualised by gastronomic visionary Maximilian Gradl. In contrast to the rest of the hotel, we found service here to be a little bit more snooty. After all, it's one of the most 'it'-places for drinks in the city.
The Mandarin Oriental Munich is a property that celebrates the city's long heritage of Bavarian sophistication and luxury hospitality. But what we enjoyed most, was that it was all delivered with lashings of international panache.
Photography courtesy of Mandarin Oriental Hotels