Young, fun and blessed with a postcard-worthy beach, this laidback luxury hotel in Santa Teresa is worth going off the beaten track for. Whether you take it easy and while away some time doing positively nothing at all, or jump head-first into the Costa Rican sea to enjoy the world-class surf, the choice is yours at Nantipa – A Tico Beach Experience.
Spend enough time at Nantipa and you'll soon hear about the Costa Rican massage. But no, it's not a 90-minute, honey and jasmine-scented journey into muscular relaxation… Rather, it's the result of a four-hour, four-wheel drive in a jeep over snaking, unsurfaced roads from Liberia to Santa Teresa. A small town that started as a fishing village before growing into a backpackers' paradise, this place offers world-class beaches, surf and yoga retreats as well as luxury accommodation. Nantipa is a prime example of the latter: an ultra-high-end resort right on a spectacular beach where you can indulge your yoga and surfing fantasies in the most opulent fashion.
We arrived with our spines still vibrating from the drive and breathed a long sigh of relief on taking in our room, which was large and airy, dominated by a gigantic bed facing wraparound floor-to-ceiling windows that looked onto a deck and small pool, ensconced by palm fronds. Ours was a garden-view bungalow. There are also beachfront bungalows with a deck opening right onto the ocean.
How does this sound for a typical day? You wake up to the sound of exotic birds in your garden-view bungalow and brew a coffee the Costa Rican way, using the traditional 'chorreador', a hanging bag the coffee strains through for a quick and strong morning cup. You wander barefoot down the narrow path shaded by enormous palms to the Manzu beachfront restaurant for a delicious breakfast of gallo pinto while watching the waves crest and crash on the perfect golden sand. A few short steps and you're on the beach yourself as early morning joggers pass and fishermen wade out to catch your lunch.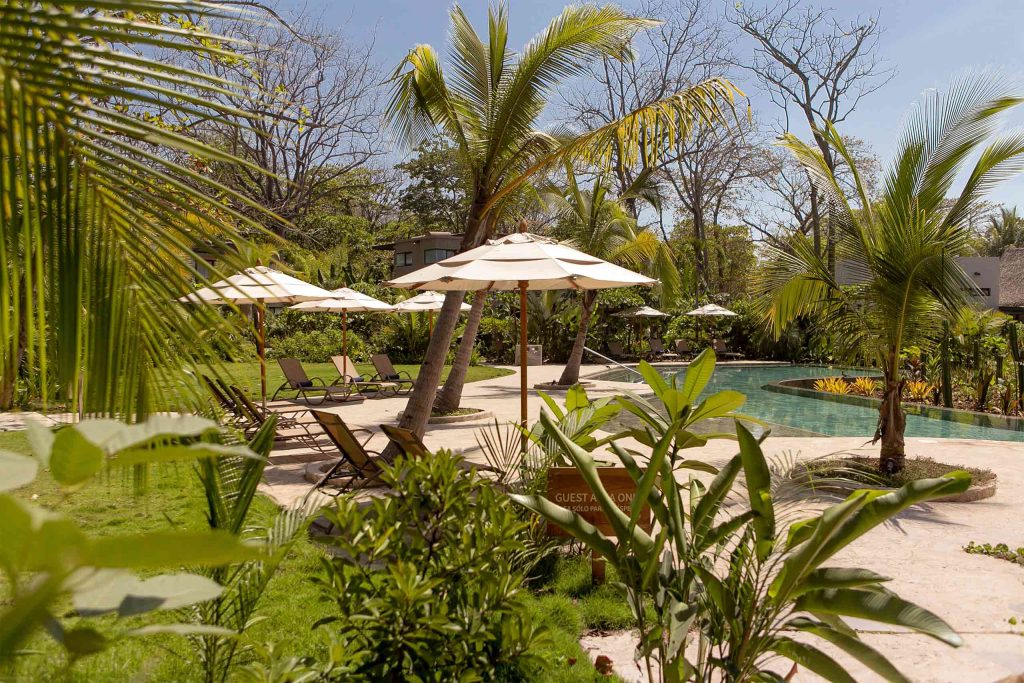 | | | |
| --- | --- | --- |
| Perfect for | Fly into | Right on time |
| The Adventurer | LIR | GMT -6 |
While you're Out There
Check out the incredible Lifeguards Gym about five minutes walk from the hotel. An open-air gym with friendly staff and crazy concrete barbells, this place has to be seen to be believed, even if you just have a lie-down and a stretch.
The sea is the exact perfect temperature to pleasantly cool but not chill the skin. Have a perfect quiet moment or two here, then think about an afternoon activity. Nantipa offers everything from fishing tours with local captains to hikes at the nearby Curb Reserve, as well as, of course, the ubiquitous surf lessons. This is a surf town after all and you may as well: it certainly beats climbing into a damp wet suit in Cornwall.
Enjoy evening cocktails on one of the day beds or hammocks dotted about Nantipa's sprawling beachfront with the perfect view of the sunset as music plays and tiki torches are lit, then wander back to Manzu for seasonal and locally sourced evening dining. We lived this life for three days and it was the perfect way to fall in love with Costa Rica.
The beach really is the star here, and it is pristine. But if you do stumble upon a small piece of plastic, pop it in the recycling bin and post about it online – Nantipa will give you a free smoothie in return. In this and a myriad of other ways, the resort is working hard to preserve local nature and promote sustainability, which is lovely to see, especially when the local environment is so spectacular.
How was the service? Here's a quick personal story. Our partner and ourselves visited Nantipa four days before our wedding. Two days earlier my other half got an eye infection from a stray grain of sand at a Cancun beach. We mentioned this to the hotel via WhatsApp (and as an aside, the embrace of WhatsApp for general comms among hotels is something that needs to make its way to Europe), and a highly professional and kind doctor visited us at our room the next day. We were given antibiotics, the wedding photos were saved, and we are forever grateful.
Nantipa is the hip younger sister to the much more established Tabacon Thermal Resort & Spa in Fortuna (which we loved), and a solid five-hour drive from Liberia (with a hefty dose of Costa Rican massage in that last hour), but it's certainly worth the drive. Santa Teresa is a growing hot spot for a younger, cooler crowd; there are great restaurants, beach parties and plenty of eye candy. Of all the places to stay around here, Nantipa is the most luxurious base you could ask for in this spectacular corner of the country.
Photography courtesy of Nantipa – A Tico Beach Experience