Between the world's longest jungle zip-line and trips to local waterfalls, there's an amazing amount of thrills to be had while staying at Nayara Gardens. But this laidback yet luxurious getaway in Costa Rica's Arenal Volcano National Park makes it easy for travellers to rest and relax in between adventures.
'Best hotel in the world' is, to be blunt, a bold claim. We've been around the block a few times, as you can imagine. We've swam in lots of infinity pools, been handed many jasmine-scented towels by bowing waiters and been served thousands of glasses of chilled cucumber water upon check-in. We've seen some things. So when a hotel is touting its status as Tripadvisor's 'Best in the world' 2016/17 (as well as the 'Best resort in Central America' 2020 alongside other top accolades), we're going to approach it with a discerning eye.
You see, an incredible reputation is a double-edged sword. It builds both excitement and expectations in equal measure. Gliding up the winding driveway to Nayara Gardens after a picturesque three-hour drive from San Jose, we're wondering if those expectations are too high to surmount.
Well, we certainly aren't let down by first impressions. We won't bore you with the obvious – the perfectly friendly and competent hotel staff, who'll greet you with a map (you'll need it, this place is huge!), and yes, the requisite cucumber water. But let's get to the really spectacular.
Winding up the steep hill surrounded by lush vegetation in a golf cart we share excited looks, feeling that unmistakable feeling that we're in for something special. Our villa is a pinch-yourself extravaganza. A giant four-poster bed looks out onto a deck with our private pool heated to bath temperature by the nearby Arenal volcano. Our own personal hot spring, which we obviously plunged into immediately.
Once we'd dried we took in the enormous bedroom which dazzled with dark wood furnishings and elegant local artwork. Then through to the single largest hotel bathroom we've ever seen, with sinks for two, a vast indoor monsoon shower and another one outdoors.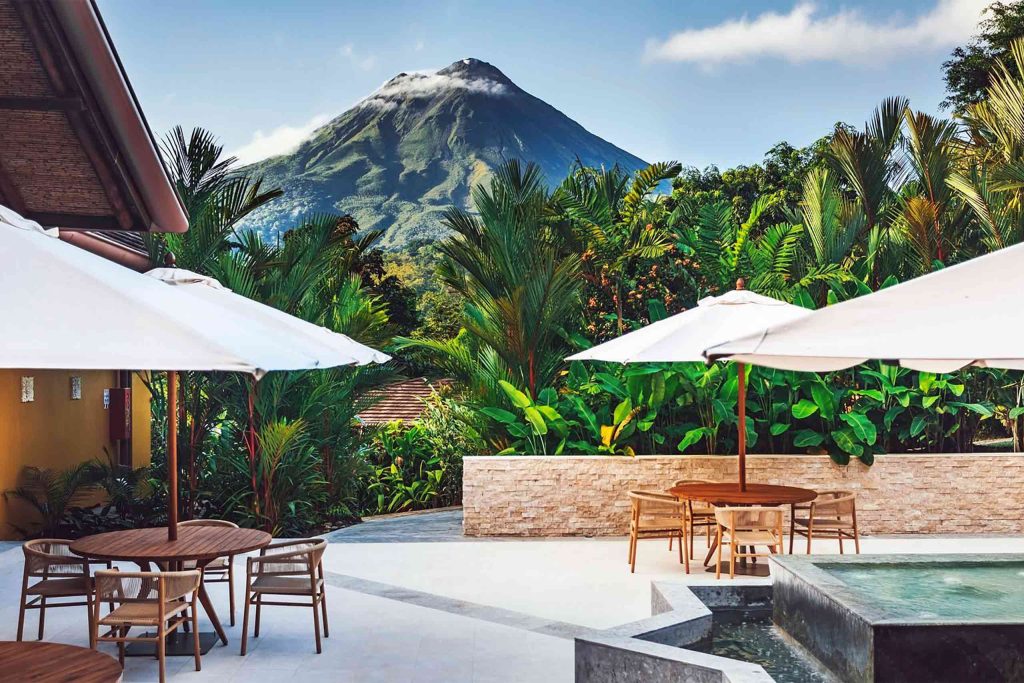 | | | |
| --- | --- | --- |
| Perfect for | Fly into | Right on time |
| The Adventurer | SJO | GMT -6 |
While you're Out There
Spend a morning sloth-watching. Stroll along the bridge between Nayara Gardens and its sister site Nayara Springs, suspended 100 feet above the rainforest floor as trees stretch high above you, throwing the whole place in shade. Spot spider monkeys swinging from branch to branch and smiling sloths hugging the tree trunks like happy drunks.
So far so amazing, but what really is it that sets Nayara Gardens apart and earns it all those accolades? Well, at its core, it's something other hotels can't replicate because they don't have this stunning location. No matter how much cash is thrown at some gleaming tower in Qatar, it's hard to beat a villa on stilts in a rainforest next to a volcano.
So what's a typical day like in one of the best hotels in the world? Most mornings we took part in an early yoga class in an octagonal wooden pavilion, next to a well-equipped gym. As soon as the class wrapped we'd take our complementary coconut water from the smiling staff member who'd magically appeared and then think about breakfast. We chose to take this colourful bounty of plantain, pancakes, eggs and fruit on the deck while the jungle made its jungle noises.
Our choice of excursions was as simple as dialling reception and asking for whatever you want: horseback jungle canopy tour? Certainly, the car will be there shortly. World's longest zip line through the highest part of the rainforest? No problem. A quick dip in a waterfall? Sure.
After that, it was back for an afternoon of cocktails at the Kali Kali swim-up bar, then the difficult decision of where to go for dinner. With six separate restaurants, our only problem with dining was acute FOMO. Perhaps top of our list was Amor Loco, the lavish, adults-only fine dining restaurant. We put on our finery and were ushered over to a plush velvet couch facing a stage where musicians serenaded us with standards picked out on acoustic guitar. The lights were low, the interiors evoked a 40's jazz bar and we had the best seats in the house.
We also dined al fresco at the Latin American Terrazzo del Arenal and had excellent tapas at the Nostalgia Wine Bar. We wish we'd tried the Asian fusion at Asia Luna but there's only so much you can put away in two nights. Safe to say you won't be lacking in culinary choices.
We rarely consider returning to a hotel given the enormous choice out there, but we'd honestly make an exception for Nayara.
Photography courtesy of Nayara Gardens