The inside track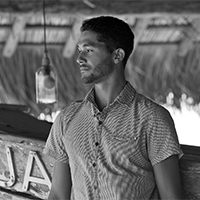 João Lucas was relatively new to what he calls his 'little paradise' of Trancoso at the time we visited, but already he feels like a local. He works as the concierge at Uxua Casa Hotel and Spa.
Shop
If you want something to take back home, I would recommend Divino's decoration store or Ceramica Trancoso, where you can find a variety of handmade ceramic pieces and other locally made handicrafts. Both shops are at the Quadrado.
Eat
The food in this region is very rich and often fused with international cuisine. My recommendation for a delicious dinner is Capim Santo, one of the oldest, most traditional and well-known restaurants here.
Walk
One of my favourite places is a deserted beach called Itaquena, where I often spend time, to renew my energy and just stare at the beauty. It's the perfect, escapist place to go for a walk, sit on the sand and enjoy the warm sea.