It hardly matters what you're in town for to warrant a stay at the Pulitzer Amsterdam, but if the city's legendary canal Pride has brought you here, you'd be silly not to book yourself into the Dutch capital's oldest five-star hotel. That's because its location between the Prinsengracht and the Keizersgracht is exactly where the magic happens – and because the Pulitzer's exclusive, annual Pride deck means you won't feel like a sardine in a can.
We certainly enjoyed looking out over the Prinsengracht as rainbow-coloured boats with roaring drag queens and fierce dancers navigated the narrow canal, surrounded by thousands of partying onlookers on each side. Our experience of canal Pride was arguably more deluxe than that of those who did not enjoy access to the Pulitzer Amsterdam's private deck and its flowing wines and Aperols (as well as, of course, the rather convenient restrooms back in the lobby, just a quick hop and a strut away!). But regardless of why you visit, this fabulous place to stay is worth writing home about.
Spanning a total of 206 rooms and 19 suites, the hotel was founded by the grandson of Pulitzer Prize founder Joseph Pulitzer, Peter. When it opened in 1970, the face of hospitality in the Dutch capital received nothing short of a facelift. Suddenly, a luxurious address had arrived in town, and it would grow from an initial twelve 17th and 18th-century townhouses to twenty-five within the space of three decades. Fast forward another fifteen years and the Pulitzer Amsterdam underwent its most thorough renovation to date, the result of which nowadays greets guests walking through the front door.
Contemporary and playful with a surprisingly open feel, the hotel's public spaces feature eye-catching artworks, flowers en masse and even a piano hanging above your head (although, with there being so much else to see, we very nearly failed to spot this at first, only to be wowed later). From the spacious lobby to little nooks and crannies, everywhere we went, we found a lively atmosphere and friendly staff. The Pulitzer Amsterdam is one of those rare hotels where it's worth setting some time aside to simply explore. Those who do will find quiet corners equipped with chess boards and books as well as a former pharmacy, now home to test tubes turned into lights, glass cabinets filled with anatomical models, and so many brown apothecary jars, even the decorators of the Aesop store around the corner are shaking in their A.P.C. boots.
Equally original, the gardens at the Pulitzer Amsterdam are just as worth taking a stroll, for far from being just pretty to look at it, they're home to swinging chairs, oversized vases, seating areas to soak up the sun (and some to escape it), as well as a modern sculpture by artist Nic Jong. Though the space has been used in a way that adds value to a stay here, the gardens between two rows of the hotel's houses don't quite allow for a workout or a jog. For that, visitors will find a simple but well-equipped gym – just don't expect a spa.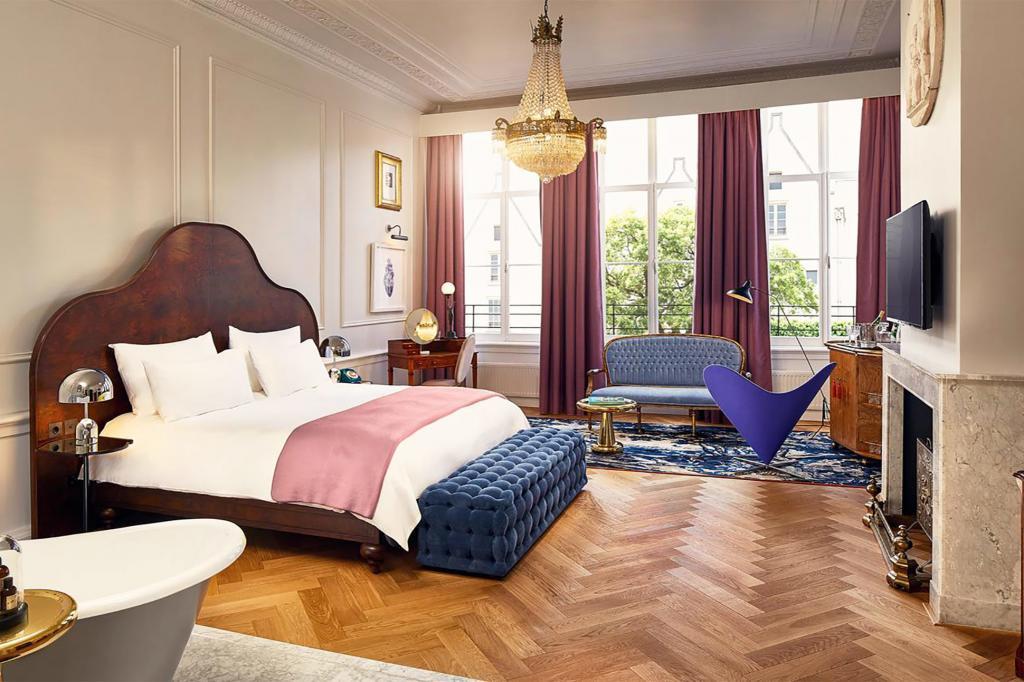 | | | |
| --- | --- | --- |
| Perfect for | Fly into | Right on time |
| The Culturalist | AMS | GMT +2 |
While you're Out There
Looking for a place to eat that would be a little better equipped at catering to herbivores, we came across Veganees, which we'd wholeheartedly recommend. The Indonesian gado-gado is an explosion of flavours and the Shanghai fry hits the spot if you're craving carbs: savoury, scrumptious and spicy (which we asked for). For dessert, Veganees serves a plant-based chocolate ganache infused with chilli… yum!
It's hardly surprising that the hotel's rooms are rather thoughtful, too. You'll have a choice between accommodations that face one of the inner courtyards or the adjoining streets, and while light sleepers might prefer the former, we'll be sure to ask for the latter on our next visit… why miss out on canal views? Our room in the Goldsmith's house was perfectly charming, featuring a lacquered slat wall, a rotary dial phone, a bike repair set, colouring pencils and all sorts of useful utensils, from an umbrella for surprise rain showers to a tote bag for surprise shopping sprees. Despite its age, the Pulitzer Amsterdam likes to do things a little differently, which goes some way in explaining the original porthole window in our marble bathroom and the cafetière and a pack of ground coffee on our desk (we much preferred this to the usual Nespresso machines).
Our lodgings might, however, have been a little too cosy for some travellers, and unless you're only in town for a weekend, you'll want the additional space – and daylight – of a suite. Several of these revolve around the theme of creativity, and the aptly named Arts Suite promises a particularly immersive atmosphere, featuring one-of-a-kind pieces of furniture as well as paintings and sculptures wherever you look: we hear it's the closest you'll get to spending the night in one of the city's world-famous museums. If the Arts Suite is unavailable, the Pulitzer Amsterdam offers another notable treat (or rather, two!) for guests looking for a special experience… The 'Tourist', a chic, 1909-built saloon boat even Churchill couldn't resist cruising around town on, as well as the 'Belle', an open teak vessel ideal for those hot summer days when walking simply isn't an option.
The hotel's weakness, if you ask us, is its main restaurant Jansz. Service here was slow, there were no mains that catered to our dietary requirements and we were actively discouraged from ordering a vegetable soup, which our waiter wasted no time describing as 'boring'. Faced with this lack of options, we ordered an equally boring green salad with fries, which – we kid you not – has been a 'vegan starter pack' meme since veganism first became a diet five-star hotels really ought to be able to cater to. We also struggled at the Pulitzer Amsterdam's breakfast buffet, where plant-based alternatives, if available, had to be enquired about and waited for: oat milk? 'There's some in the back'. Soy yoghurts? 'I don't think so'. Margarine? 'Sorry'. It's a shame for a restaurant so easy on the eyes and with excellent views of charming streets on two sides to be this disappointing. We frankly wouldn't recommend eating here, especially seeing innovative and preference-inclusive dining is never more than a five-minute walk from the hotel.
Its location, quite generally, would be hard to beat across the Dutch capital. The city isn't the biggest to start with, but the Pulitzer Amsterdam is particularly well placed to bring all that makes this fun-loving destination so amazing to your very doorstep. Culture vultures will love the nearby museums, shopping queens will find the capital's most unique boutique stores right around the corner, and if you're a night owl, you better pack your dancing shoes. Such are the benefits of staying right where central Amsterdam and the hip Jordaan neighbourhood meet. Back at the Pulitzer, there's a lot to adore, as well, not least the polite and welcoming team who give the hotel a near-home-like feel. While considerable efforts should be made to create a more varied (and frankly, tastier) gastronomic offering, and there are now more five-star addresses in town than ever before, this historic yet contemporary bolthole continues to delight and surprise. We hope it will do so for many years to come.
Photography courtesy of The Pulitzer Amsterdam