What could be better than a trip to Amsterdam? Why, a trip to Amsterdam Pride, of course: on our most recent stay in the 'Venice of the North', we joined the city's rainbow-coloured party people and visitors from all over to celebrate love and unity on Amsterdam's famous canals – making some time to check out the many comforts of two of the city's top hotels. It's Amsterdam Pride, the OutThere way.
From the moment we arrived at Schiphol airport, we were met with messages of solidarity with the LGBTQ+ community. From billboards with non-binary youth and messages of inclusion and support to countless rainbow flags fluttering in the breeze on every cobbled canal-side street. We came by invitation to sample the city at one of its busiest times, Amsterdam Pride, now in its 27th year. The longevity of this now major city-wide event is itself a testament to Amsterdam's unwavering liberalism, but what we found was a dazzling spectacle of colour, love, and unity that resonated with us particularly loudly at a time when the progressive values that OutThere stands for are under attack the world over.
Our base for the first half of the weekend was an old OutThere favourite, the Pulitzer Amsterdam. Situated in the heart of the UNESCO World Heritage city centre, overlooking two of the city's most picturesque canals, Prinsengracht and Keizersgracht, this famed hotel is in a prime location to celebrate Amsterdam Pride, yet just far enough from the busiest areas to provide an escape from the crowds of tourists, and to make us feel like locals rather than visitors. The Pulitzer is a deceptively large property, made up of a collection of 25 interconnected 17th and 18th-century canal houses that seamlessly blend historic elegance with modern sophistication. Each room is a chapter of Dutch history, adorned with unique art pieces and furnishings that tell stories of a bygone era. We've stayed in various rooms over the years, each one quite different in scale and character. This time, our room overlooked the inner courtyard, with its gardens and alfresco dining, and sported a generously proportioned and very comfortable bed. Not that we got a great deal of sleep – this was Pride after all, and we can unequivocally report that Amsterdam certainly knows how to party.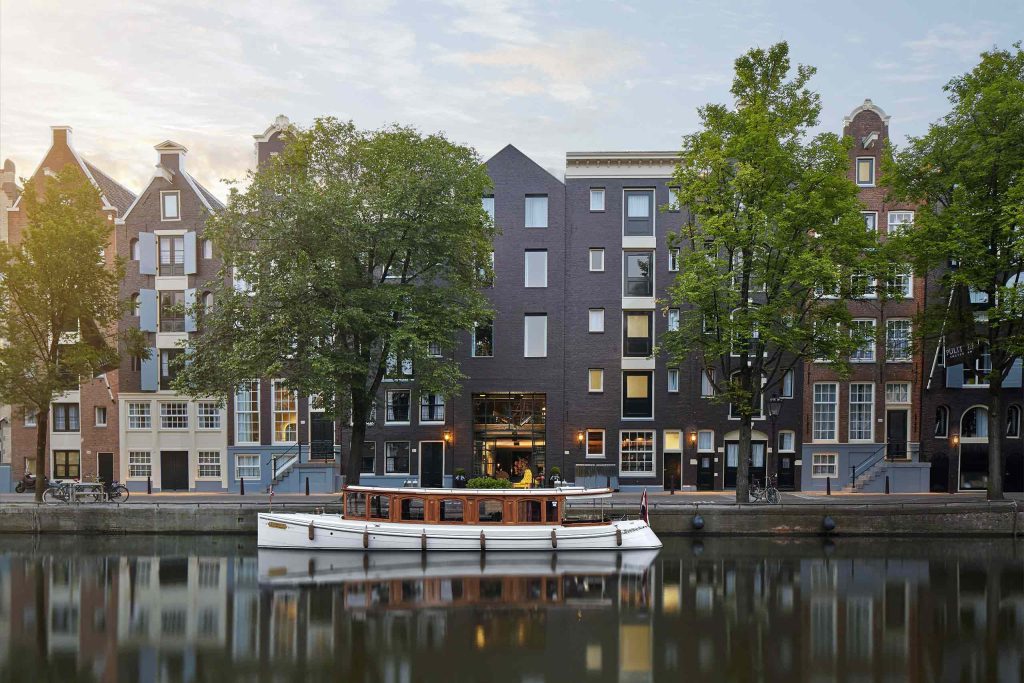 Despite its size, the hotel retains an intimacy and an easy-going friendly hospitality. The relaxed bistro-style restaurant, Jansz. is a favourite of guests and locals alike and we were treated to a delicious pre-Pride feast before setting out to one of the first of many parties of the weekend. In the morning, whilst the other guests enjoyed an ice cream upon welcome at the hotel entrance before watching the Pride flotilla from the hotel's unrivalled views of the parade route, we headed to Scheepvaart Museum to board the Hatter Agency's boat as guests of DJ and long time OutThere contributor Borja Pena. The open-air boat was equipped with a DJ booth and was to all intents and purposes a floating dance floor. For the next five hours, we cruised through the canals, and under bridges lined with thousands of merrymakers, clad in a sea of bright colours, our hefty sound system pumping out crowd-pleasing disco favourites. It felt like the whole of Amsterdam had come out to party with us. Even the rain couldn't dampen the city's spirits, if anything, it added to the sense of camaraderie.
Back at the Pulitzer, partygoers raised a toast with the hotel's exclusive 'Lola's Pride Blend' cocktail, with a donation of each drink sold raising money for Workplace Pride, which dedicates itself to improving the lives of the LGBTIQ+ community. The thoughtfully curated concoction pays homage to the owners of the famous Amsterdam café, Pamela's, a beloved queer and BIPOC safe haven. The Pulitzer's Pride celebrations continued throughout the month, with an Art Exhibition in their vibrant Garden Room, showcasing photographs from local artist Noah Valentyn. An advocate for embracing inclusivity and fostering meaningful relationships, Valentyn's work holds a space for authentic self-expression and is a celebration of love in all forms.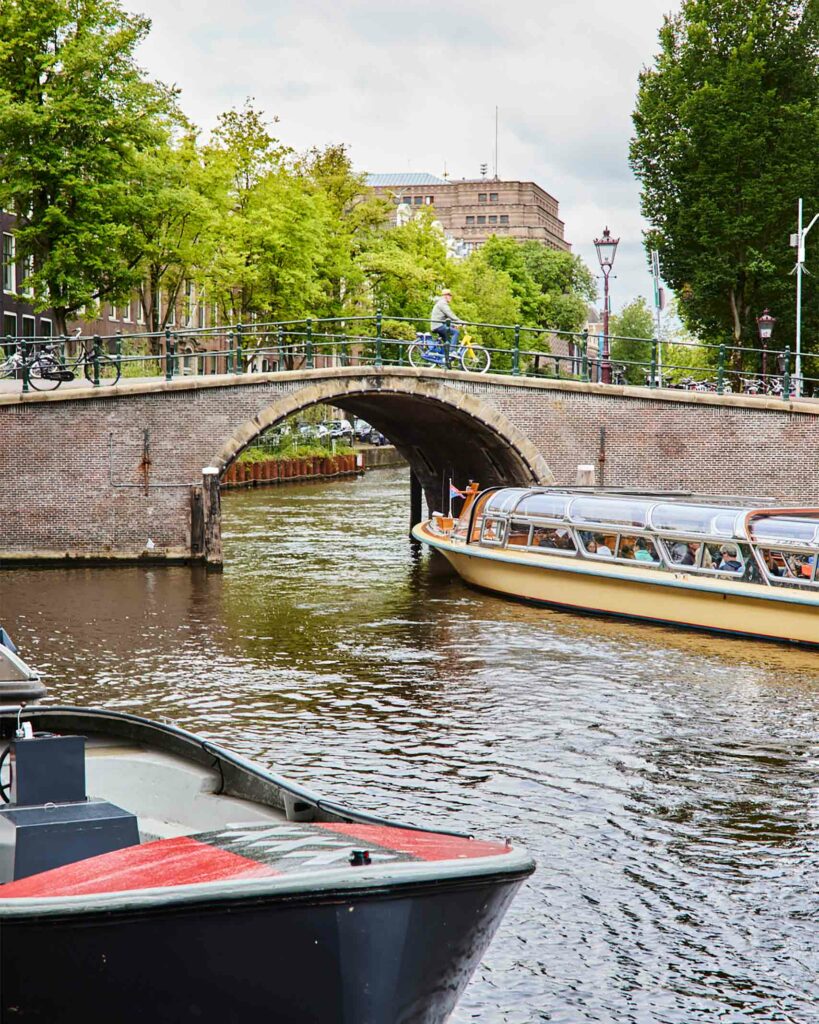 Amsterdam is woven by its community of diverse individuals who share a passion for progress, inclusivity, and self-expression. Openness and transparency prevail here. Unlike in the UK, people here don't bother to cover their considerably larger windows, instead, they happily go about their business in full view. We're not just talking about the red light district, although it's worth noting that the city's progressive laws around sex work allow workers in the industry far greater protections than in just about anywhere else in the world. And it's this upfront and unapologetic attitude that undoubtedly adds to the celebration of the LGBTQ+ community. So too is their grown-up attitude towards recreational drugs. Like Berlin, this is a city where we can feel free to be ourselves without petty conservative naysayers pecking away at our right to live with authenticity.
It's no accident that like Berlin, Amsterdam's club scene is as vibrant and hopeful as ever. It has long been a vital thread in the city's cultural fabric, shaping not only its nightlife but also its creative identity. Clubs like De School are still regularly creating spaces where communities are formed. Of course, Pride offers an opportunity, with the influx of hedonistic visitors for even bigger parties than usual to take place. There were simply too many events happening over Pride weekend for any one person to attend, but by all reports, some of the best nightlife in the world is to be found here (we concur), albeit a little outside the city's historic central district with its iconic canals and cobbled streets. The city authority recognises the lack of space and the significance of their night economy and recently announced a €2.2 million investment programme and will be working with developers, landowners and private individuals to find spaces – including garages, empty tunnels and bomb shelters – to turn into new temporary or permanent venues. This sits alongside a further €1.2 million development fund for young creatives who aim to organise and create nightlife businesses, reassuringly investing in the future as well as benefiting from the city's rich past.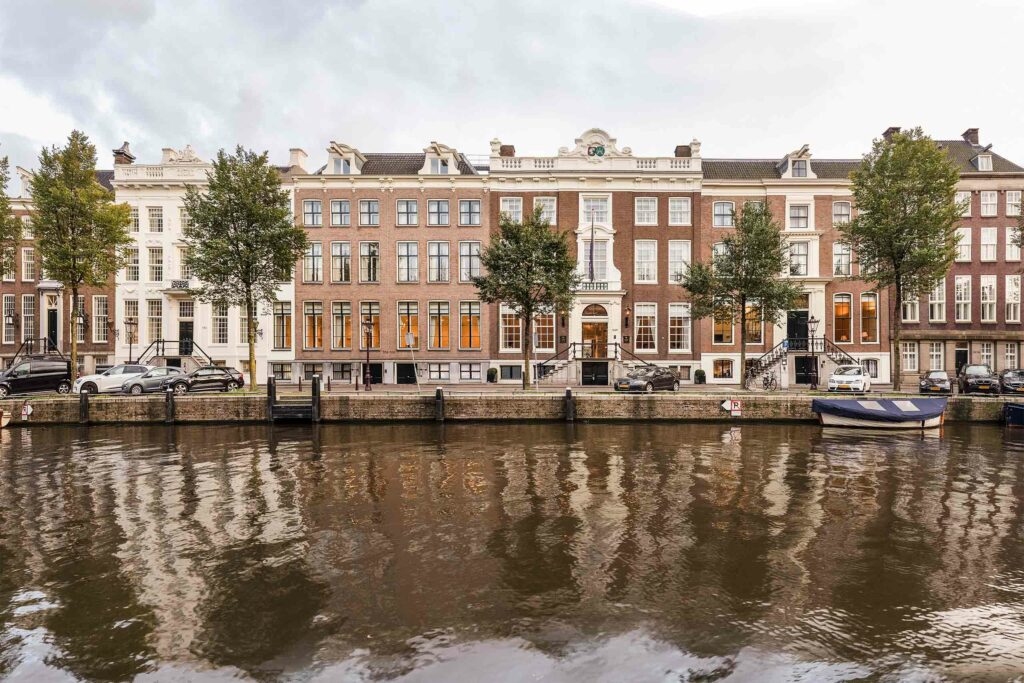 After two days of celebrating, we were in real need of some R&R. Which is exactly what was on offer at our next lodgings, the rather grand, yet still welcoming Waldorf Astoria Amsterdam. Situated a little further west around the UNESCO-listed Canal Ring, this former Mayoral residence is a haven of calm sophistication and contemporary elegance with an emphasis on indulgence and sensory luxury. The sensorial experience begins at check-in with a glass of Pol Roger champagne, and a sampling of Trudon scents, the oldest candle manufacturer in France who supplied scented candles in the hay days of the Palace of Versailles, which incidentally the hotel's main building shares an architectural connection with. We plumbed for Ernesto, with its sweet hints of tobacco and the scent was placed in our room, forever sealing the association between this divine scent and our stay at the hotel. From the meticulously designed rooms to the world-class Guerlain spa, every facet of the Waldorf Astoria exudes an air of relaxed grandeur that echoes the city's rich cultural heritage.
Without the allure of the Pride parade, the summer rain seemed far less inviting, so we took full advantage of the sanctuary provided by the Waldorf Astoria, sampling a full body massage at the hands of an expert masseuse, followed by a stint in the hotel's sauna and finishing off with a decadent wallow in the chic pool. Recharged and seeing a break in the weather we popped across the canal into the artisan travel bag makers Property Of… to check out their extensive range of personalised, handmade bags and accessories – all made from sustainable, ethically sourced materials. We were of course unable to resist a purchase. After all, you can never have too many bags. The hotel is well placed for some of Amsterdam's most famous attractions: the Rijksmuseum, the Van Gogh Museum, and the Anne Frank House are all just a leisurely stroll away, making it an ideal base for art and history enthusiasts. But having been to all of those on previous visits, we decided to explore Amsterdam's connection to clubbing a little further and strolled around the corner to the Museum of Electronic Music, which pays homage to iconic DJs and producers who have made the city a pulsating epicentre of sound. With its interactive exhibits and immersive experiences, the museum invites visitors to dance through time and explore the harmonious relationship between music, technology, and self-expression. Although we found the 'touristification' of dance culture a little uncomfortable we begrudgingly have to admit that they did a pretty good job of capturing some of the excitement of clubbing whilst paying homage to the guiding principle of what clubbing is really about, for us at least: the coming together of strangers to collectively celebrate the joy of being alive.
We returned to the Waldorf Astoria's exclusive Peacock Alley lounge for a refined afternoon tea and some time to reflect on our many previous visits in relation to this one. Our conclusion? Amsterdam is a city that is as forward-thinking as it is steeped in tradition. It is as full of opportunities for hedonism as it is for sophisticated relaxation, where high and low culture coexist and feed into one another in a way that all the best cities can, but within a relatively small and easily navigable amount of space. Beyond the excitement of Pride, this is a place that rewards you with something more than just a good time. As you explore its canals, museums, and hidden corners, you may find yourself falling for what the city stands for as well as for what it provides by way of experiences, and feel the love that it generously shares with all who wander into its embrace.
www.pulitzeramsterdam.com | www.hilton.com
Photography courtesy of Pulitzer, Waldorf Astoria and by Martin Perry