With fervently ambitious plans to re-wild a forgotten arid land the size of Germany, mother and daughter duo Sarah and Isabelle Tompkins lead the way in ecotourism and a regenerative luxury travel experience at Samara Karoo Reserve.
This International Women's Day, there's a lot to be said. It's a day where phrases like 'female empowerment' are banded about like confetti thrown into thin air. Not rarely do more privileged women parade marginalised women on social media for virtue signalling and the proclaimed sisterhood evaporates quicker than popped balloons as the celebration ends. And then there are others who beat a different path to alliance, cutting away at thorny bushes and stumbling on boulders to find themselves in unfamiliar territory. Here, in this unmapped zone of sisterhood, there are no 'girl bosses', no one 'slays all day' and there are certainly no tote bag slogans in glitter infantilising the struggle experienced by so many women. This virgin realm and great equaliser is nature. Despite the existence of gendered terminology (think 'Mother Nature'), women have had little say in what happens to large parts of it – so much so that standing against its exploitation or fighting to protect it has now become the ultimate act of rebellious feminism.
Sarah Tompkins grew up in South Africa, spending time in nature. Elephants and leopards were her favourite animals. She'd spend holidays in the Kruger region, famed for wildlife sightings, yet years later, she would drive through the Karoo – an altogether different part of South Africa – for hours without seeing a single animal because agriculture had taken over the wilderness. Fences had been erected, the land had been farmed and the last apex predator killed. The region, once said to have been where the largest land-based migration on Earth (the springbok migration) had occurred, was now a home for domesticated sheep and cattle.
It was in 1997 when Tompkins returned to the area with her husband and the simple hope of buying a farm. A chance encounter with a stranger here reignited her love for the land. He spoke of the magic of the Great Karoo as it had once been; the springbok that grazed freely, the majesty of the black-maned Cape lion, the rhino and the cheetah. Overwhelmed by the nostalgic stories, they purchased their first farm, which a quarter of a century later, would become the heart of Samara Karoo Reserve. Over the next few years, the pair strived to amass as much land as possible with a single aim: return it to nature to support wildlife.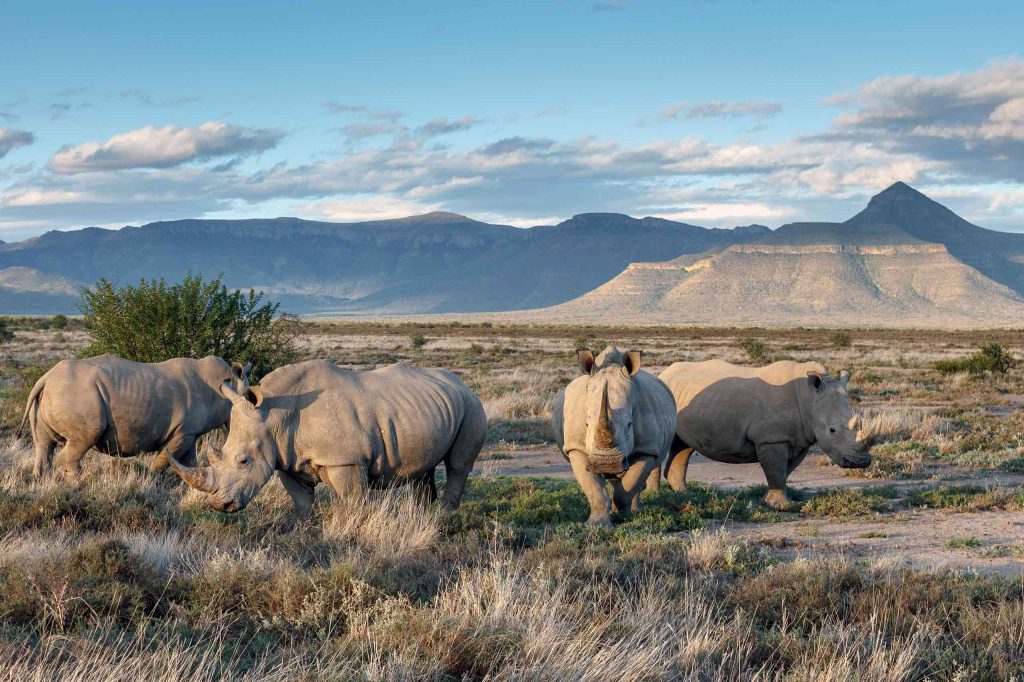 'We realised the enormous responsibility we had in managing a large piece of land', Tompkins tells us. As they continued to acquire more land (currently standing at 67,000 acres), they set about an ambitious plan to re-wild the region, engaging the support of experts, introducing natural vegetation, fixing erosion, tearing down fences and finally bringing in herbivores such as buffalo, zebra and antelope. Elephants, lions and cheetahs followed. The region is now one of the top five places to spot a cheetah, and some of the species reintroduced to the land were here for the first time in over 180 years.
Today, as a result of Tompkins determination, Samara Karoo Reserve has become a catalyst for a much larger conservation footprint – linking together three national parks in a global biodiversity hotspot. One of its many greatest success stories is the leopard returning to the landscape of its own accord, proving that the conditions are once again ripe for its survival.
Samara's responsible tourism model funds its conservation objectives with slow safari encounters that inspire a deep connection with the wild spaces of the Great Karoo. Two luxury lodges sleep up to 26 guests in one of the lowest guest-to-land ratios in Africa. Food is locally-sourced and regeneratively farmed. Guests can enjoy Big Five game drives, guided bush walks, explore the Karoo's rich history on a fossil tour, sleep under the stars and track cheetahs on foot.
'Tourism has the potential to employ more people than the conventional agricultural model that existed in the area. In particular, we can employ more women, at higher salaries and extensive benefits. It made us realise that we were part of something bigger than ourselves', adds Tompkins.
In addition, the reserve has built a long-running relationship with Vuyani Safe Haven, which was started by women and run by women in the local town of Graaff-Reinet. The Heritage Day Cup was founded in 2018 to educate and inspire the young people of Graaff-Reinet through sport, all of it serving Samara's commitment to The Long Run, which encourages a holistic balance of conservation, community, culture and commerce.
So, what of the future of Samara Karoo Reserve? It's in the hands of a great custodian in Isabelle Tompkins. The second generation of Tompkins to take over guardianship of the reserve, Isabelle sees Samara as a replicable and scalable model for conservation and is working alongside her mother to establish South Africa's largest protected area of three million acres. Samara is working on a long-term initiative to create a land corridor linking the Karoo's Camdeboo National Park and Mountain Zebra National Park. This would open historical migratory routes and return more land to nature in an astonishing triumph of conservation over extinction. So, as the saying goes: here's to strong women. May we know them. May we be them. May we raise them.
Photography by David Smith, Marnus Ochse, Etienne Oosthuizen, Mitch Reardon and courtesy of Samara Karoo Reserve