It was a meeting of minds, to join Joe McPherson, the award-winning Korean food writer and blogger of Seoul foodie-musings, ZenKimchi, on his local food tour. We were kindred spirits in parallel universes – him an American scholar of Korean language and culture, who transplanted himself to Seoul after he graduated and never left… and me a British scholar of Japanese who did very much the same, except in Tokyo.
After just a couple of days in fast paced Seoul, I started to feel like a complete foreigner – and admittedly, was rather surprised. Having lived in Tokyo for so long, I was immune to the fact that I stood out like sore thumb – six-foot-something, allergic to the sun and with eye-catching shock of platinum hair and clearly what the Japanese called a gaijin. However, in my time in Tokyo, I pretty much fitted in; talking and living like a local. Landing in Seoul, I was somewhat expecting that it would be similar, but instead I found out just how remarkably different the South Korean capital was to the Japanese one. Whilst sharing some basic similarities, they were less sisters, more cousins – contrary to all preconceptions I had about the city.
Seoul is a far more chaotic city than Tokyo, but it is also more technologically advanced and far more fashion forward – but it has a developing-world, market-cum-hawker culture that was a far cry from the ordered eccentricities of the Japanese capital. There are the obvious things of course; language for one is unique – as are its influences and ideologies. Seoul has a real American, 'anything is possible' edge to everything, in both its sociology and economics, which presents a much more capitalist ideal and a more assertive, self-centred way of doing things.
Culturally, Tokyo and Seoul never really assimilated, despite globalisation and proximity. Sure, in Japan we had heard of the K-wave and our music charts featured sassy Korean stars (albeit translated into Japanese) – and the likes of Girls Generation, Super Junior, Kara and G-Dragon were flying the flag for Korean pop culture with their infectious beats and avant-garde fashion. But basically, Seoul in the modern Japanese psyche was just that – a futuristic metropolis full of manufactured, beautiful people under 25 – a 'Logan's Run' of east Asia.
Now I was here, I found that this was not far from the truth. I had spent my first few hours in the city navigating the skincare mecca of Myeong-dong; being impressed and puzzled in equal measure at the sheer number of shops selling different varieties of snail-slime face masks, skin whitening products and numerous BB creams. And then there's the fashion – Seoul is a fashionista's playground, where clothes are relatively cheap and much more avant garde than that of Japan. What did really shock me was the wholly obvious plastic surgery culture. I had heard stories of teenagers being bought nose jobs for their 16th birthdays, but had always assumed that they were urban myths. But in Seoul, plastic surgery is there staring you right in the face, cheeks, nose and breasts. From ads on the subway, to reality TV shows about it, to seeing boys walking round with bandages around their noses and chins in the cold – or rather humid – light of day.
They also love to eat, and on every street corner you will find a trendy new cafe or the latest eatery fronted by a K-pop star with a queue around the block (PSY's family is now said to own a number of restaurants in the Gangnam district he satirised in song just a few years ago). The emphasis on food in social order is much more apparent in Korean culture than in Japanese. Yes, Japanese cuisine is world renowned, but it's much more of a precise art form that that of Korea. In Seoul, on every street, you'll find vendors selling all sorts of edible morsels – and if you like food on a stick, you're in for a treat.
"Korean food and cuisine has been refined and adapted since the time of the Gojoseon Kingdom over 4,000 years ago, " Joe started his tour. I was standing with him outside Sangsu station, well off the tourist trail in the Hongdae district of the city, home of prestigious Hongik University and trendy art and music scenes centering around the local student population – Hongdae is positively hipster in the eyes of locals. Joe led the way down streets and alleys to a barbeque joint – of course, if there's one food that characterised the cuisine, it's Korean barbeque.
"This is where I brought Anthony Bourdain when he filmed his programme here in Seoul, he actually sat where you're sat now," Joe pointed to my seat. Of course, what followed was a flurry of celebrity banter and a distinct interest to find out what the master chef was like in real life from the rest of the group that formed part of Joe's tour; but I was far more interested in where I was and what was slowly appearing on our table before us.
I had been in Seoul for a couple of days now and partook in barbequing on both evenings, but nothing prepared me for the delights of this place. The bustle and noise, the simplicity of a small charcoal fire between us, frosty cold Hite beer on tap to quench the dry heat and bowls upon bowls of spicy-sour kimchi and namul pickles to whet the appetite and cleanse the palate – utter heaven. We were surrounded by locals, groups of Korean businessmen and women celebrating together after a long day at work, alongside families treating themselves to marinated pork bulgogi (unlike Korean restaurants overseas, it's common to not serve beef ) wrapped in perilla leaf. Despite being the least local in the place, the staff soon made us feel at home. The beer began to flow and the pork started cooking. Joe was the ultimate host, shouting instructions to us on how to eat and what to do like a domineering grandmother at the dinner table, but also at the friendly staff, in Korean. They were obviously familiar with this larger-than-life caucasian man holding court, but I couldn't help but notice the awe on the faces of the staff at Joe's understanding of the language and their local venacular.
More beers duly arrived. Joe took us through the intricate subtexts in Korean drinking culture. Some of it is the same as Japanese – but here it's strictly frowned upon to pour anything for yourself, and if someone likes you they will insist on pouring your beer for you. And if they really like you, they will always give you a lot of head – but perhaps that's a story for another time. In Korea, people toast each time they take a drink and clink glasses in a gesture of kinship and sharing, unlike the Japanese who toast at the start of the meal and hold it up with two hands. Drinking over the barbeque can get really loud, but perhaps you just have to increase your volume to be heard among the throng of locals. Everyone in the place seem to be having an excellent time, with lots of laughter and glass clinking – what differed from Japan was groups of men and women drinking together with the same vocal camaraderie, teasing and back-slapping – and following the spirit of equality, sometimes the staff joined in the banter.
Back to the barbeque, it turns out that bulgogi literally means 'fire-meat' and until recently, it was actually a celebration dish. With South Korea's rising fortunes, it has become an everyday staple and became engrained as one of the things that defines Korean culture. As early as 2 BC, the indigenous population of the Korean peninsula, known as the Maek, would skewer meat, smother it in sauce and cook it cover a fire. Centuries later, the Joseon Dynasty who ruled Korea for 500 years right up to 1910, made it their own 'royal dish' called Neonbiani (meaning flat and wide; the Koreans say it like it is) and that's where today's thinly sliced meats originate from – it's a rags to riches story.
We were by now full and well watered, but Joe still wanted to show us something different and gave us a formal introduction to the other Korean drinking staple (there was a distinct trend forming here), the pajeon (pancake). He led us through the streets of Hongdae, pointing out some quirky things along the way, up a ramshackle alley to an equally noisy eatery, where outside, ladies were hawking everything from soft shell crab to stuffed lotus root, battered and fried. The variety was simply astonishing and the ladies, despite my clear non-comprehension of Hangul, the Korean mother tongue, would present and talk through each different pancake, trying to get me to taste and buy – at least, I assume that was what all the gesticulating was about. Joe indicated that we were actually eating in, and led us up some rickity stairs, to a quaint dining room, where we sat bare-foot, cross-legged on a raised floor and awaitied the treats to come.
Jeon (the Pajeon is the most famous, flavoured with scallions) is typically an anju, or a 'food to eat while drinking'. There are countless varieties, it seems you can put whatever you want in a rice flour pancake mix, fry it and you're on your way. Korean pancakes are typically washed down with fermented rice beer, makgeolli which made its way to the table with much fanfare. I was somewhat stuffed from the barbeque, but the makgeolli, I found very interesting and particularly pleasing to my pallete, despite never having tried it before. I discovered from Joe that, originally a poor man's drink, it has experienced a resurgence in recent years among the Korean middle-classes. Literally meaning 'roughly strained', this unfiltered, undistilled rice beer is Korea's oldest drink, made by peasants in the countryside from nothing more than fermented rice, yeast and water. It's milky, creamy and somewhat sweet, with a light fizz and from the fermentation process, providing a delightful finish. Apparently it disappeared after the Korean War, right up until after the new millennium and in its place, beer became the drink of choice.
In the noughties, some bright, young spark opened a bar and started marketing makgeolli as a lighter alternative to beer, by promoting its ability to line the stomach like yoghurt, making it a perfect all-night drink. At first, the chattering classes weren't sold, because they didn't want to be associated with 'poor' Korea – Chardonnay looks better on the table, after all. But technically, it's actually good for you: 10% of the drink is composed of lactic acid bacteria and dietary fibre. It also contains anti-carcinogenic substances, such as squalene (usually found in fish liver oils) and farnesol. Koreans soon took to it – like selling oil to the Arabs you might say, but that's the power of marketing. Add a K-pop star as your poster-boy and serve it from a metal bowl rather than glass and it instantly becomes cool. You'll be pleased to note that today in Hongdae and Itaewon (the expatriate district of Seoul that is home to the American military bases), you can even find hipster, craft-makgeolli bars.
The night took a dangerous turn as we switched the makgeolli for a newly-released and extremely drinkable flavoured soju. Traditionally, soju is a distilled liquor made from rice, sweet potato, tapioca; anything with sugar in, in fact – every culture has a moonshine of some description. Soju can range in alcohol content anywhere from a fortified wine, right up to a vodka (and beyond, I've been told) and pretty much guarantees a hangover.
The great thing about Koreans is that they're not averse to rejigging tradition. Flavoured soju only appeared on the market a year or so ago but has already become a huge commercial success and launched in other varieties including grapefruit, peach and citron – weaker, drinkable and profitable, no doubt. Our shotglasses flowed to the brim, over and over again, amongst calls of 'Geonbae!' ('Cheers' to us, but 'dry-glass, already!' to Koreans), and it dawned on me why they're such a loud and jolly bunch.
I absolutely loved my evening out with Joe, albeit just the tip of the iceberg when it comes to delving into Korean culinary and drinking culture. There's so much about Korean food that Joe could tell you, and my night was merely a crash course. From super fine dining, to the weird and wonderful, to getting down and dirty in the markets, to the plethera of Korean-fusion places opening up across the capital, merging local tastes with those of American, French and Indian – there is a definite passion for food and drink, both consuming and making.
My experience with Joe also taught me a lot about the spirit of Seoul beyond the food and drink, and how it varies so much as compared to Tokyo. In Japan, food is presented as an art, each dish has its place, is dressed beautifully and has a story – each savoured slowly and separately. It's often raw, but mostly delicate and understated – and sometimes it's served with a little kick of wasabi just to spice things up and keep you on your toes.
In Korea, food culture and real life are both represented by loud, but organised chaos – like a hot bowl of bibimbap, you can't touch it when it first arrives as it's hot and sometimes weird; everything is thrown together, layers of ingredients and seasoning arrive on top of each other and mixed up in one melting pot. There are many textures, flavours and there's a lot of depth. Some elements are centuries old, but others are much more modern and experimental. It's exciting and addictive – you'll want more and more of it, but soon the best bits are stuck to the side and you're dying to scrape it off. But for all its madness in appearance, everything comes together with its own distinct purpose to make it magical and memorable. The flavours are strong and unsubtle, loud in fact – spice laughs heartily at you if you can't take it, and you're told to wash it down with booze and try it again – and people are encouraged to jump in, stir it all up, pass it round and enjoy it. I can't wait to return and taste it all over again.
---
Joe McPherson is the founder of ZenKimchi, one of Korea's premier food blogs. ZenKimchi covers Korea's gastronomic scene and Joe is a local celebrity in the Seoul food and drink scene. His website and social media feeds offer restaurant reviews, recipes and recaps of food adventures. Joe also runs inside-track food walking tours, taking visitors to Seoul beneath the surface of Korean cuisine and providing a personal introduction to Korean culture. We thoroughly recommend booking a night out with him. www.zenkimchi.com
---
Get OutThere
1. Learn this word: 'Jalmukesumneda' (I will eat well), to be said before you tuck into a meal. It will impress.
2. It is impolite to refuse an alcoholic drink from someone you're dining with, particularly if they are older. Accept and say, 'Geonbae!"
3. Korean fried chicken is something else. Every local has their own favourite, but don't miss out on this luxurious, deep fried delight.
4. If you're not the adventurous type, head to the basement at any Hyundai department store for the best food court experience. You can mix and match dishes from a choice of 10 eateries by touch screen.
5. For something a little different, head to Northern Seoul's Hyewhadong for some Filipino eats, it's the best outside the archipelago.
6. After eating, save some energy for the all night clothing wholesale market in Dongdaemun – this chaotic market opens at midnight. Alternatively, head to the party district of Itaewon and sample the delights of Homo-hill.
---
The inside track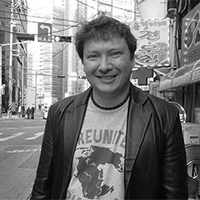 Joe McPherson is a hungry American in Seoul and the local authority when it comes to talking about Korean food in English. www.zenkimchi.com
BBQ
Mapo Jeong Daepo is a family-run, no-frills grill joint that does what it does extremely well. The floor is concrete and tables small, but a great, local atmosphere. This is an authentic, but basic grilled pork BBQ option.
SNACK
You need to keep your eyes peeled down the alleyways, Bindaeddeok Market is the place for pancake. You'll find it on Mallijae-ro in Mapo-ju.
BEER
Fried chicken and beer Korean style doesn't come better than Two Two Chicken. The birds they use are on the bony side, but they aren't factory raised and full of flavour. The crust is so delicate, it will make you scream for beer.
www.22chicken.co.kr