Bringing a touch of playful, contemporary, Miami-style lavishness to Mexico's Quintana Roo, the SLS Cancun represents a new expression of lifestyle-driven hospitality on the Yucatan Peninsula. This 'all-suite' boutique sanctuary is a unique blend of a fashionable beach club and upscale holiday apartments perfect for those seeking relaxed informality without compromising on service when on vacation.
The mere mention of Cancún conjures images of scores of North American package holiday tourists and Spring-breakers supping margaritas in brightly lit bars with names like Senor Frogs or Margaritaville. Cancún is Mexico's most visited city (and Latin America's as well) and its 'strip' (Boulevard Kukulcan) has a reputation as a brash playground with all-inclusive hotels, non-stop beach parties and goldfish bowl cocktails.
But with over 20 km / 13 miles of white sand beach frontage, there are certainly places to get away from it all and enjoy the glorious all-year-round tropical climate in more peaceful and upscale surroundings. The Mexicans won't really tell foreigners where that is, as it's their best-kept secret. But the fact is that there are some parts of Cancún that are downright chic. Seek out a property developer and they'll tell you all about these neighbourhoods – not least because they've been building aesthetically elegant and extravagant six-figure-purchase-price residences in them, which are selling like hotcakes.
One of these places is 'Novo Cancún' or 'New Cancún', so dubbed to distinguish itself from the salacious, overtouristed city we described above. And then to make things even more elite, they've sectioned off an 800-acre 'gated community' just off the infamous strip, that they're calling Puerto Cancún, complete with a slick marina to court the yachting set.
It is here we found the SLS Cancun, with just 45 suites set on the lower floors of a larger condominium-like building that includes residences, right on the beach. It's an exclusive address, the furthermost point you can drive up the Avenida Puerto Cancún, bringing with it an air of privacy and super-security (you have to drive through two checkpoints to access the property) important to Mexican high society.
The SLS Cancun has a youthful energy, channelling the 'unexpectedly mischievous' spirit of the first Miami SLS flagship, coming complete with a giant, silver 'rubber duck' (the Accor/Ennismore-owned SLS brand's mascot), that greeted us on arrival.
Inside, they've entrusted the design to Milanese designer Piero Lissoni, who has created a cheerful and elegant mid-century Italian (but make it beach-club) aesthetic. His idea was to create an immediately informal yet upscale space. Hence, the lobby is much like a luxurious living room, with a calm and clean white baseline palette (a feature of Yucatan architecture), accented by brightly-coloured, Mexican-themed soft furnishings and plenty of light-toned wood, potted tropical greenery, local abstract art and a centrepiece red pool table.
Lisonni has taken the use of local motifs liberally at the SLS Cancun: we loved how they used Puebla Blue porcelain plates to decorate the bar in the lobby, for instance, although their street-art-like repetition of embossed Mayan patterns covering the walls of the hotel's common areas and suites were sometimes a little much.
In general, the application of design in the hotel is a little odd, to be honest – there are areas where there is just so much attention to design detail and then others where there is none at all, like in the corridors that link the suites on each floor, which seem dull and almost like a municipal building.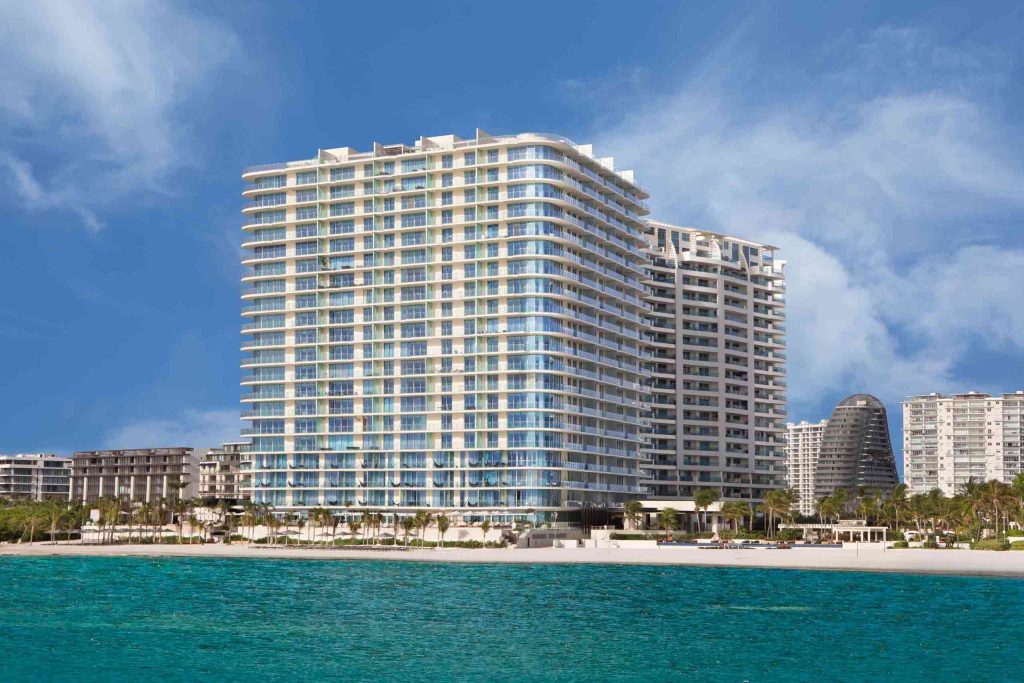 | | | |
| --- | --- | --- |
| Perfect for | Fly into | Right on time |
| The Hedonist | CUN | GMT -5 |
While you're Out There
If you want to avoid the hoi polloi in downtown Cancun, the hotel's restaurant LEYNIA offers up some pretty delicious fayre. A concept dreamt up by Chef Jose Icadri, it's an Argentinian Grill (complete with signature open flame) that makes for hearty and passionate Latin cooking infused with a pinch of the precision and orderliness of Japanese cuisine's artistry. The two are worlds apart, but it really does work!
But beyond the corridor, our large suite was beautifully appointed (fitted with engineered oak flooring throughout and an elegant travertine marble bathroom), if not a little simple. We understand that clean lines and minimalism are all the rage these days, but we felt that more luxurious, perhaps playful embellishments could have been brought in, considering the hotel brand's signature exuberance.
There are nine categories in this all-suite hotel, each varying in size, but the smallest being already a generous 60sqm / 650sq ft and the largest (a combination of three of the bigger suite types), making up a Presidential Suite space that is 252sqm / 2,820sq ft. Nearly all suites have sea views – our advice is not to take a room with a marina view, whatever the cost – and ample balconies, with outdoor furniture and idyllic hammocks.
Our suite overlooked the hotel's inviting pool and a manicured white sand beachfront, lined with cabanas, coconut palms and, of course, the calm, blue Caribbean sea. Down at beach level, there's a buoyed-off area for those who like to sea-swim. At the time of our visit, the beach was quiet and there wasn't much by way of motorised watersports happening, which meant we had a blissful afternoon sunbathing.
The onsite Bungalow Beach Club offers a much more escapist ambience than the rest of Cancún's oceanfront clubs do, although we were a little confused by the French Riviera theme, which seems totally at odds with the fact you're around the corner from the Mayan one. On the weekdays that we stayed, the club was quiet and almost deserted, making it hard for us to understand and comment on whether this would be a fun place to hang out or not. What we do know is that the SLS Cancun intends for it to be the beach club destination in Novo Cancún. It certainly has all the makings of somewhere iconic, but without people and a vibe, it's hard to tell.
The hotel's signature experiences include a more profound journey into downtime at the Ciel Spa courtesy of Swiss spa brand VAGHEGGI, or enjoying a private yacht trip that leaves from the hotel's own marina. Kitesurfing and windsurfing lessons are also available and even complimentary bicycles are available for guests wanting to explore the area. The hotel also – like elsewhere in the destination – offers tequila and mescal tasting experiences. OutThere golfers will love the 18-hole Tom Weiskopf-designed golf course, just a ten-minute drive away. You can see it from the hotel, but it's actually across the water.
The SLS Cancun is very much a characterful lifestyle hotel. This said, it's clear that it sets out to be far more international, and perhaps even American, in its outlook, rather than trying to achieve a more local 'sense of place' like other luxury hotels in the region. Come with this in mind and you'll have a great time, but if you're looking to immerse yourself in some local culture, perhaps this isn't the hotel for you.
We sometimes felt that more could be done to elevate the experience of staying at the SLS Cancun further. Service, for example, could be far more polished. Although the staff went about doing their jobs well, there was a level of informality to the service that could be easily misconstrued as aloof. Sometimes dirty plates on neighbouring tables were just not cleared away. No one checked if we wanted a second cocktail by the pool, or if we needed water. Housekeeping was a little slow on special requests. When we asked different team members what they would recommend us to do, they'd shrug their shoulders and say to just 'hang out on the beach'.
But the longer we spent here, the more we got it. The SLS Cancun is not all about high luxury and having your every whim catered to. It's meant to feel like your home from home. Perhaps that's the thing; guests may feel so relaxed that they'd consider buying one of the residences on site.
A stay at the hotel seems much more about encapsulating the essence of what Cancun is – a veritable playground – but taking the whole experience up a level or two, but not ten. And maybe the relaxed informality was all about bringing us down in pace, encouraging us to leave our other, more busy lives behind. That, we certainly appreciated.
Photography courtesy of SLS Hotels