There's a lot travellers will appreciate about one of the trendiest new hotels in Thailand in years, The Standard, Hua Hin: clean design interspersed with original and downright quirky details, an anything-goes vibe and a location right on one of those seemingly never-ending beaches the Kingdom does so very well. But the five-star resort isn't simply a nice-to-have when in town: instead, it's part of the reason holidaymakers have started flocking here again in the first place.
Hua Hin is making a comeback: the favoured holiday retreat of Thai nobility for a century, the city had lost some of its former glory in recent years, but Bangkok's young and fun have rediscovered the beachside resort 200 km south of the capital as a place to pose and party on the weekends. Their go-to hangout? The Standard, Hua Hin, of course.
When we drove up to the hotel in the twilight of a particularly balmy evening, we could immediately tell why it's just so very popular with the cool crowd. An inviting open-air lobby that has the words 'tropical holiday' practically written all over it, an enormous tree that steals the show in a courtyard hidden from view until the very moment you walk onto it, and a golden glow shining from between the rounded white panels that make up the facade of The Standard, Hua Hin – it would be hard not to be impressed.
Stylistically, the property bears an undeniable resemblance to its Miami sister, albeit with a retro-futuristic, post-Instagram update: soft edges, millennial-friendly hues, cheeky artworks, a communal vibe throughout and lemon and cream-striped parasols against the cerulean sea… It's unsurprising that like other hotels by the hip Standard brand, this one is a bit of a magnet for influencers (and those who want to be them). During our stay, we spotted several content-creating guests reclining by the pool in ways we never knew were physically possible, running down a hot sand beach barefoot or sensually eating slices of pizza that had long gone cold: as you can probably imagine, scenes like these brought no small amount of amusement to our time here.
Our private lodgings, meanwhile, were less chuckle-inducing but equally enjoyable to look at. The resort features a total of 171 rooms and suites, though we opted for one of only 28 villas, which offered everything from a private plunge pool to Bluetooth speakers and an enviable minibar across some 100 square-metres. Minimal in design but featuring contemporary-cool accents that give it a homely aesthetic, the villa did feel a little exposed whenever staff appeared out of the blue, to fish fallen leaves from our pool or water the surrounding plants: take it from us and lower the blinds when you need privacy.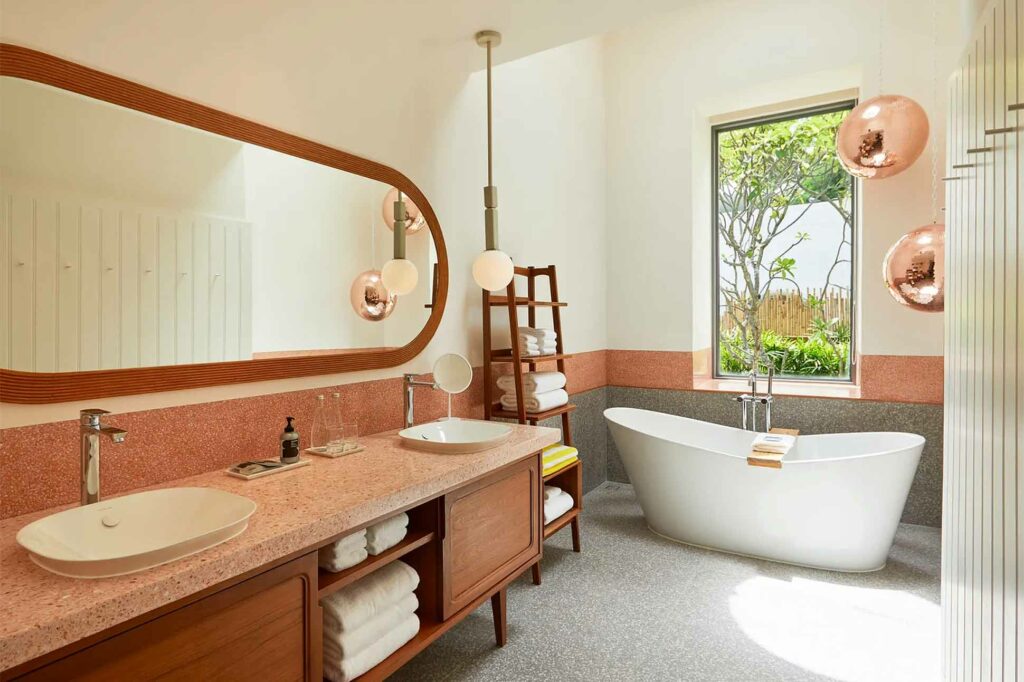 | | | |
| --- | --- | --- |
| Perfect for | Fly into | Right on time |
| The Hedonist | HHQ | GMT +7 |
While you're Out There
Hua Hin doesn't offer a huge amount to discover in terms of attractions, but no trip to the city is complete without stopping by its pretty teakwood train station. Among the oldest in all of Southeast Asia, the building features everything from gabled roofs to intricate woodcarvings and a royal waiting room where members of Thai nobility would once await rickshaws en route to Maruekhathaiyawan Palace.
Those looking for exposure instead should book the hotel's Bayside Villa on the edge of the main pool, where you'll benefit from an infectiously fun soundscape marked by music, friendly chatter and clinking glasses. From the villa, you'll get a good view over the generously sized and multi-tiered pool, which is certainly worth swimming a few laps in if you fancy more than just a dip in your own little plunge pool. We also spotted a four-legged friend going for a swim here once: fantastically, pets stay free at The Standard Hotels, and although we sadly never met their little rascal, we did hear a few woofs coming from the gay couple's villa next door. Just adorable!
When we were looking for a bone to chew ourselves, Italian lunch at The Lido was expectedly tasty, while the beachside Praça, a Thai Izakaya housed in a heritage building, saves traditional Thai recipes like betel leaf curry and fried lotus roots from oblivion – appropriately enough, Praça's talented young chef and team are rather memorable, themselves. Breakfast wasn't quite as glorious, with our table being given to other guests as we made our way to the buffet, staff pushing past us to get inside the restaurant, and curiously few vegan options for a lifestyle brand. The Executive Chef luckily offered to whip up a few bespoke dishes for us (all of which were delicious and belong on the menu), though coffee waiting times of up to 25 minutes left us, well, mildly dehydrated.
Thank God The Standard, Hua Hin's innovative spa was there to help. Guests can choose to lather themselves with a variety of exfoliating muds (from the black charcoal kind to the green basil type and more), although our inner LA yoga mummy was desperate for a cryo-facial, which genuinely took some ten years off our sun-beaten face and helped us blend right in with the crowd… Now that's The Gold Standard. The hotel is also home to a well-equipped and bright gym, while yoga classes in the garden or by the beach can help with all things R&R. When we wanted to unwind, however, we thoroughly enjoyed the simple pleasure of kicking back in the resort's Juice Café with a good book and a refreshing smoothie in our hands.
It's something that every guest seems to do here at one point or another. People might decide to stay at The Standard, Hua Hin for its sleek architecture, photo-friendly interiors and the sociable atmosphere that makes it easy to connect with fellow holidaymakers. But give it a few days and this seaside town will have you melt under the tropical sun, go for a second round of desserts and drift off into a midday slumber with the sound of waves crashing ashore in your ears. To think that Hua Hin is reclaiming its status as Bangkok's favoured getaway in part because of a new hotel opening here is rather amazing. Apparently, all the city needed was a breath of fresh air: it certainly got that with the arrival of The Standard.
Photography courtesy of The Standard Hotels