The moment we stepped into The Standard Ibiza, all lights went off and the music stopped playing – but not for dramatic effect (we prefer a quiet entrance). Instead, a blackout had hit the entire neighbourhood. And it wasn't such a bad thing, either: with each light that went off, another beaming smile came on from the friendly team who, it must be said, is the single greatest asset of this fun-loving and stylish hotel.
It wasn't until some thirty minutes later that power came back on, but by then, the sweet receptionists had already checked us in, insisted on carrying our luggage up the stairs (lifts still being down) and given us a tour of our room. There was a lot to love about our Deluxe King, from playful cushions on the sofa to a contemporary, minimalistic feel that extended into the bathroom, stocked with Davines amenities and fitted with a generously sized sink. If you wish to soak in a bathtub instead, you'll need to book a larger room category. We recommend going for a suite here, frankly, as our room was more petite than what we're used to, despite all that made it lovely. What all accommodation at The Standard Ibiza has in common is a genuinely homely atmosphere. It's rare to stay in a hotel room that's just luxurious and beautiful enough for it to feel like a treat, but not like there's a hallway with concierges and other guests behind your door.
A noticeable preference for white interiors, which many of us have in our own homes, is part of why rooms feel so unpretentious yet inviting. In the evenings, soft, warm lights illuminate not only guest accommodation, but the entire hotel, effectively turning it into a cream-coloured, contemporary cocoon that stands in stark contrast to the bustling neighbourhood it's set in – but more on that later. As we've come to expect from its sister properties, The Standard Ibiza also champions the signature young, retro-eclectic aesthetic that's quickly earned the brand an international cult following among all those who are cool and creative (or at least one of the two). In the hotel's shared spaces, guests will encounter big, potted plants, stylish lampshades, mid-century-inspired furniture and a bespoke mural by Colombian artist Nicolás Villamizar. It all looks great when photographed or filmed, of course, which is only fitting given the building's former life as a movie theatre.
To miss out on all the prettiness would be a shame, although if added privacy is what you're after, the 67-room property also offers guests the opportunity to partly or fully take over Casa Privada just a block away. Somewhere between a hotel and private residences, the more intimate Casa offers 14 guest accommodations, a rooftop pool and its very own, designated bar. We decided to stick around the main hotel, however, where guests and locals mingle at the rooftop UP restaurant, making plans for a night on the town and debating what beach would be most suitable to recover the following day. UP itself is open until the wee hours, and offers relaxed but danceable music alongside what can only be described as the very finest views of the 16th-century Ibiza Castle – just gorgeous, especially when illuminated at night!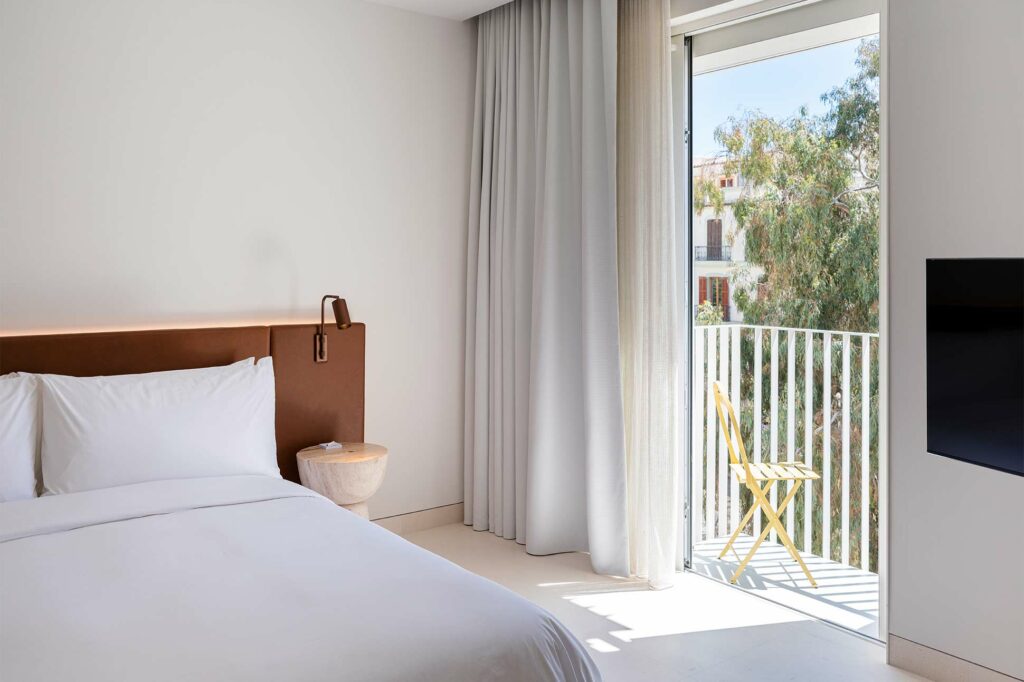 | | | |
| --- | --- | --- |
| Perfect for | Fly into | Right on time |
| The Insider | IBZ | GMT +1 |
While you're Out There
The Standard Ibiza places you on the doorstep of Eivissa town and within walking distance of the Dalt Vila fortified old town, but should you ever want to escape the crowds, yacht charters in the nearby marina mean you're never more than an hour away from the idyllic beaches of nearby Formentera. Be rude not to visit!
What UP didn't offer during our visit, however, was coffee. This meant we had to walk down to Jara, the ground-floor restaurant at The Standard Ibiza, because there wasn't enough staff to grab one for us. Jara's staff then billed us for the coffee UP had already put on our room, and by the time the teams found a solution (with us being forced to wait), our coffee had nearly gotten cold. Jara, in general, was disappointing from our (vegan) point of view. Very limited options – who would want a veggie burger three nights in a row? – meant we had to combine random starters into makeshift meals. A tempting plant-based paella for two also could not be made bespoke for one, and we even spotted inconsistencies between vegetarian and vegan labelling on the menu. This was no better at breakfast, where again we found ourselves mostly ordering a 'whatever-you-can-do' selection of sides while guests with no dietary requirements could choose from a luxurious five types of egg dishes alone (yes, we were so annoyed, we counted). If you're veggie, we quite simply suggest you eat out instead.
Like the rest of the property, Jara, which is adjacent to the island's wide Vara de Rey avenue, is terribly good to look at, though. Dimmed lights, elevated seating areas, Instagrammable cocktails and a young and enthusiastic team that appears to have been shipped over from Barcelona's hip Poblenou district, with oat milk lattes in their hands and fun tattoos we're too old (or not old enough) to 'get' on their backs. Dressed in casual-cool stripy shirts, staff easily out-hipster most diners at Jara, though not in the insufferable way you might associate with, say, travel influencers (we didn't say that). In fact, the team is so sweet and charming, they reminded us of all we love about Spain: its zest for life, honest hospitality, and a lightheartedness that comes so naturally to those who live on an island.
When we wanted to feel all blithe and breezy ourselves, we scanned the QR code on a mock boarding pass to 'our soul' we found on our room. A nice gesture, the link led to a meditation podcast to help guests relax. There were no episodes live yet; perhaps because the hotel had only just opened, but we're sure this will change in the future. The one thing you won't find at The Standard Ibiza is a spa, though wellness is probably not what most guests are after when choosing to stay at this centrally located hotel, anyway. Of the few luxury properties immediately within Ibiza Town, this might just be the largest, despite its boutique sensibility. Step out of the front door and you're moments away from independent stores, lively terrazas and some of the island's top cultural attractions.
Judging by how much of a scene there was already for a newly-opened property, The Standard Ibiza is arguably a local attraction in its own right. No other hotel in this part of the island looks quite so contemporary, much less international. As a brand, The Standard seems especially popular among Americans, who enjoy exploring a destination through the eyes of an edgier, more dynamic hotel than the sometimes stuffy high-end addresses you find in many European destinations. There's a disruptive quality to The Standard that, above all else, is fun, friendly and a little fiery. Where else would this draw a crowd, if not in Ibiza?
Photography courtesy of The Standard Hotels