Along Iceland's Laugavegur Trail, the accommodation is sparse and basic and the tracks themselves are tough, but it's here that Zack Cahill discovers the true meaning of 'luxury' travel – scenery that blows your mind.
This is not a press trip. Let's get that much straight. We are not here to be pampered, to be fed and watered, herded on to air-conditioned buses and guided through the most scenic, sanitised and government-sanctioned parts of the country. We are here on our own dime, armed with no more than advice gleaned from an online forum and rucksacks full of Pot Noodles and Snickers bars. We have what I'd charitably call a non-zero chance of dying.
Sleep, you black-eyed pig. Fall into a deep pit full of ghosts.
– Icelandic lullaby
Let's back up. A few years ago, I went rock-climbing in Thailand for OutThere with David Edwards, who took the photographs for this article. In the interim, David managed to maintain the climbing habit. For my part, I said 'I should really get back into rock-climbing' roughly once a week for four years without ever doing it. But we had such a good time that we often spoke of a follow-up.
Eventually, David suggested the Laugavegur Trail, a 54km, four-day hike across an Icelandic glacier. This would be the spiritual and thematic counterpoint to our luxurious Thailand trip. There would be no jasmine-scented, five-star hotel rooms, no staff at our beck and call, no hammocks. Only us and a climate that could kill us with a shrug of its frigid shoulders.
How do we know Iceland is an inhospitable place? Because its people have been here a thousand years and barely made it off the beach. Reykjavik is a preposterously expensive, shivering dwarf, white-knuckling the very edge of the island. The people are stereotypically and uniformly stunning, with pale eyes you could swim in. Well, in some cases. They're actually either Scandi-handsome or just hideous. And the older gents look like Santa Claus had a shave and took up power-walking. A pint will cost you £10 if you're lucky and everyone knows everyone. This is a place with a population so small, they use a special dating app to check they're not related.
We are in the capital for only one night. Time to stock up for the trail. I had naïvely expected a guide for this trip. I had naïvely expected there to be shops along the way where we could buy food. I have even more naïvely expected David to have given this some thought. By way of illustrating how silly I was to expect this, David tells me a story about the time he tried to climb Mont Blanc in a pair of plimsolls. I shift the 'probably-going-to-die-ometer' up a few notches.
It's an early-morning, four-hour bus ride to our setting-off point. The bus is about half full. It is the very end of the season and our bus back to Reykjavik in four days' time is the last of the year; after then it is just too cold and dangerous to be out here. Our fellow hikers include Germans, Spaniards and Americans.
Thomas is an ex-Mormon from Utah, a keen hiker and climber. His girlfriend Yana sits quietly beside him with that look of someone slowly realising what she has signed herself up for. They have calculated their rations down to their precise calorie requirements. Thomas shows me a device that looks like a retro mobile phone. If he presses a button, a satellite sends the emergency services to his exact GPS location. I nod and smile and feel a sense of encroaching dread.
Landmannalaugar is our starting point. A craggy green lunar landscape not unlike the Scottish highlands. Huge muscular horses stand around on sun-dappled grassy hills as though waiting for someone to start shooting a Budweiser commercial. I notice my hands are immediately, painfully cold. Cold in that to-the-bone way that no amount of rubbing or shoving in my pockets will fix. I've forgotten my gloves. I drop another 50 quid into the Icelandic economy at a bus-on-blocks labelled the 'Mountain Mall'. It's a powerful lesson: if any one part of your kit fails out here, any slice of that thin membrane between you and the ruthless elements, you're catapulted into a world of hurt.
We set off. The first day is miserable. We move in a loose convoy, occasionally catching up with or being passed by Thomas and Yana, or Mike and John, two cheerful Alabamans who, when we panicked on the bus about not having brought booze, assured us they had vodka. Americans can always be relied upon to have vodka.
It is wet and freezing and not especially interesting to look at. There is the odd thermal vent, an egg-smelling cloud of sulphur billowing up out of hell.
"So this is hiking," I say, about an hour in, as hailstones sting our faces and soak us through.
"Just this. For another seven hours."
We arrive at the hut at Hrafntinnusker, freezing, fantasising about a toasty oasis. A log fire maybe… Hot coffee and soft, cosy armchairs… What we find is a sparse hut with a few creaking radiators that are already plastered with socks. For sleeping quarters, we're told to take a thin plastic mattress upstairs to a cramped attic, where a group of miserable-looking Germans lie wrapped up, their breath misting the air. They're farting belligerently and give us dirty looks. David looks at me mournfully and mouths 'I'm sorry'.
Back downstairs, we bump into Mike and John again. We commiserate and they break out the vodka. Everything seems better then. They do what all sane Americans do when you meet them travelling now: apologise profusely for Trump. Then we discover a secret room with actual beds, downstairs in the warmth. Presumably, this is staff quarters or the first-class section. Either way, we commandeer it and, warm and mercifully drunk, I fall into 'a deep pit full of ghosts'.
We set out early the next morning. It has snowed heavily overnight; the kind of deep, soft snow that makes you walk like you're on the moon, all clumsy and high-kneed. The Mormon hikers' tent is engulfed and I assume they've died in there. But then Thomas pops his head out of the flap and cheerily waves us over. They had a great night, apparently, watching episodes of Orange Is the New Black on his iPad, eating trail mix, pissing in a bag and chucking it out of the flap. His girlfriend looks like she wants to die.
We set off – and suddenly I love it. The trail is marked by posts, black slashes in the white, all the way to the horizon, and not another human in sight. It is tough going but not miserably so; the onslaught of vast, breathtaking views is propulsive, dragging you onward to see beyond the next ridge, to take in the next mind-blowing vista.
That said, I still genuinely fear for my life. It is hard not to when every so often you pass a memorial to someone who died out here. We come across the first one right by our hut. A 25-year-old guy who got caught in a whiteout died just 50ft from the door, which, with zero visibility, might as well have been 50 miles.
As I stand on the edge of a snowy valley watching David explore an ice cave, toasty under my layers and waterproofs, my phone buzzes in my pocket. A text from my sister in Dublin. She's asking if I'm dead yet. I snap her a quick selfie before my phone shuts down from the cold. With it dies our only way of calling for help if one us gets injured. The next hut is five hours' walk.
"Geologically speaking, Iceland is a baby; a still-baking cake fresh from the oven of the earth's core."
We make it to Alftavatn, trudging down the other side of the mountain as the snow falls away, to a hut nestled in green fields on the edge of a frigid lake. All of the huts you stay in on this route are attended by dour-faced girls who look like they'd rather be binge-drinking on the streets of Reykjavik like normal teenagers, but have instead been lumbered with this as a 'summer' job. This one mirthlessly sells me a £5 Mars bar and the very last meal-in-a-bag in stock. No booze, of course.
I pay her for a hot shower that scalds off a layer of skin. The toilets are stilt shacks festooned with icicles. They have the acoustics of the Sydney Opera House, every grunt and splash from the neighbouring cubicle brought to you in Dolby Digital surround sound.
Day three's hike from Alftavatn to Emstrur takes in black obsidian lava, gushing waterfalls and a flat, sandy desert surrounded by steep cliffs like a nuclear blast site. Geologically speaking, Iceland is a baby; a still-baking cake fresh from the oven of the earth's core, forever cracking and splitting and belching steam. It's what makes the terrain so varied and extreme. We stay with Mike and John for most of the hike and it is a comfortable walk, bright and sunny. The dream hike; the kind I foolishly imagined the whole route would be a billion years ago in my warm, comfy bed in London.
It is not without challenges, though. At certain points, you need to cross rivers. Some are narrow enough to jump, but others you have to wade. In an uncharacteristic bout of preparedness, I've brought spare trainers, which I change into to walk through the river. The others go barefoot. It is breathtakingly cold; so cold it almost feels hot, stinging and hurting the feet. You're across in seconds, but your toes smart for minutes afterwards.
We have a fun night, chatting and cooking a meal of cheesy pasta that tastes like a Michelin-star feast. The gas heater breaks down at one point and the standard-issue, dour-faced hut-girl arrives with a wrench.
"Do you need help?" Mike asks politely.
"No, do you?" comes the gruff reply.
By the final day, I am sore everywhere and ready for the end. In the early afternoon, we reach Þórsmörk. It is a relatively luxurious set of huts, though we aren't staying here, just waiting for the bus. The shop is properly stocked too; through the windows, we spy precious bottles of wine glinting in the sunshine. It is closed, but like true addicts, we locate the hut-girl and coax her into opening up. She isn't even dour-faced. This place is heaven.
The bus-ride home begins with a thrilling drive across a rushing river. Back at the hut, there was a photo album of all the times the bus had flooded and tipped over. But it stays upright and dry and we settle in for the journey back to Reykjavik, making promises to Mike and John to meet up later in town and have dinner once we've all showered. Promises we don't keep because we end up falling sound asleep.
There are two kinds of travel: travel for pleasure in the moment and travel for the creation of memories. That Thailand trip four years ago was travel for pleasure: hammocks and crystal waters, beach bars and sunshine and moment-to-moment comfort. This trip was the second kind. While there were times of joy and elation, there were just as many occasions when I was pissed off and sore and wet. But I am so glad I have these memories. I have seen the most spectacular views on the planet and been alone on a glacier with nothing but icy wastes as far as the distant horizon. All these memories are mine forever to feast upon. Which, best of all, means I never have to do anything like this again.
Zack and David's flights to and from Reykjavik were kindly provided by WOW air on part of their ultra-modern (one of the world's youngest) fleet, flying twice daily between London Gatwick and the Icelandic capital.
Some of Zack and David's technical clothing was loaned by Edmund Hillary, the premium lifestyle brand inspired by the renowned mountaineer's 1953 Everest ascent. The company specialises in replicating the exact fabrics and construction methods used in the past but contemporarises them for today's avid adventurer.
Photography by David Edwards
Get out there
Do…
… come prepared. The weather is extreme and changes quickly. It's all about layers, so you can adjust to different temperatures.
… bring spare trainers – wading through a freezing river is tough on bare feet. You won't resent carrying them in your backpack, believe me.
… fetch good hiking boots and gloves. Once your hands and feet get cold in these temperatures, there's no warming them up.
Don't…
… forget to do your budget. Iceland is expensive, so don't come with a laissez-faire attitude, even if you can afford to.
… expect luxury in the traditional sense. The 'luxury' lies in being rewarded with mind-blowing scenery.
… miss out on spending some time either side of your hike in Reykjavik. It's picturesque, easy to walk around and full of friendly people who love a party.
The inside track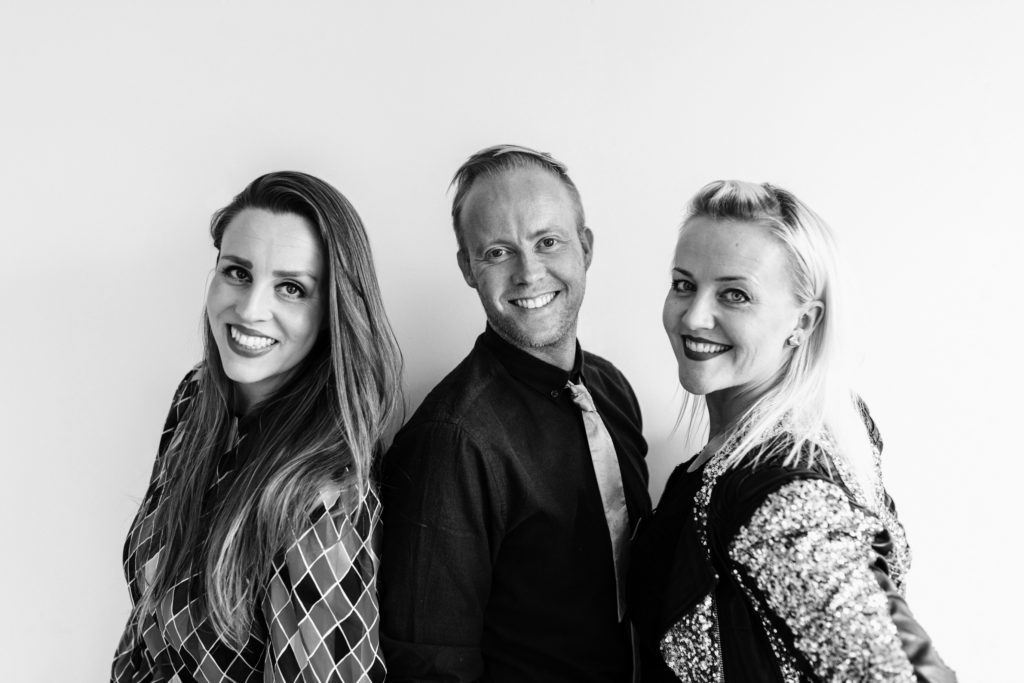 Known collectively as Pink Iceland, Birna Hrönn, Hannes and Eva María are the country's first and foremost gay-owned and operated travel experts. They specialise in day tours, weddings, events and tailor-made luxury travel.
Chase
A close neighbour to the world-famous Seljalandsfoss waterfall is Gljúfrabúi (which translates directly as the 'one who lives in a canyon'). Put on some waterproof boots and make your way through the river to the small canyon where this amazing hidden cascade is to be found.
Watch
Iceland's capital city is exploding with queer culture these days. Make a bee-line for Kiki Queer Bar and ask around if the variety group and queens of Reykjavik Drag-Súgur is performing. A highlight of Friday and Saturday evenings is the adult circus cabaret Skinnsemi.
Visit
Grandi is Reykjavík's most up-and-coming neighbourhood, with loads of fantastic restaurants, as well as the Grandi Mathöll food court, all within walking distance of each other. Our favourites are the Bryggjan brewery, pizzas at Flatey and Valdís for ice creams.