As the UK reawakens from pandemic slumber, we're all faced with heading out again to social events, work, meetings and more gradually, on holiday abroad (hurray!). Speaking frankly from our own experience, we're rather weathered after over a year in lockdown, not to mention having to contend with a change of pace in personal style from homeworking basics to social 'be-seen' chic. Fear not, fellow OutThere travellers, we've chatted up aesthetics therapy professional Amar Suchde of AMS Aesthetics for the inside track on how to look your best (and fresh) for when we make our debuts into post-lockdown society.
How is people's aesthetic 'health' right now … and what's on your mind and that of your clients who are looking to make their debut back into high society?
One upside of this whole pandemic is that it has really brought people, families and society together. It's been a really tough time, causing us to adapt in many ways to survive mentally not to mention, financially. With society slowly opening back up, it is clear that we are all raring to go and see the people we love, socialise and get back to some normality.
For me personally, the first I did was get a haircut. The made me good outside and in. For my patients, I've heard the same comments from many, saying they've experienced what they are calling the "Zoom boom," how they look at themselves on their Zoom calls and feel that they have aged significantly.
I've always maintained that aesthetics not only helps you look great on the outside but it also makes you feel great on the inside. When you feeling good, you get a boost of confidence, an extra spring in your step, that makes you more positive. So it's no wonder that there is a steady stream of people lining up to get their skin looking fresh and their "worry lines" removed from their faces.
What's your beauty and aesthetics advice as folk come out of a year-long lockdown?
I think this lockdown has taught us all just how important it is to appreciate both the small and big things in life, in unison. Sometimes we are too focused on things that don't really matter and consequently, we don't enjoy the smaller aspects of life. My advice, beyond any beauty or aesthetic treatments we can provide, is to get back out there and enjoy life, feel good and smile. That is the source of all our 'beauty'.
More practically, what are your tips for OutThere jet-setters to look good, on the go?
My personal tip for fellow jet-setters, is to make sure you have these items in your bag at all times:
1. A cleanser
2. Alpha Hydroxy Acid (AHAs)
3. Retinol serum
4. A good moisturiser
5. Vitamin C serum
6. A high factor SPF
It sounds like a lot to cart around the world with you, but it will keep the skin looking fresh
What is the Amar Suchde philosophy when it comes to beauty?
I think everyone is beautiful inside and out, which may come across as super cheesy, but I really do. I worry how much society is constantly chasing the idealistic look due to the pressures of social media and how their favourite celebrity looks. Being unique is the truest form of beauty and that is really amazing.
As we get older, undoubtedly we will start to show signs of ageing. Men start ageing from 18-19 … whereas women can start later at 21/22. If this is something that bothers you and you want to look youthful, this is where certain "tweakments" can be made. A good skincare routine is paramount, but sometimes aesthetic enhancements using Aesthetic Medicine such as Dermal Fillers or Botulinum Toxins ( Botox ®) can help slow the ageing process and maintain youthful attributes.
In my work at AMS Aesthetics, I emphasise this and try to help maintain all aspects of the face … while adding an artistic touch to add a more youthful effect.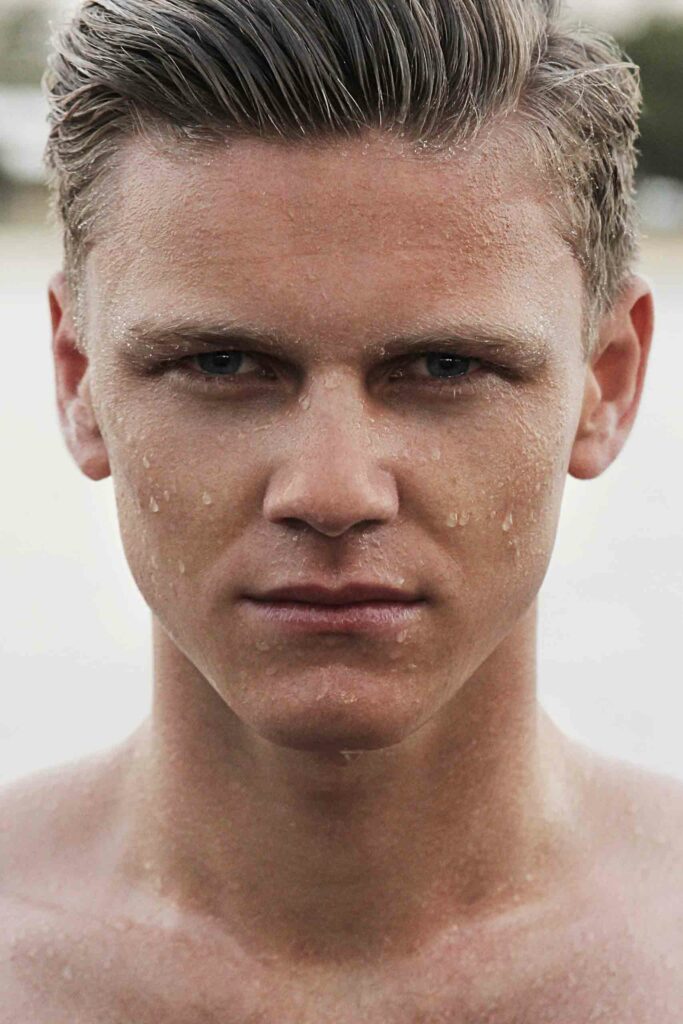 What are some good treatments for looking (and feeling) good?
I think the growth of aesthetics over the years and how accessible it has become has really opened doors for people to look their finest form. Some of my favourite treatments are Cheek Enhancement treatments and Jaw Line Filler for definition.
Also, the aesthetic market has always been dominated by the female community, but at AMS Aesthetics I am getting more and more men attending to help create a more masculine look in harmony with their face.
We offer a treatment called "The Butterfly Effect," the idea being that a small change in one state, can result in large differences at a later date. This package is a completely tailored treatment, carried out by myself to help add definition, volume and a lift to the face. We sculpt the face to achieve more prominent cheekbones, a defined jawline, and a more squared chin.
What are the latest innovations in treatments and techniques?

I've seen a big increase in patients coming in for a more defined jawline. As we age, we tend to lose some of our deep fat in our face, causing a change in facial fat distribution. In addition, the strength in our muscles, ligaments and skin becomes a bit weaker so we start to show signs of jowling and loss of volume. My favourite filler to use in the industry is the RHA 4 filler from Teoxane. With its high strength and dynamic properties you can really sculpt and define features such as the jaw giving some amazing results.
What can you say to someone who may be thinking of having aesthetic work after lockdown, but have never done so before, or is not sure where or how to start? How can you reassure them that it is safe and beneficial?
I think the best advice is to always do your research. As I've mentioned, aesthetics has become more accessible in the last few years, so people should do their research to make sure they are going to someone who really can understand their face. I have written a few articles recently with some popular press about how everyone is starting to look the same these days, with everyone having big lips and high, over enhanced cheekbones. It's important you choose a practitioner who shows evidence of understanding all unique elements of your face.
Aesthetics was once a taboo subject, but if I am to give you an inside track, it's the people in the public eye who you think looks great, natural and never had anything done, that is likely to have had some aesthetic work.
What inspired you to be an aesthetic practician? What are the perks of the job?
I'm super grateful for where I am in my life and career. I have always been fascinated with skin, due to my own concerns over having acne growing up. In addition, I have always thought myself as some who is creative, so to be able to combine both elements is so much fun. I love coming to work and it feels so nice being at the forefront in helping people look and feel better.
I've always lived by the quote, "Being realistic is the common pathway to mediocrity," so it's important for me to keep growing and continue to develop my skills so I can help as many people as possible.
Where OutThere will you next be travelling to when we can?
This is a great question. I am a city boy at heart and I love the hustle and bustle and like feeling that any good opportunity can come my way. As a result, I'm going to have to choose New York City. I love it because it's a place that makes me feel that I can achieve more.
A pioneer in his field, Amar Suchde set up his first AMS Aesthetics clinic in London's prestigious Harley Street. It was from here, he went onto setting up four other venues in and around London, where he now has a loyal and dedicated following of international clients. He is also the author of the book, "A Simple Guide to the World of Aesthetics". AMS Aesthetics has taken a unique approach in the industry, having over 600 5 Star reviews online and was voted Top Rated Clinic 2020 and awarded the fastest growing clinic 2020. At AMS Aesthetics, they believe in providing safe and effective procedures and helping their clients achieve their aesthetic goals.