The science of scent is making a comeback. Aromatherapy – of all the holistic-health verticals – had up until recently, a rather matriarchal reputation, conjuring images of lavender bags on your pillow and Vicks Vaporub. But with a new appreciation for the undeniable link between scent and wellness, luxury fragrance has moved beyond just being anxiety-busting into the realm of cerebral enhancement and well-being.
Scent is a sense that is so closely related to our brain's emotional core, so it's no wonder that our mindfulness can be easily influenced by smell. We recently talked about how scents can trigger and nuture travel memories; but beyond the nostalgia, fragrance can also stimulate improvements in our well-being.
If you're interested in the science, there is a prominent neural pathway between the anterior olfactory nucleus in our brain and the hippocampus, the area that – simply put – helps us generate new memories. Everything we smell passes through the memory (and meaning)-controlling amygdala.
Aromatherapy is of course nothing new, but is often dismissed as an old wives' tale. Which is kind of true, considering the practice that fuses scent and wellness is actually millennia old. Why is there a renaissance? Well, because breakthroughs in olfactory neuroscience studies are now showing how the application of fragrance in our everyday lives can have therapeutic benefits and aid positive mental health … so folklore is rapidly becoming fact. And let's face it, after over a year of pandemic-stricken life and times, we need all the help we can get.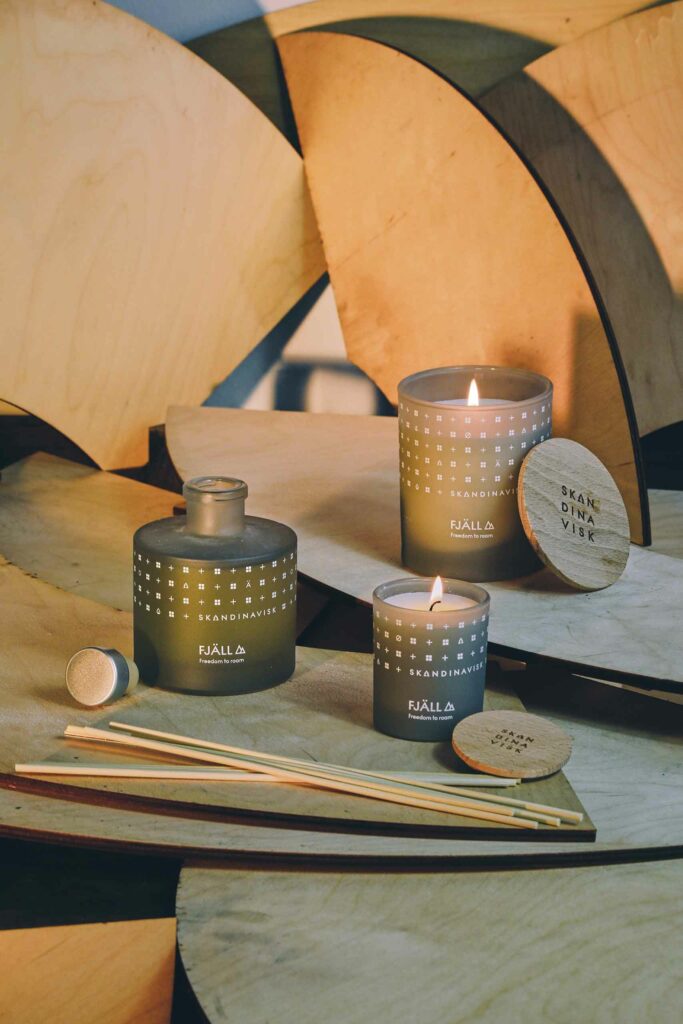 Skandinavisk knows a thing or two about how scent can lift spirits. Based in a part of the world where half the year is cloaked in darkness, the perfumery champions scent and wellness … fragrances that reference all that is otherwise wonderful and precious about the Nordics – nature, free-spirit, colour, fresh air, sustainability … inclusion, even – to create subtle, refined scents that aid positive thinking.
As OutThere travellers, we particularly liked the FJÄLL range, the word itself meaning 'highland', invoking the Swedish 'allemansrätten' translated as 'freedom to roam'. This quirky word that sums up a constitutional law in Sweden, means that everyone has the universal right to enjoy both private and publicly owned land – woodlands, terrain and freshwater sources – on the simple condition that only footsteps are left behind.
With notes of foraged heather and thyme, ground berries and leaf sap, Skandinavisk's FJÄLL range invokes the ideals of hiking in nature, with the sound of the wind and hues of the midnight sun for company. It almost made us want to yoik; but moreover, the collection of scented candles and reed diffusers helped ease our stresses, relaxed us and made us think more clearly.
Think of it as a revitalising forest-bathing session, albeit through your nose, at home.
Photography by Martin Perry, styling by David Hawkins