Giving a new life to a historic building, the Pruneyrac family have turned France's Domaine de Rochebois into one of the country's most talked-about new hotels. From fine-dining experiences to a luxurious spa and, of course, a rather impressive golf course, this five-star address makes for a fabulous base when exploring the Dordogne region.
Passing one Rapunzel turret after another, we drove deeper into the Dordogne, an area known for more residential castles than any other part of France. On a bleak day in early spring, the walnut and chestnut trees, whose produce are famed hereabouts, stood in fields like so many scarecrows stripped of their rags. We passed a farm where grey geese honked happily in the yard and dairies that proudly advertised their cheeses. There was no escaping the fact that we were in Foodie Territory par excellence, otherwise known as the Périgord Noir.
Soon, we turned into a drive that led through a golf course to the Domaine de Rochebois, where we were greeted by a giant French cockerel – the metal sculpture of artist Pierre Treilhes, whose exuberant works are exhibited throughout the hotel and on its 33-hectare grounds. The approach, via the side of the building, reveals little, but the Aah factor was yet to come. It started with the Lobby, an airy space decorated by interior designer Bernadette Rouchon, whose family has owned nearby Château de Puymartin for over 600 years. No heavy furniture, Aubusson tapestries, or ghosts in the tower here though. Instead, cool shades of beige and earthy hues, textured fabrics, and trios of contemporary table clusters.
Rouchon's pièce de resistance is the Joséphine Bar, a riot of colourfully contrasting velvet sofas and cushions, tinted glass and modern art, named after the stupendous Josephine Baker, who lived nearby in the Château des Milandes (more about her later). Here, you can sip a Josephine cocktail, a heady mix of cognac, champagne, and orange essence, while resident musician Joe performs a hip-hop version of La Marseillaise.
Built in the 1850s in restrained, Italianate style, with a double staircase leading to formal gardens, the Domaine is a relative newcomer to the area. It has an interesting history. From a private residence, it passed into the hands of Salesian monks who ran it as an Orphanage until 1979. Its next incarnation was as a 4-star hotel and 9-hole golf course. Today, under the new ownership of the two Pruneyrac brothers and their wives, and after a multi-million Euro makeover, it has reopened as the most stylish establishment in the area. 'We knew it was a crazy idea' says General Manager Thomas Pruneyrac, whose family comes from northern France, 'but we just fell in love with the place when we visited'.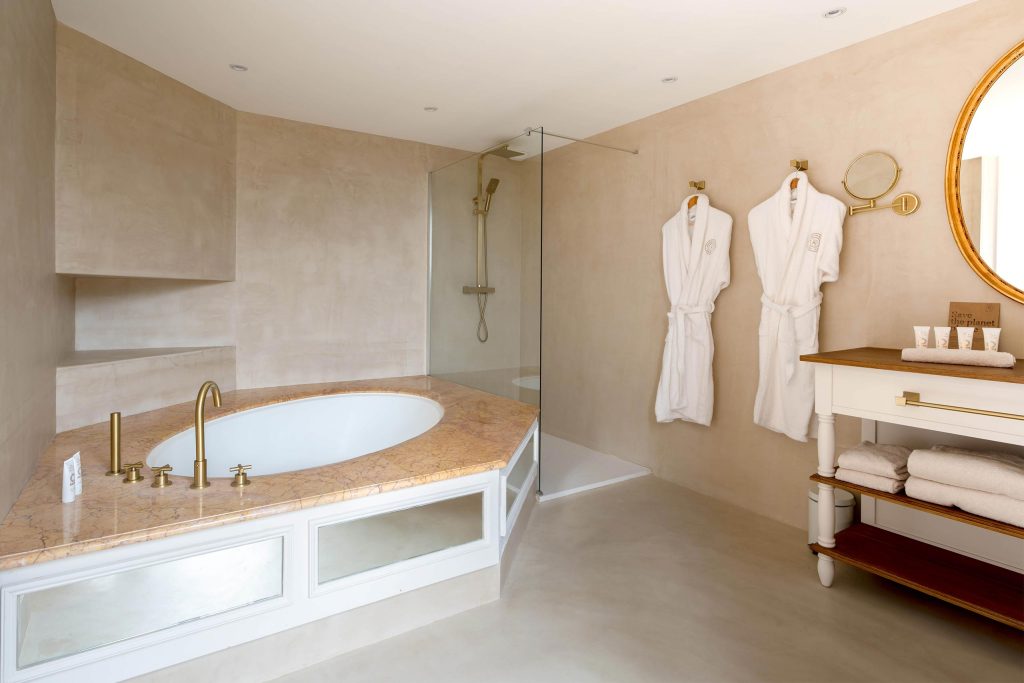 | | | |
| --- | --- | --- |
| Perfect for | Fly into | Right on time |
| The Culturalist | EGC | GMT +1 |
While you're Out There
Don't miss the Château des Milandes, which Louisiana-born Josephine Baker made her home from 1947 to 1968, when she was forced to sell the property. Singer, dancer, actress, spy – and decorated Resistance fighter – Baker took France by storm, playing to the stereotype of the 'exotic black woman'. She was also a human rights activist, who adopted 12 children of different descents. The current owner of the Château has painstakingly acquired Josephine's dresses, costumes and furniture to recreate her golden years, contextualised through an excellent audio guide.
The Pruneyrac family is very much in evidence, their presence recreating the laid-back atmosphere of a family home. Laëtitia, Thomas' wife, was responsible for decorating the 40 bedrooms, in sober neutrals enlivened with highlights of burgundy, green, white or slate grey to reflect elements of the terroir – wine, nature, limestone and truffles. Rooms to the sides of the building have vast terraces, perfect for enjoying a summer evening's aperitif. Our front-facing room, with large windows dressed with period wrought iron garde corps, overlooked the entire valley – over the French garden, swimming pool and golf course to the Dordogne River (though some of us might regret the scarring of the natural landscape by artificial lakes and bunkers, the popularity of golf courses, alas, shows no signs of abating). In place of a vast terrace, we had a vast bathroom, with an oval tub so large you could read the whole of Les Misérables while it fills. It was surrounded by a vast slab of pink marble rescued, unscathed, from a Venetian palazzo that collapsed into a canal.
Although recently opened, the Domaine de Rochebois has already attracted the attention of celebrities. They – and lesser mortals – can be accommodated in a newer wing, sympathetically designed with 16th-century terracotta floor tiles from a convent, which includes two split-level 'penthouses', each with its own, separate quarters for Security.
Food, unsurprisingly, lies at the heart of the Domaine de Rochebois. Under chef Jean-Philippe Vecco (an alumnus of Pierre Gagnaire and Alain Ducasse), 5-, 7- or 9-course set dinners are offered five nights a week in the elegant, understated M restaurant overlooking the gardens. We dined in a private room, formerly that of the Priest's maid. Here, beneath exposed beams painted by the orphan boys, we supped on such delights as gratin of John Dory, smoked herring and truffle, date mint, and marinated enoki. Less elaborate dishes can be enjoyed in The Wedge, a glass-walled and terraced bistro on the golf course, whose simplicity does not, however, deprive diners of extraordinary delicacies.
When not eating, golfing, or enjoying the hydrotherapy pool and organic treatments in the Nuxe Spa, the area has much to offer. We loved the local town of Sarlat, with its medieval streets and warm limestone buildings with characteristic roofs of lauze tiles. This was the first town to be protected under the 1962 Loi Malraux. Among its many architectural treasures is the mansion of 16th-century writer Étienne de La Boétie – the lover, according to gossip-mongers of the day, of Montesquieu. We visited Lascaux IV, the biggest, best, and minutely-reproduced copy of the original caves, which were closed to the public in 1963, where our guide brought the prehistoric Cro-Magnon culture to life, through their rock art. And we strolled through one of the 'most beautiful villages of France', La Roque-Gageac, perched high in the limestone cliffs above the Dordogne River, nestling among an improbable riot of tropical plants: the creation, in 1970, of green-fingered Gérard Dorin. From here, it was but a hop to the 19th-century hanging gardens of Marqueyssac where, among 150,000 topiaried boxwood hedges, we lunched in the sunshine on crêpes and chestnut wine.
From troglodytic caves to medieval castles, gastronomy to natural beauty, Périgord has it all. And the Domaine de Rochebois makes for the perfect home-from-home.
Photography courtesy of Domaine de Rochebois