When in early 2023, the Anantara Plaza Nice Hotel opened in a building that's dominated perhaps the most desirable location in all of Nice for almost 200 years, it wasn't simply Anantara's French debut, but a signal that the Thai hospitality giant has well and truly arrived in Europe. Like countless others, we were curious to find out one thing: how would the five-starred property translate the brand's resort image to an urban environment?
Stepping into the lobby of the Anantara Plaza Nice Hotel means stepping into a calm retreat at the very centre of this bustling city on the Côte d'Azur. Once the doors close behind you, the promise of exclusivity and contemporary luxury is almost palpable. The hotel's lobby, featuring abstract paintings on textured walls and high ceilings accentuated by soft spotlights, is down a hallway that could be described in as many adjectives, if 'big' and 'beige' didn't already sum it up rather nicely. All this is to say that the haptics of the building, restored by Anantara to its Belle Époque glory over the course of a two-year renovation, are light, bright and beautifully sensual.
Light and bright is also how we'd describe the team here, as every staff member we interacted with during our stay was proactive in helping us have the best possible experience while the reception team in particular was so polite, we very nearly ended up making a pun about being 'nice in Nice'. Fleeing any more friendly encounters that could trigger a fateful decline into 'dad jokedom' (it's a one-way street), we were quickly off to our 34 sqm/366 sqft Premium Panoramic Sea View room with its very own terrace overlooking the Jardin Albert 1er and the glistening Mediterranean Sea beyond.
Of the property's 151 rooms, which include 38 suites, only the top-floor options come with these private terraces. Ours allowed us to soak up views of the sea and the occasional private jet descending into NCE from our very own outdoor seating area, adding considerable value, if not bragging rights. The room itself was a slick amalgam of soothing shades of grey and beige, elevated to feel more luxurious by the addition of framed fashion photography, golden touches and amazingly atmospheric, indirect lighting. Our marble-clad bathroom, held in black and featuring a rain shower as well as a mirrored door, contrasted nicely with this while extending an overall sense that all rooms and suites at the Anantara Plaza Nice Hotel have been designed with tranquility in mind.
But it's not just the calming palette of pastels that had us feel this way. Instead, we could tell that state-of-the-art amenities had been brought into the hotel to facilitate maximum ease and relaxation: from recessed reading lights to USB sockets and a black Fellow Stagg EKG kettle (it's rumoured each Kardashian has one next to their bed). Curiously, there were also two types of shower gels – 'Monsieur', with its 'Pamplemousee Boisé' scent, and 'Madame', which smelt of 'Orange Riviera'. We're not quite sure why toiletries need to be gendered, but since our bottle of 'Monsieur' appeared to not have been refilled prior to our arrival, we contented ourselves with 'Madame', which worked perfectly well on our male skin… phew!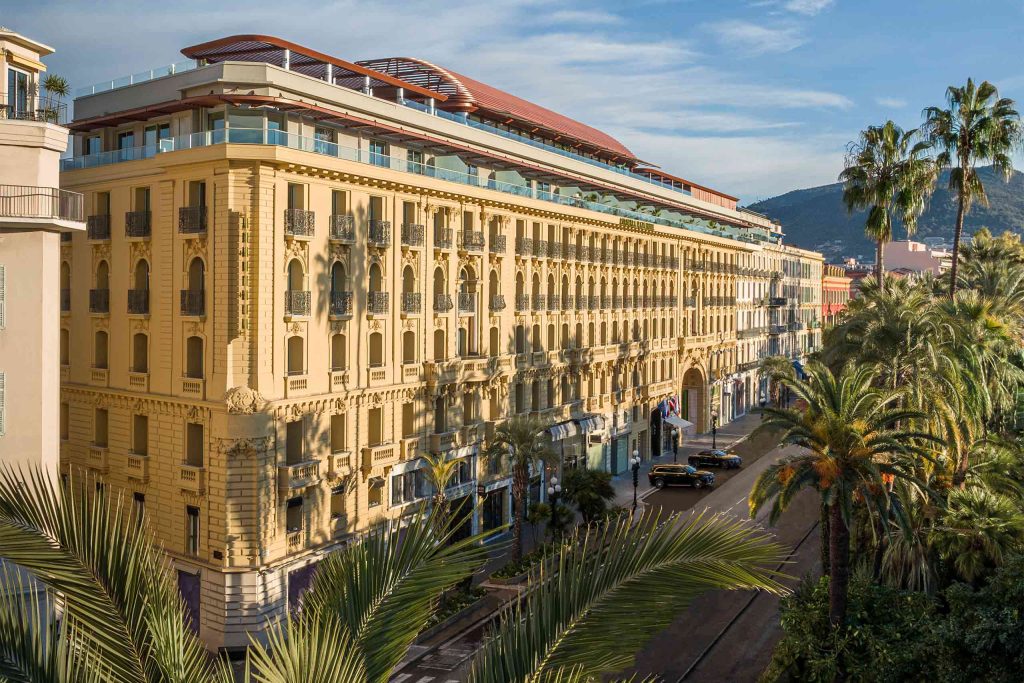 | | | |
| --- | --- | --- |
| Perfect for | Fly into | Right on time |
| The Sophisticate | NCE | GMT +1 |
While you're Out There
Many of the Côte d'Azur's most popular destinations are within day trip distance from Nice, but that's not to say you shouldn't spend some time in the city as well. Admirers of Matisse should put the Musée Matisse on their list (and pay a visit to the painter's tomb in a special section of the cemetery adjacent to the monastery across the street). If you're in the mood to shop instead, we thought Trésors Publics is a wonderful little store.
There was another 'feature' to our room that ought to be mentioned: a sweet treat waiting for us upon arrival, cleverly disguised as a grey pebble in a nod to Nice's famous pebble beaches. A chocolate-coated basil mousse with lime at its centre, the 'galet Niçoise' adds a wonderful sense of place for most guests, though not knowing whether it would suit our plant-based diet, we had to skip the welcome. And it wasn't the only time being vegan meant we missed out. At the breakfast buffet, ingredients were listed exclusively in French, forcing us to order an off-menu and rather unexciting avocado toast, and at lunch and dinner, our waiters would regularly apologise for there being no plant-based options on the menu (once, they suggested we order something gluten-free instead, as though the two dietary requirements were exchangeable).
Of the few things we could order – mostly sides and starters, trying to put together a coherent main – we really enjoyed the beetroot carpaccio with orange juice, capers and caramelised macadamia. Sensing that the hotel wasn't a great place for people on special diets, however, we opted out of an afternoon tea experience, which in turn prompted in-house patisserie chef Guillaume Bousquet to send a duo of vegan entrements to our room (word travels fast on the Riviera): one, a hazelnut and chocolate treat on a praline base, and the other, mango cream with a passion fruit filling on a seeds-based crust. Both were divine, which makes it particularly frustrating to think they're not readily available at the hotel's Les Colonnades champagne lounge, a stunning oval space with a skylight at its centre, where afternoon tea is normally served.
To the credit of the gastro team at the Anantara Plaza Nice Hotel, they certainly were receptive to our feedback, and even as is, there's a lot to love about the property's rooftop fusion restaurant SEEN. The 360-degree panoramic views over Nice's old town and the cerulean sea, for one, offer the same luxurious sense of space as those we enjoyed while staying at Anantara's Maldivian resorts. Immediately adjacent to the eatery, and extending its outdoor seating space, is a seriously 'scene-y' rooftop bar with stylish, low seating and to-die-for cocktails (the mezcal and chartreuse-based Naked & Famous is the drink to order here) served with olives, crackers and tapenade. It's no overstatement to say that this is the chicest rooftop bar in town – by a landslide, as a matter of fact – and perhaps on the entire Côte d'Azur.
There's also a subterranean gym and a coffee-coloured spa down a stairway near the reception area. In true Anantara fashion, the latter was beautifully appointed with large-scale, curved wooden ceiling elements and artful wall paintings that set the tone for luxurious treatments: there's no pool here, so the focus is very much on facials and massages, which suited us just fine. Post-treatment, we spent some time in the hammam and the sauna, the latter of which allowed us to pour water down a hatch onto a hidden stove – a smart feature that eliminates the risk of burns. Unsurprisingly, the rest of the wellness area was just as thought through, with plastic-free flip flops made from 100% recycled materials and teas and warm towels handed to guests during each treatment.
It's no small feat translating a resort concept to a busting city without compromising on brand identity. The Anantara Plaza Nice Hotel, in our opinion, prides itself on some of the same hallmarks its famous sister properties in Thailand and beyond are known for: the luxury of space, a clean yet bold design aesthetic and a solid wellness offering. Some serious work remains to be done to ensure guests with dietary requirements and preferences can have as carefree of a stay as everyone else, but once they get there, the hotel will be a truly fabulous urban resort.
Photography courtesy of Anantara Hotels, Resorts & Spas