When the original Four Seasons shuttered, it was a great loss to the Bangkok hospitality scene… but years later, the global luxury brand reopened a new flagship in the Thai capital to complement its fantastic cross-Thailand offering. And its return to the scene is with a vengeance, occupying an illustrious address on the riverfront and establishing itself as Bangkok's premier 'urban resort'.
If the Four Seasons Bangkok was a person, they'd be an extrovert. What you immediately notice is the scale and sheer grandeur of everything. Designer Jean Michel Gathy left no stone unturned when it comes to the lavish design, paying homage to the city's and royal riverside's rich cultural tapestry, incorporating traditional elements with contemporary touches in a grand and graceful fashion. From the sumptuous entryway with museum-style wall-to-ceiling art installations, to the serene candlelit pools as you enter, down to the tiniest details in-room… opulence ensues, but not without an eye always trained on guest comfort.
Our monochrome-chic 'Premier River View Room' was modestly sized for Bangkok luxury, but well-appointed. We loved our giant apaiser bathtub, as well as our comfortable bed; and the fab little touches to give us a sense of place. This was most evident at our minibar, where we found a moreish supply of Tom Yum rice crackers, Thai mango gummies and lemongrass-pandan infused liqueur (which made for a lovely, localised champagne cocktail).
We recommend that OutThere travellers book into the suite category accommodation, although we preferred the décor in our room. The suites, while much larger, seemed more 'North American standard' in their furnishings. Also, be aware that there are many rooms that face inwards towards the courtyard, so do ensure you book a room with a view.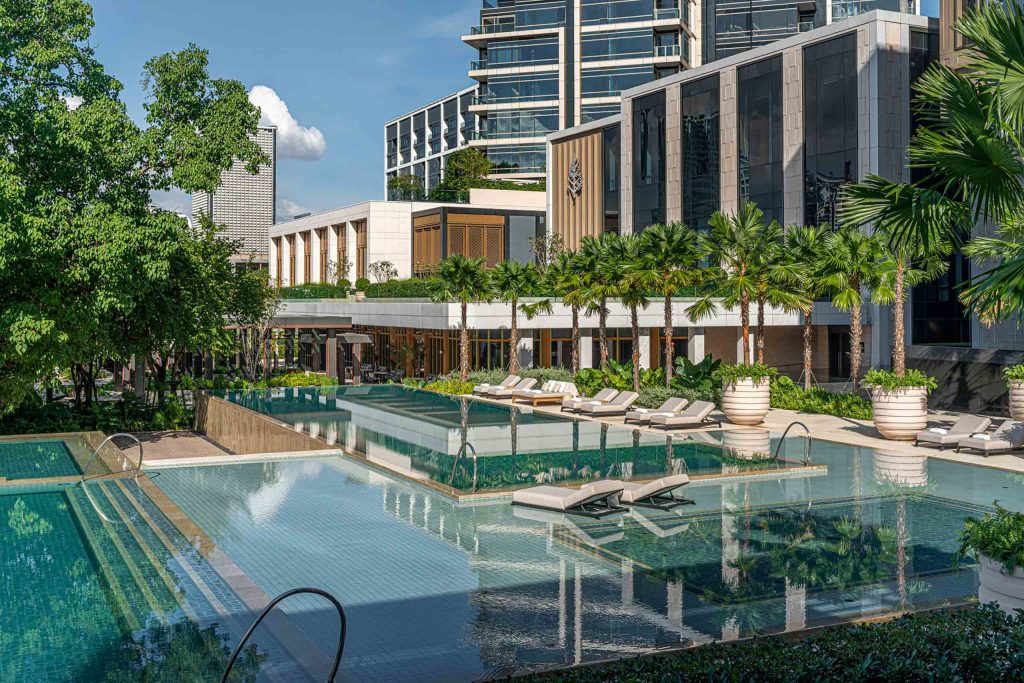 | | | |
| --- | --- | --- |
| Perfect for | Fly into | Right on time |
| The Sophisticate | BKK | GMT +7 |
While you're Out There
Drinks that lingered from happy hour, long into the night at the awarded hotel bar, BKK Social Club at the Four Seasons Bangkok were a highlight of our stay. It's an Argentina-meets-Thailand Art Deco/Noveau-inspired drinking den, the perfect place for raconteurs to share their travel tales over a South American or South East Asian fusion cocktail or ten.
The hotel maximises space in its communal areas. The lovely, landscaped pool deck is a haven for toe-dippers, jacuzzi fiends and lap swimmers alike. Framed by lush greenery, the whole space provides a tranquil respite for basking in the warm Bangkok sun. For those seeking further solace, there are also plenty of spaces to relax away from vacationing families and children (who we have to say dominated the space during our time of visit), whether by the river, outdoors, or in the shade.
The hotel's riverside location offers an enchanting setting for relaxation and exploration. And true to Bangkok, the Chao Phraya River offers up a gateway to discovering the city's cultural gems and iconic landmarks, with the Four Seasons Bangkok offering private boat tours to enrich the guest experience.
The dining options at the Four Season Bangkok at Chao Phraya River mean that you don't have to leave the compound to experience a world of gastronomy. Breakfast or lunch at the hotel's all-day-dining restaurant Riva del Fiume took us to Italy, Brasserie Palmer to France and Yu Ting Yuan (the only Cantonese restaurant in Bangkok with a Michelin-star) to southern China.
But what dazzled us most here was the amazing staff, who were well-picked, not to mention well-trained. We liked their informal approach, reflected in their trendy uniforms and relaxed demeanour. Everyone went above and beyond to ensure the most perfect stay.
The Four Seasons Bangkok at Chao Phraya embodies refined luxury and personalised indulgence. It's a contemporary take on Thai culture, but cleverly defines the Bangkok of today. The hotel's opulence and attention to detail are extraordinary, so it will as no surprise that the property has become highly coveted by OutThere travellers visiting the city.
Photography courtesy of Four Seasons Hotels and Resorts