We just adore the city of "Krung Thep Maha Nakhon" (aka Bangkok). It's the perfect mix of experiential and escapist; it is just what we look for in a holiday. The Thai capital is often said to be South East Asia's most sensorial destination, but there's nothing quite like being based at Bangkok's urban resort, the charming, The Peninsula Bangkok, to awaken a visitor's senses. The property is now welcoming OutThere travellers back to the 'Land of Smiles' with wide open arms, to experience a truly holistic and reinvigorated sense of well-being, on the banks of the mighty 'River of Kings.'
We are overjoyed that the five-star Chao Phraya riverside hotel – The Peninsula Bangkok – has reopened its doors with renewed enthusiasm and focus on a promise of true relaxation and well-being for those who come to stay. Despite the hotel's heart-of-the-city location, we've always known The Peninsula Bangkok to be somewhat of a sanctuary. That's why we agree with the hotel's refreshed positioning of Bangkok's urban resort… because calling it anything otherwise would certainly be selling it short!
Taking cues from The Peninsula Hotels' global wellness philosophy – 'Life lived best' – that supports holistic health and well-being goals of guests, The Peninsula Bangkok has introduced a comprehensive retreat programme on-property, designed to offer a sense of calm and harmonious alignment of body and mind for all. As we now know, more than ever, mindfulness and self-care are crucial to modern living, something that we have taken to heart during the pandemic. But our penchant and desire for eudemonia endure, even and especially as we navigate our way out of all that has happened.
This focus is of course blended with the resort's longstanding dedication to perfection in hospitality and award-winning accommodation; as well as a culinary prowess that spans the ages (and the globe).
Taking wellness to new heights
A sensorial experience at The Peninsula Bangkok begins with sensorial spaces. We thoroughly recommend that OutThere travellers book a suite; self-care does allow you room to be indulgent! Plus, the resort's eight suite categories offer amazing value, not to mention generous accommodation and space to enjoy your escape. Each expansive suite is set across multiple living spaces with views over the river: you can take it from us that the natural flow of water and life on the Chao Phraya is very watchable and calming in its own right.
And just to be extra sure that there is a true sense of place, the suites all feature a clean-lined aesthetic, Thai teak floors and silk furnishings complemented by Asian artisanal pieces and antiques. We especially loved that the beds here are super comfortable; as sleep is an ever-important pillar of 'life lived best!'
For those keen to reach new, luxurious heights of mindfulness on the property, be sure to reserve one of its uppermost (36th and 37th) floor suites, which are best-in-class and come with ultra-private terraces complete with whirlpool tubs and even more space to retreat to.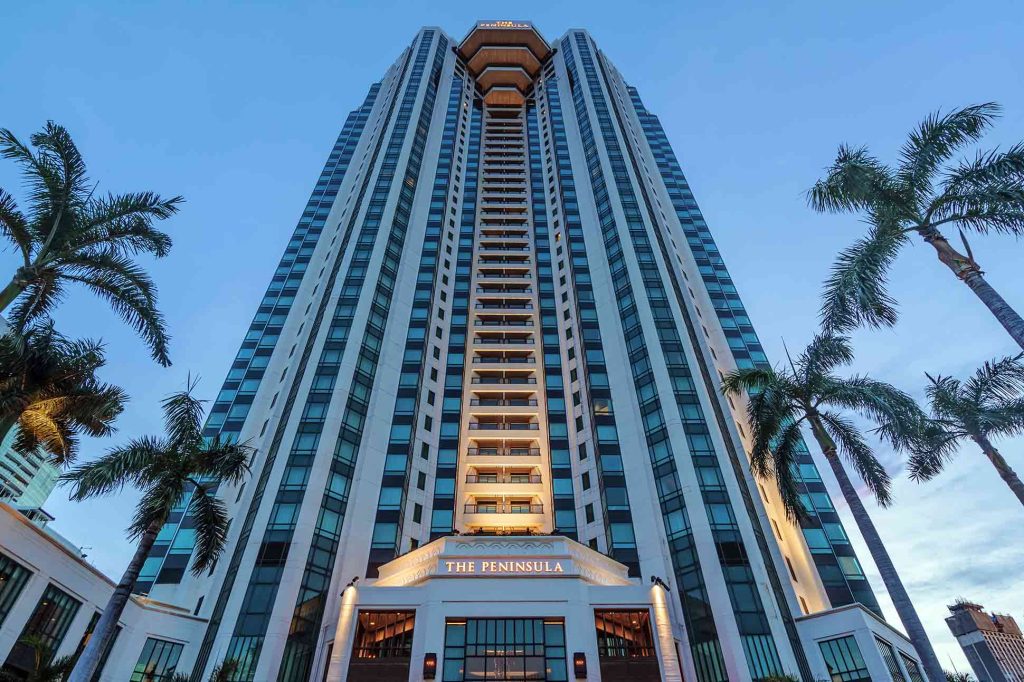 Getting physical on the Chao Phraya

Let's start with the obvious: the spa and fitness facilities.
Travel may open your eyes, but to awaken your senses, the must-do on arrival to Bangkok's urban resort is a wellness journey in its three-storey, "Thai-colonial-style" designed wellness facility, 'The Spa'.
Traditional methods from Thai, European, Oriental and Ayuverdic philosophies are combined into a menu of indulgent therapies, designed to be enlightening and wholesome at the same time. We recommend the exclusive Essential Mind Treatment, with mindfulness know-how all the way from Tibet, fused with alternative Thai therapeutic massage and local aromatherapy techniques that relax, renew and stimulate.
For those looking for invigoration, the property's state-of-the-art fitness centre will ensure that you get the most out of your workout. And whether you're looking to swim laps, or just have a post-exercise soak, 'The Pool' is the place to be, with its stunning view over the river.
The Peninsula Bangkok's commitment to physical fitness does not end there. For more interactive exercise, the property also has an in-house tennis coach; but those keen on some Thai-style exercise can follow in our footsteps for a 'cardio-tastic' Muay Thai class, held in the shade of the hotel's ancient Banyan tree, said to be sacred in local Buddhist beliefs. For something a little more gentle but equally spiritual, we thoroughly recommend sunrise yoga at the Gong Wu Shrine on the river, a venue built by Bangkok's early Chinese settlers as a tribute to their martial God of loyalty and righteousness.

The great thing about the fitness offering here at Bangkok's urban resort is that nobody is overbearing or forces guests to do anything. How we decided to engage was totally up to us. Here, we felt that we could take our time, but if we needed added encouragement, The Peninsula Bangkok offered up 'Active Body and Mind' packages that provide extra motivation while on our vacation.
Eat well
Thailand's luxury hotels often invite guests to indulge gastronomically. The Peninsula Bangkok naturally offers all of that too, but as part of their commitment to well-being, healthy dining options are available throughout the property's award-winning restaurants, to help maintain a tasteful balance
It's clear that the team here has spent a great amount of time thinking about what's on their menus: from healthy ways to start the day at breakfast (with every imaginable alt-food option on offer, subject to availability), to fine dining at Mei Jiang, its lauded Cantonese restaurant, where they are turning the tables on the classic meat- and seafood-driven cuisine, to offer plant-based delicacies, including a vegan afternoon tea and a nine-course, plant-based tasting journey.
Keen to ensure that our wellness journeys continue well after we leave the property, The Peninsula Bangkok has also invested in a number of 'learning and appreciation classes', with in-house gurus that will teach you everything from cooking signature Thai dishes, to how to make and bake sourdough bread, to juicing and tonic-making, to brewing kombucha. We thoroughly enjoyed the 'Herbs and Spices Appreciation Class', with a tour of the property's own 'Naturally Peninsula Garden' by the hotel chefs – which unlocks the secrets of traditional Thai­ cuisine and its gut-health (and other medicinal ) benefits – showcasing aromatic herbs and spices found in Thailand.
Mindful immersion
The Peninsula Bangkok's approach to mindfulness involves guests stepping out of their everyday lives and their pressures back home, to immerse themselves in the Thai way of life, local culture and spirituality.
We engaged in a 'Tak Bart' experience, an ancient Thai ritual of alms-giving and food-parcel-gifting to Buddhist monks from the local Wat Suwan, at the break of dawn. To mark the occasion each morning, a ritual chanting ceremony is made at the hotel's spirit house. It's a beautiful (and merit-making) way to start the day.
To end it equally as beautifully, we headed out on a 'Sunset Treasure Cruise' aboard the hotel's rice-barge-inspired boat, to the landmarks of the River of Kings: Wat Pho, Wat Arun and the Grand Palace. It whetted our appetite for Bangkok's spiritual sites so much, that we returned to the temples again the next day, to imbibe in the spiritual energy of them all.
Art is also important in mind-opening at Bangkok's urban resort. The Peninsula Bangkok has its own 'Artist in Residence' programme, designed to support local, emerging artists while also providing guests with access to culturally representative art pieces. We encountered one such artist – Onnalin Loianagosin – during our stay, live painting in a little corner of the property, delicately capturing the soul of the Chao Phraya river. Their sense of calm and concentration was infectious. Hungry for more, we ventured just out of the hotel and literally across the water, we found Bangkok Riverside – the city's burgeoning Arts District.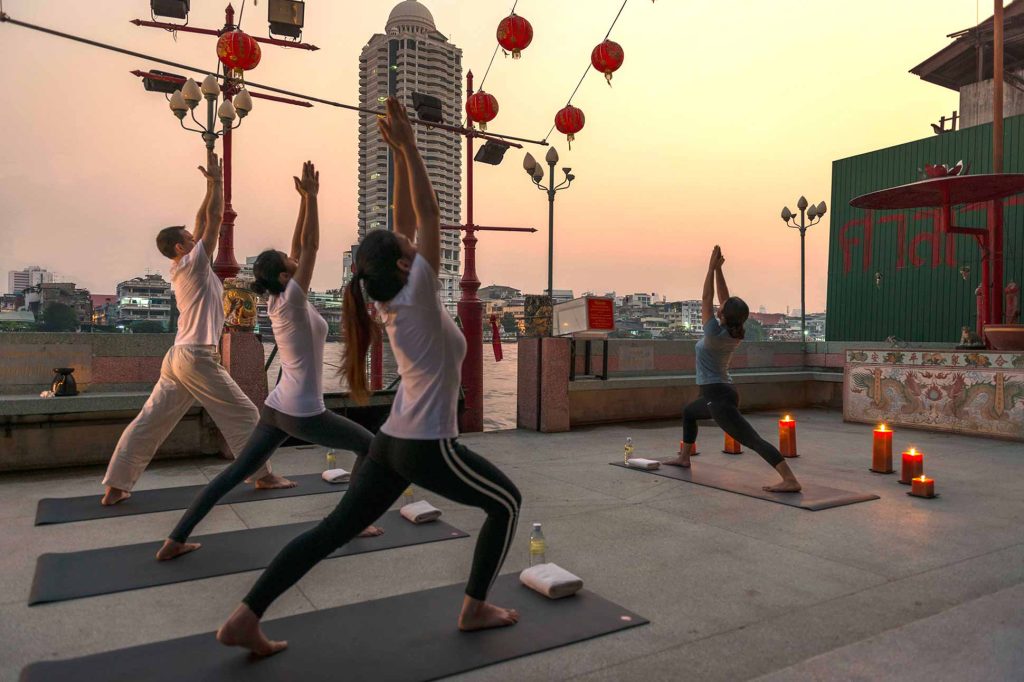 Be part of the 'great escape'
All of The Peninsula Bangkok's fabulous, curated and personalised well-being experiences are clearly specially designed to meet the desires and needs of today's discerning OutThere travellers looking to get more from their holiday to Bangkok and beyond.
On top of all of this, their commitment to diversity and inclusion and celebration of guests; no matter where they're from, what their background and who they love, have not gone unnoticed. And this is in a country that has recently seen some significant progress in LGBTQ+ rights. Early last year, Thailand became the first country in South East Asia to have legalised same-gender civil partnerships and extend legal protections to same-gender spouses.
We at OutThere certainly don't need an excuse to head to Bangkok again, but perhaps tying your trip in with one of Thailand's seasonal celebrations could mean added experiential value. Choose from the water-splashing, soul-cleansing playfulness of Songkran, Thai New Year … or Loy Krathong, the festival of light every November, honouring the full moon. Perhaps Chinese New Year in either January or February each year, or the end-of-calendar-year festive celebrations – albeit a busy time in most people's calendars – could be the right time to plan your joyous escape. Or maybe you'll need no reason at all – "just because" is a good enough reason for us too by the way – to head to Bangkok's urban resort, The Peninsula Bangkok.
Photography courtesy of The Peninsula Hotels
---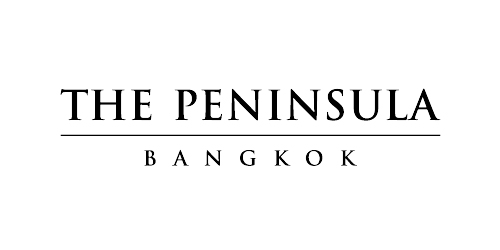 This article is in partnership with the Peninsula Bangkok.
---