If you'd asked us before 2020 whether we'd ever not feel tempted to hop on a plane to Thailand, we probably would've thought the question a joke and laughed right in your face (do pardon us!). For as long as we can remember, the Southeast Asian Kingdom has been a staple – if not a total no-brainer, hence, our Amazing Thailand issue – when it comes to making holiday plans. In fact, even before travel restrictions were first introduced last year, we'd toyed with the idea of fast-track relocating to Koh Samui and hold out for a while. While the idea sadly never came to fruition, a return to Thailand in the second half of 2021 might just. And in any case, who's going to stop us from dreaming?
The Kingdom is slowly and safely opening up to some International arrivals, having come out of the coronavirus pandemic with a remarkable track record of innovative safety protocols and far fewer losses than many, comparable travel destinations. If like us, you're on the edge of your seat and eager to rediscover former Siam, read on for a few starting points for your travel itinerary. And don't forget to cherish the below more than ever – whether you return to Thailand this year, or next.
Explore the Kingdom's national parks
Some two hours north of Phuket lies the vast and ancient Khao Sok National Park, a jewel in the crown of the natural world by any standard. Within its nearly 800 square kilometres, visitors will find some of the Kingdom's oldest remaining virgin rainforest, older still than the Amazon, as well as the mighty Cheow Lan Lake, whose limestone karst formations jut out of the area's morning mist as if to say 'please take our picture' – remember to charge your batteries. Of course, there's plenty of wildlife, too. Other than the usual critters you'd expect in tropical climes (open shoes in the jungle aren't a good idea…), look forward to Malayan tapirs, pig-tailed macaques and a rather popular elephant herd, at home at the park's very own luxury tented camp, Elephant Hills.
Those looking to get even further off-the-beaten-track will be delighted, if not astonished, to hear that Thailand boasts just under 150 national parks, ranging from mountainous enclaves in its northern territories to marine parks all along its epic coastlines. The lesser-known among these perhaps make for an even more rewarding experience, especially if what you're after is a sense of true escapism; a discovery of a pristine stretch of land often beyond the grasp of all but the most adventurous holidaymakers. Where else could have a jungle waterfall all to yourself, if not deep within Kanchanaburi Province?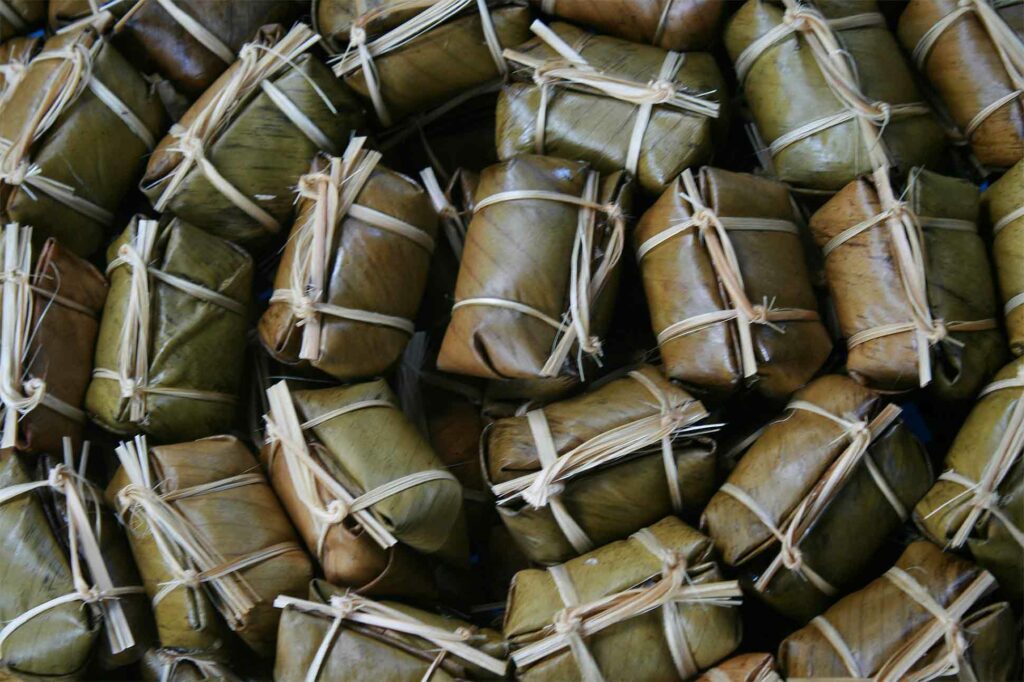 Indulge in Thailand's famous cuisine
We don't know how we could've gotten through 2020 without the occasional Thai take-out. And yet, nothing quite compares to the original (though don't tell Sam, the head chef at our local Thai joint, who admittedly makes a mean green curry). One particular branch of culinary Thailand is the country's northern cuisine. With its roots dating back all the way to the former Lanna Kingdom, and a considerable influence by the Muslim communities of Chiang Rai and beyond, northern Thai is all about fermented flavours and heaps of herbs. It's so distinctive, in fact, you'd be excused for not recognising it as Thai at all; thank God we told you!
If you're planning on visiting Bangkok during its famous Vegetarian Festival at the end of September or beginning of October, you're in for a special treat. Veggie or not, no traveller should miss out on the festivities, which actively turn the city's Chinatown into a bustling market of red-and-yellow 'Jay' food stalls (jay meaning vegan or vegetarian in Buddhist lingo). Add to that Yaowarat Road's general fanfare and iconic neon signs and you've got an authentic, cultural experience on your tongue. Looking for a quieter immersion in plant-based Thai food, instead? Try May Kaidee's Vegetarian Thai Cooking School – it certainly pays off to bring home some new skills.
Immerse yourself in Thailand's ancient culture
Speaking of Asia's most fun-loving capital, there remains a lot to discover in Bangkok, from the sacred to the shrill. But sultry Silom and regal Rattanakosin aside, the city's westernmost district, just across the Chao Phraya River, is perhaps its most outstanding. In Thonburi, time has seemingly stood still. A visit to the area offers the unique opportunity to experience the Bangkok of yesteryear: cruise Thonburi's network of 'khlongs', eat your heart's content at family-run restaurants or pop into little-visited Wat Kalayanamit, in the shadows of Thonburi's sole 'major' attraction, the majestic Wat Arun.
Those looking to temple-hop further afield should consider going into Indiana Jones mode (or Lara Croft, it's 2021 and you can be whoever you want to be) in off-the-beaten-track destinations such as Phimai and Buriram. It's here that the Khmer, of Cambodian Angkor Wat fame, have left behind a small number of breathtaking Khmer-style temples whose more remote locations only add to their appeal. Perhaps our favourite sacred site in all the Kingdom, Phanom Rung Historical Park, is set atop a small hill and surrounded by lush forests that – and you can quote us here – provide the complex with its unparalleled, magnetic force. We could go on for ages, of course, but who are we to keep you from planning your next escape?
*This article is in collaboration with www.GoThaiBeFree.com.